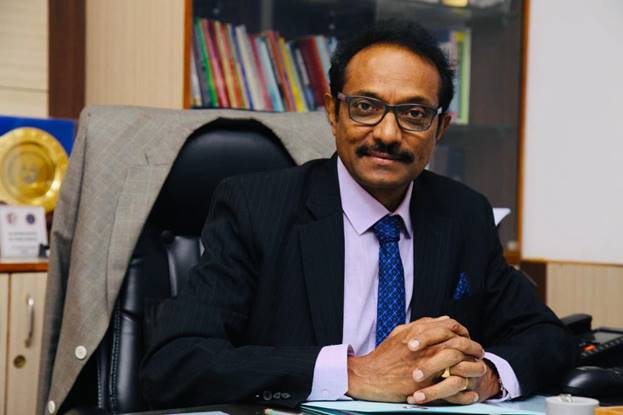 "Education is not the learning of the facts, but the training of the mind to think". – Albert Einstein.
SSMRV College is named after Sri M C Sivananda Sarma, a Freedom Fighter, Philanthropist and one of the forerunners in education. It is a foremost Institution managed by the grandiose RV Educational Institutions. The College, which runs the UG, PG Programmes and Research Centre, was established in the year 1982 and is affiliated to Bengaluru City University. The College has been accredited by NAAC with "A" grade. The College has also been ranked among the Top 5 Colleges in India as per the India Today – MDRA Best College survey during 3 consecutive academic years 2018, 2019, 2020 and 2021.
The institution operates in a systematically and scientifically designed 360-degree Education for Wholeness model that revolves around 6 comprehensive dimensions such as, Academics, Skill Development, Career Development, Extra Curricular Activities, Ethics & Self Governance and Psychological well-being. This model accentuates the students to capitalize on every opportunity which would not only help in their holistic growth but also solidify their belief in team work and coordination required in this fast-paced world.
The College also has about 8 Academic clubs and 32 Activity Centers which help the students to have a diversified and intense multi-faceted development which is relevant to the industry and to the community at large. There is an ongoing strive to elevate oneself by adopting modern technology and new pedagogy in teaching. The institution believes in an education system that involves a 3 Layered factor of a pristine administration, dedicated & passionate teachers and inspired students. SSMRV College inculcates a research-led teaching and learning wherein both the faculty and students are encouraged to pursue research. These diversified methods have promptly amplified our placement rate to more than 90% as well as our students securing ranks and gold medals in the University exams.
In order to brace students and help them to adapt with the growing gap between the industry and academia, the college has introduced the Skill Integrated Learning Program or 'Staircase Program' which are mandatory add-on emerging technology courses  through Industry collaborations with Abstream Technologies, Nanochip solutions , CII – Institute of Logistics  etc. , The courses  include the advanced diploma courses for all three streams namely, B. Com, BBA and BCA which includes Advance Diploma in Data Analytics, Advance Diploma in AI for Marketing, Advance Diploma in Business Analytics and Advance Diploma in Artificial Intelligence in Artificial Intelligence, Machine Learning and Deep Learning, Software Development Life Cycle, Data Centre Architecture and many more.
Another very authentic and one of its kind initiative is the WILP (Work Integrated Learning Program) which enables students to become working professionals as they pursue their educational degree. Through a systematic process of selection, students are handpicked by leading firms and companies to work for them with a designated salary as well as the companies compensating the student's college tuition fees for entire duration of their course.
we have International collaboration with Husson university, USA. To give a competitive edge to students with an MBA degree, a credential necessary for Leadership opportunities in the area of business.
The students have been given an opportunity to enhance their academic performance through  mentoring system and peer learning system to help the students who are academically frail with the assistance of Peer tutors (Adavance learners). It has become a very successful system within the college and the students have benefitted in achieving better results.
The college has also introduced the'Foreign Language Studies' certification course for all the streams in association with the well known language training institute 'Inlingua' which offers languages in French, Spanish, German, Japanese and Mandarin from the basics of A1 to the most advanced levels of A5 in all the languages.
Even during the times of COVID-19 the College continued its academic flow and adapted to the virtual classes. The plethora of events conducted in this academic year not only speaks volumes about the quality of education finesse imparted at SSMRV College but also touches on the importance of the student's emotional balance. There were 260 video lectures, regular online classes, Webinars, Guest lectures, Content Development, intellectual event like 'MUN', Cultural events, inter class competitions, Talent Hunt etc. organized with absolutely zero compromise and sparing no expense on the quality and content.
I commend both the faculty members and the non-teaching staff who have been constantly working for the benefits of the students. I want to take this opportunity to say on record the admiration for my students who have been working on humanitarian grounds as COVID warriors, NGO volunteers and many more.
As a final word, I would like to offer my sincere congratulations and gratitude to the Management for their magnanimous support, to all the students and staff for organizing multitude of activities even in the testing and tiring times.
Dr. S. Anil Kumar