B.Com with Advanced Diploma in Logitics & Supply chain Management
The B.Com Logistics & Supply Chain Management course highlights on the application of the concepts of B.Com in the efficient planning strategies included in the management, maintenance, and transport of goods to maintain consistent business. It covers topics like Manufacturing, Operations, Inspection, production, shipment, transit, and delivery of goods. It is theory-based and covers important topics like Logistics & Supply Chain Overview, International Logistics, Inventory Systems, Warehousing & Distribution Management, Supply Chain Automation Concepts. Optimisations, Market Monitoring and analysis.
Logistics and supply chain is the largest job opportunity sector both at national and international level, estimated around 50 million in the next three years. India lscm sector is valued at usd 150 billion conributing 15%to national gdp with progressive plans in coming years all india basis.
Apply Now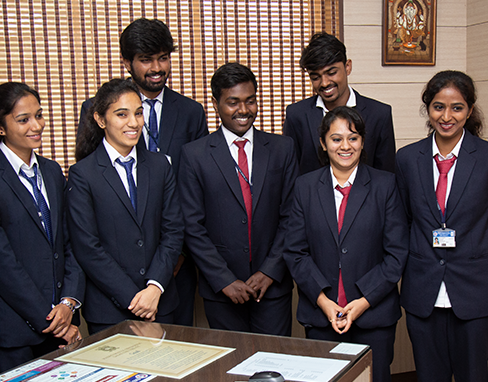 Vision
To be the best institution in the field of commerce which is renowned for providing the highest-quality of education, practical guidance and nurturing the young minds to serve the society with integrity.

Mission
The Department of Commerce at SSMRV are committed to: Imparting quality education by nurturing a conducive learning environment through continuous improvement and customization."
Provide sharpening tools to students to gain expertise in Supply Chain Management, International Logistics and Exim & Port Management to become "Industry-Ready".
Develop Entrepreneurial skills for new ventures and be job providers.
Horn skills to analyse, structure and apply suitable methodologies and strategies to design solutions for day-to-day LSCM challenges
Gain ability to elaborate rationality behind decision-outcomes to motivate decision makers, select LSCM partners and subsequently firm up the plan and co-ordinate the project implementations.
COURSE OUTCOME (COs)
Learn overview of International Transportation.
Explore various Multi Modal Transportation Systems
Understand INCOTERMS and Port Formalities
Develop expertise in Ocean and Air Freight Management
Job Roles
| | | |
| --- | --- | --- |
| Demand Planning Analyst | Procurement Manager | Distribution Centre Supervisor |
| Supply Chain Consultant | Operations Manager | Warehousing Manager |
| Transportation Director | Global Logistics Manager | Supply Chain Planner |
Supply Chain Career Path
Breakdown of Supply Chain Career Path