Department of Business Administration
This program is specially conceived to meet the growing needs of the business and industry. This four year Honors course as per NEP under Bengaluru City University aims at imparting entrepreneurial skills, administrative capabilities and managerial skills. The BBA curriculum consist of core subjects and elective subjects, that reflect the student's chosen area of specialization among the streams offered – Finance, Marketing, Human resource management, Data analytics, Retailing and logistics and supply chain management.
Along with BBA programme the college is offering Advanced Diploma Courses in Emerging Industry Ready technologies to fill the gap between Academia and Industry. These courses are offered by college through a corporate collaboration like Abstream Technologies (Hongkong), Nano chips etc.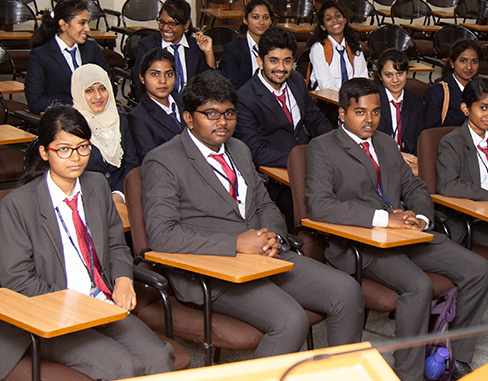 Vision
Inclusive education for holistic development of individuals to meet societal requirements.

Mission
Committed to impart skill and value-based education to students, through best of academicians and professionals, to empower them to face the challenges of competitive world."
The Department of Business Administration offers unique programmes that focus on the wide range of skills – from business analytics and entrepreneurship to leadership and management. The programmes encourage students to participate in apprenticeships, guided internships and research that enables them to gain practical experience in the field and become confident leaders.
Programme Objectives
To provide knowledge regarding the basic concepts, principles and functions of management.
To develop business and entrepreneurial skills among the students.
To provide knowledge and requisite skills in different areas of management like human resource, finance, operations and marketing to give a holistic understanding of a business system.
To equip the students with knowledge related to qualitative and quantitative techniques for critical thinking and problem solving.
To provide practical industrial exposure to the students to gain managerial competencies and business acumen while attaining a holistic understanding of a business/industry.
To inculcate global view of the industrial and organizational establishments and their functions for taking viable decisions in international business setting.
Eligibility For Admissions
A candidate who has passed two years Pre-University Examination conducted by the Pre-University Education Board in the State of Karnataka or any other examination considered as equivalent thereto shall be eligible for admission to these programmes.
FEATURES OF THE FOUR YEARS MULTIDISCIPLINARY UNDERGRADUATE PROGRAMME WITH MULTIPLE ENTRY AND EXIT OPTIONS:
The program is structured in a semester mode with multiple exit options with Certification, Diploma and Basic Bachelor Degree at the completion of first, second and third years, respectively.
The candidate who completes the four years Undergraduate Program, either in one stretch or through multiple exits and re-entries would get a Bachelor's degree with Honours.
The four year undergraduate Honours degree holders with research component and a suitable grade are eligible to enter the 'Doctoral (Ph.D.) Program' in a relevant discipline or to enter 'Two Semester Master's Degree programme with project work'.
The students who exit with Certification, Diploma and Basic Bachelor Degree shall be eligible to re-enter the programme at the exit level to complete the programme or to complete the next level.
The students may study two disciplines at the same level or breadth up to the sixth semester and choose one of them for study in the fourth year to obtain the Honours degree in that discipline.
THE CREDIT REQUIREMENTS ARE AS FOLLOWS.
| | | |
| --- | --- | --- |
| EXIT WITH | Min. Credits requirements | NSQF LEVEL |
| Certificate at the Successful Completion of First Year (Two Semesters) of Four Years Multidisciplinary UG Degree Programme | 48 | 5 |
| A Diploma at the Successful Completion of the Second Year (Four Semesters) of Four Years Multidisciplinary UG Degree Programme | 96 | 6 |
| Basic Bachelor Degree at the Successful Completion of the Third Year (Six Semesters) of Four Years Multidisciplinary Undergraduate Degree Programme | 140 | 7 |
| Bachelor Degree with Honours in a Discipline at the Successful Completion of the Four Years (Eight Semesters) Multidisciplinary Undergraduate Degree Programme | 180 | 8 |
Programme Matrix (Syllabus)
Critical Thinking Skills: Students are able to define, analyse, and devise solutions for structured and unstructured business problems and issues using cohesive and logical reasoning patterns for evaluating information, materials, and data.
Communication Skills: Students are able to conceptualize a complex issue into a coherent written statement and oral presentation.
Technology Skills: Students are competent in the uses of technology in modern organizational operations.
Entrepreneurship and Innovation: Students can demonstrate the fundamentals of creating and managing innovation, new business development, and high-growth potential entities.
Business Knowledge: Students can demonstrate technical competence in domestic and global business through the study of major disciplines within the fields of business.
Ethics: Apply ethical principles and commit to professional ethics and responsibilities and norms of the Management practice.
Environment and sustainability: Students can understand the impact of the professional solutions in societal and environmental contexts, and demonstrate the knowledge of, and need for sustainable development.
Individual and team work: Students can function effectively as an individual, and as a member or leader in diverse teams, and in multidisciplinary settings.
Project management and finance: Demonstrate knowledge and understanding of the management principles and apply these to one's own work, as a member and leader in a team, to manage projects and in multidisciplinary environments.
Life-long learning: Recognize the need for, and have the preparation and ability to engage in independent and life-long learning in the broadest context of technological change.
Career Options After BBA
Career in Finance– Banking, Financial services and Investments
Entry Level Opportunities – Commercial lender, Financial analyst, Financial Planner, Financial Manager, Portfolio Manager, Security Analyst.
Career in Marketing– Marketing, Sales and Advertising
Entry Level opportunities – Marketing executive, Sales executive, Advertising executive, Market Research analyst.
Career inHuman Resource – Recruitment, Staffing and Payroll
Entry Level Opportunities – HR assistant, HR Coordinator, HR Specialist, HR Recruiter.
Career in Operations – Supply Chain Management, Logistics Management
Entry Level Opportunities – Logistics executive, Operations executive, Procurement executive, Supply Chain Executive.
Entrepreneur
Civil Services
BBA students also use a BBA degree as a means to prepare for civil service exams like IAS, IPS, and UPSC.
Chartered Accountant
The chartered accountant is the most popular profession for BBA graduates. Accountancy is an integral part of BBA students are prepared for the CA degree.
Company Secretary
Company secretary is one of the fastest rising professions in the country. A company secretary is in charge of corporate and organizational management.
MBA
PGDM
PG Diploma in Banking
Master of Management Studies (MMS)
Masters in Finance Management
PG Certification in Data Science
Masters in Digital Marketing
PG Diploma or Masters in Hotel Management
Masters in Event Management
Masters in Marketing Management
Masters in Advertising
Entrepreneurship Development Programme
About advanced Diploma Courses
Advanced Diploma in Digital Marketing
Advanced Diploma in Data Analytics & Business Strategy
Advanced Diploma in Project Management & Business Strategy
Advanced Diploma in Digital Marketing + MBA International
Advanced Diploma in Data Analytics & Business Strategy + MBA International
Advanced Diploma in Project Management & Business Strategy + MBA International
[/vc_row_inner]
Advanced Diploma in Business Analytics
Advanced Diploma in Artificial Intelligence in Marketing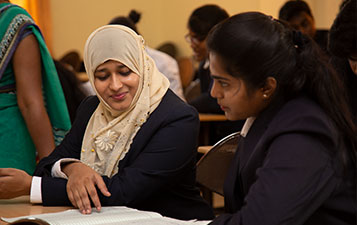 Marketing Club
Our marketing club ⁠— Lakshya, comprises of solution-driven marketing minds who work on putting marketing theories into practice. We aim at offering students an all-round experience in marketing through industrial interactions and on-campus activities.
Mission and Vision
To strengthen and broaden the knowledge of marketing students and help them transform their ideas into reality.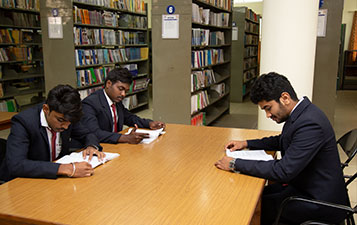 Finance Club
The finance club ⁠— Finstock, is an initiative by the Department of Business Administration, to promote and foster a forum for students to understand finance and its attributes. Our goal is to facilitate a platform for students to learn and develop skills in the different areas of finance and track their progress in the subject.
Mission and Vision
Our aim is to promote financial literacy on campus and help students acquire skills in understanding the financial world.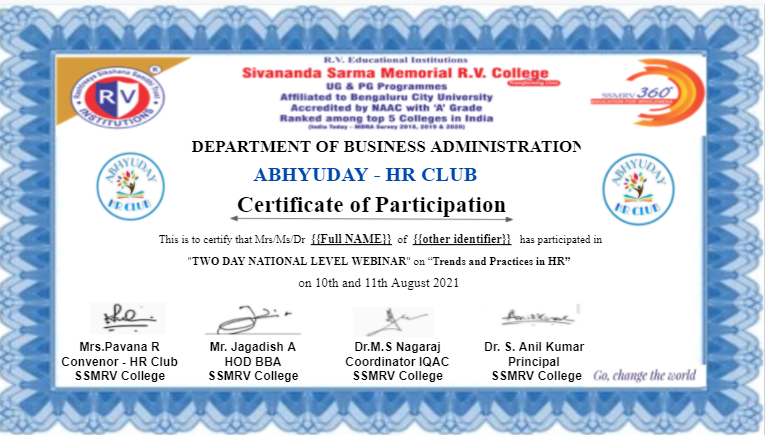 HR Club – Abhyuday
The Academic club of Department of Business Administration relating to HR stream was started to guide students of UG to learn HR policies of Corporate World.
Vision
To evaluate, inspire and prosper with the intellectual ideas of Human Resource Management.
Mission
To bring the students together in HR stream.
Developing skills to match with corporate world
Educate and empower young minds in the field of HR.
Faculty and achievements
&times
Qualification: M.Com & UGC NET

Academic area of interest: Financial Management, Human Resource Management, Marketing Management, Management Principles, Corporate Law, Business Law, Auditing

Experience:3 Years Academic Experience, 3 Corporate Experience

Notable Achievements:Qualified Company Secretary Examination Conducted By ICSI

&times
Qualification: M.Com in Banking and Finance

Academic area of interest: Human Resource Management and Marketing concepts

Experience:3 Years Teaching Experience

Additional Qualifications:UGC NET, KSET

&times
| | |
| --- | --- |
| Addl.Qualifications | CA – CPT ,KSET - COMMERCE |
| Experience | 6.5 years in Academic 6 months  in corporate |
| Academic Area of Interest | Accounting, Finance, Taxation, Risk Management, Research. |
| Research Details (if any) | Research in the areas of - Finance, Risk Management. |
|   Seminars & conferences etc. | Ø  Presented a paper on "Role of Digital India in Make in India Campaign'' at PES University, Bangalore. Ø  Attended One Day Faculty Development Programme on "Blended learning pedagogy using MOOCS" Conducted by INDIAN INSITUTE OF MANAGEMENT, Bangalore. Ø  Participated the One-day certification seminar on ''APA style and Elements of Writing Workshop'' at Christ University, Bangalore. (Research Usage Programme) Ø  Participated the One-day certification Faculty Study Circle Programme on "Application of Tally. ERP 9 for GST'' at SSMRV College, Bangalore. Ø  Attended One Day Faculty Development Programme on "Corporate Valuation and Restructuring" at RVIM, Bangalore. Ø  Attended One Day Faculty Development Programme on "Case Writing and Analysis" at Jain University, Bangalore. Ø  Participated the One-day certification seminar HR Conclave on "Diversity &Inclusion - A Business Imperative'' at Jain University, Bangalore. Ø  Attended Two days' Workshop on "Personal Financial Planning Programme" at RVIM, Bangalore. Ø  Participated the One-day certification seminar on Entrepreneur Development Programme at RVIM, Bangalore. Ø  Attended One-week ORIENTATION PROGRAMME organized by BANGLORE Branch of INSTITUTE OF CHARTERED ACCOUNTANT OF INDIA. Ø  Attended One-month INFORMATION TECHNOLOGY TRANING organized by BANGLORE Branch of INSTITUTE OF CHARTERED ACCOUNTANT OF INDIA. |
| Papers published in Journals | 1.      International  Journal for Research in Applied Science & Engineering Technology (IJRASET), "Consumer Perception's Towards Organic Products in Banglore City" ISSN: 2321-9653, Volume 9, Issue-IX,  Septmber 2021. 2.      International Journal of Multdisciplinary Research Review "Consumer Buying Pattern in Digital Marketing", Volume – 7 , Issue- 12 , ISSN 2395 - 1885, December 2021 3.      International Journal of Multdisciplinary Research Review "A Study on the Interrelation between Job Satisfaction and Employee Performancce ", Volume – 7 , Issue- 12 , ISSN 2395 - 1885, December 2021 |
| Books Authored | NIL |
| Additional responsibilities | Class Teacher ,Member of Cultural Committee, , Mentoring students, Worked in many committes for organising conferences and Faculty Development Programes and other  programs conducted by college, Incharge of Rotract Club,Cell member of Anti Sexual Harssement cell. Organized various events like Intercollegiate fest and Quiz program. |
| Rewards and Recognitions | |
&times
| | |
| --- | --- |
| Name | Shwetha N A |
| Qualification | MBA |
| Addl.Qualifications | PhD pursuing |
| Experience | 1 year as HR and Admin Assistant at Uniq Detective and Security Services 6 years of Academic experience |
| Academic Area of Interest | HR, Marketing and Sustainability |
| Research Details (if any) | Research in the area of Sustainability and ESG |
| Papers presented in seminars, conferences etc | 1.      "Corporate Social Responsibility after Sec 135"- at International Conference on Contemporary Issues and Challenges in Technology, Commerce and Management at Sheshadripuram Academy of Business Studies 2.      "Innovation in General Management with Respect to Entrepreneurship"- in the international conference on Innovation in Management Practices at Sankara college of science and Commerce. 3.      "Block Chain in Banking" – at National level seminar on Digital India-Transforming In HR, Marketing and Finance at Darshan Degree college 4.      "Student Motivation in Commerce and Management" – at one day national level conference on 2020: Motivating students Towards a Bright Future 5.      "Emerging Entrepreneur"- at One day national level conference on Unifying Diversities in Make in India |
| Papers published in Journals | |
| Books Authored | A Text book on "Retail Management" for Bangalore University BCom – Vrinda Publications |
| Additional responsibilities | Member of LIC committee in college Guided Final year Students for their Projects |
| Rewards and Recognitions | 1.      Won the best Paper award for Emerging Entrepreneurs" and Block chain in banking" 2.      Won Second Prize in National Level Business Plan Competition conducted by I-Create vishwas |
&times
Academic area of interest: Marketing


&times
Academic area of interest: Finance and HR


&times
Academic area of interest: Finance and Marketing

Achievements:

Was a external examiner for viva-industrial visit for 1st year BBA students conducted at BMS college
&times
Academic area of interest: Finance and Accounting


&times
Academic area of interest: Accounts and Finance


&times
Academic area of interest: Organizational Behaviour, Strategic Management, Research Methodology, and Applied Psychology

Achievements:

Awarded for her valuable contribution to the two-day international conference on 'Global Convergence of Management Education and Practices' organised by Canara Bank School of Management Studies, Bengaluru
Renowned resource person for delivering guest lectures at academic institutions
Has been a resource person for FDP conducted by RNSIT college
&times
Academic area of interest: Marketing, Aviation, Tourism, and Management

Achievements:

Guest of Honour in management event in KLS's Gogte College of Business administration, Belgaum
Renowned member of the Board of Study for BBA and MBA in Avalon Academy, Pune
&times
| | |
| --- | --- |
| Qualification | MBA IN HUMAN RESOURCE AND MARKETING |
| Addl. Qualifications | 1)      Certified in Corporate Training under International Leadership Association 2)      Certified in  LMS Management System under Simplilearn Technologies |
| Experience | Total Experience: 4 years Corporate Experience: 2 Years Teaching Experience: 2 Years |
| Academic Area of Interest | Human Resource Management and Marketing Learning and Development Economics Particularly Management areas |
| Research Details (if any) | Currently conducting research on Behavioral Aspects of an employee that affect Sales. |
|   Seminars & conferences etc | Attended TIECON seminar focusing on the creation of ideas in order to start a Business. Conducted by Deshpande Foundation, Hubli, Karnataka. |
| Papers published in Journals | - |
| Books Authored | - |
| Additional responsibilities | Was part of administrative responsibilities at Govt. organization in the Human Resource Department. DPAR.(Dept. of Personnel Administration and Reforms) |
| Rewards and Recognitions | - |
&times
| | |
| --- | --- |
| Qualification | MBA, Ph.D |
| Experience | 7 years in Academic 3 years in corporate |
| Academic Area of Interest | Accounting, Finance, Taxation, Risk Management, Research. |
| Research Details (if any) | Research in the areas of - Finance, Risk Management. |
|   Seminars & conferences etc | 1.      Paticipated in the National Conference on Make in India organised by T.John College of Management and Science. 2.      Participated in the Faculty development program on "Innovative Techniques of Management Teaching"organised by T.John College of Management and Science. 3.      Participated in one day workshop on Counselling Skills for college teachers, organised by National Institute of Mental Health And Neuro Sciences. 4.      Paticipated in the National Conference on "Transforming India Through Innovation And Entrepreneurhip"  organised by T.John College of Management and Science. 5.      Participated in the Faculty development program on "Corporate Valuation and Restructuring "organised by R.V Institute of Management and Science. 6.      Participated in 5 days workshop on Data Analysis with SPSS, organised by Canara Bank School of Management studies. 7.      Participated in the Faculty development program on "Goods and Service Tax"organised by  Canara Bank School of Management studies. 8.      Participated in the International conference conducted by Canara Bank School of Managment studies. 9.      Participated in the National Conference on "Goods and Service Tax"  organised by T.John College of Management and Science. 10.   Participated in the International Conference on "on "Collective and Sustainable Action for Transparency and Ethics in Higher Education" organised by Canara Bank School of Management studies. |
| Papers published in Journals | 1.      International Journal of Trend in Scientific Research and Development (IJTSRD), "GST (a new Tax Regime)–A Conceptual Study", ISSN: 2456- 6470, Volume II, Issue-1. 2.      International Journal of Engineering Technology, Management and Applied Sciences, "Make in India- Challenges to Make India as a  Manufacturing Hub", Vol. 4, Issue4,April (2016), ISSN 2349–44763. 3.      Presented a paper on "Indian Yougsters into Entrepreneurs" in the National Level Conference. 4.      Published a research paper on "Risk Factors Influencing the Fixed Income Securities- A study" in the UGC approved Journal Juni Khyat, ISSN: 2278-4632. 5.      Published a research paper on "Risk Valuation Models and its Impact on Pricing Strategies of Fixed Income Securities in the UGC approved Journal Juni Khyat, ISSN: 2278-4632 |
| Books Authored | Advanced Corporate Financial Management –Vision Books |
| Additional responsibilities | Member of Cultural Committee, Class Teacher, Mentoring students, Final Year Project Guide, Experienced in NACC Work, Worked in many committes for organising conferences and Faculty Development Programes and other  programs conducted by college, Incharge of Guest lecture committe. Organized various events like Intercollegiate fest, Management fest and Quiz program. |
| Rewards and Recognitions | |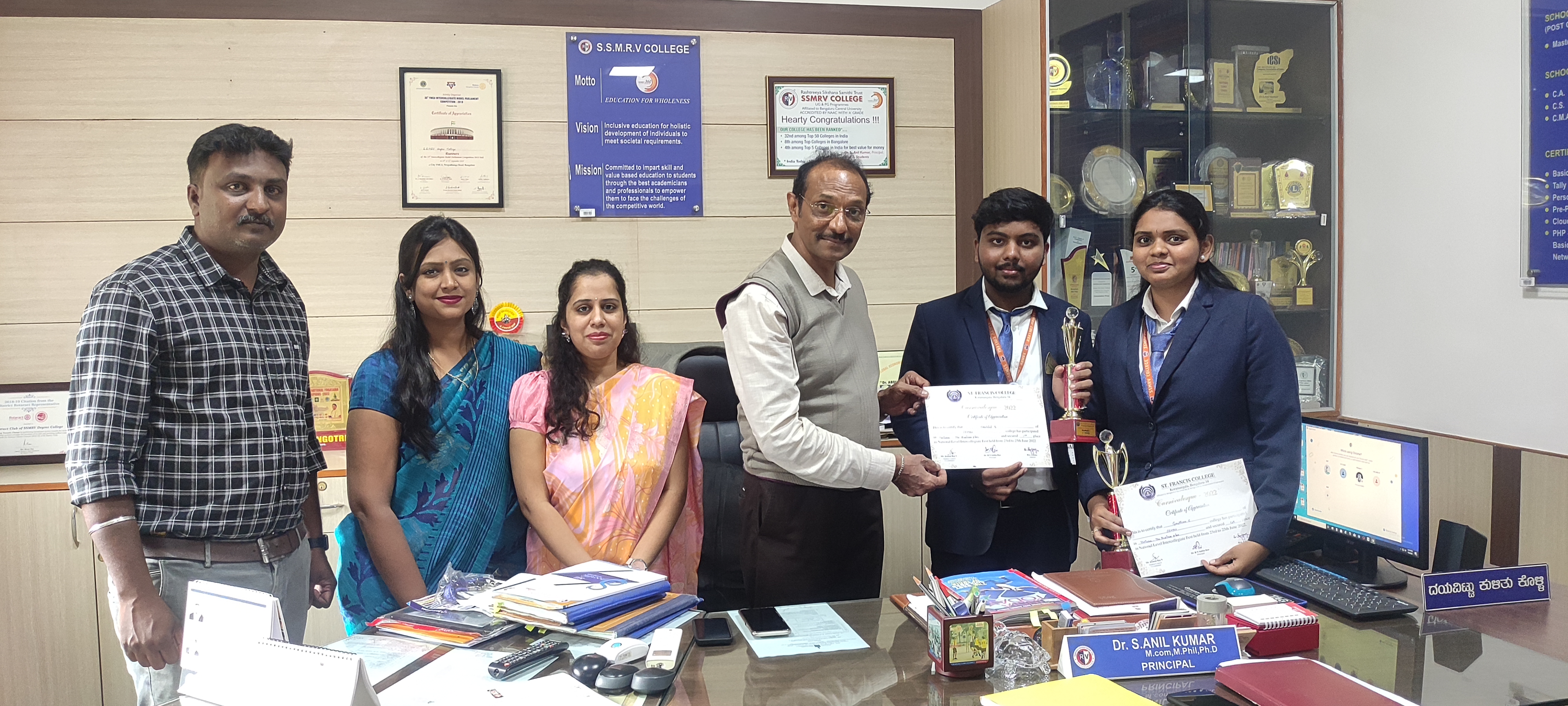 Mr Goutham S & Ms Varshini G of BBA final year won the Best Marketers Event at the Business Plan Event organised by BNM Institute of Technology on 7th July 2022