School of Graduate Studies
Department of Business Administration
Nurturing the next generation of leaders in business
In today's dynamic world, we believe that a sharp business acumen is a must. That's why we designed two one-of-a-kind undergraduate programmes for passionate individuals to learn the trade and be future-ready. We mentor students to navigate through the corporate world and develop a high intellect that'll help them stay ahead of the curve.
Highlights of the course:
Thorough understanding of various functional areas of management through study of Human resources, Marketing, Finance and many more subjects and helps in acquiring professional skills and develop Managerial Skills.
Industry-Oriented Course with Great Exposure to market trends and strategic decision making through guided internships and Pre-Placement trainings and Live Projects.
Professional Degree in Management and better employment opportunities
Great Foundation Course for MBA with well qualified staff who have immense industry exposure and help students bridge the gap between academia and industry.
Most importantly a value for money education system.
Download the brochure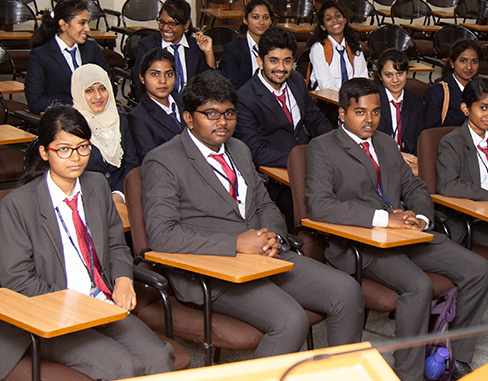 Vision
Inclusive education for holistic development of individuals to meet societal requirements.

Mission
Committed to impart skill and value-based education to students, through best of academicians and professionals, to empower them to face the challenges of competitive world."
At SSMRV, we offer two foundational degrees that lay emphasis on developing a wide range of skills — from business analytics and
entrepreneurship to leadership and management. Both programmes encourage students to participate in apprenticeships, guided internships, and research that enables them to gain practical experience in the field and become confident leaders.
Advanced Diploma in Business Analytics
Advanced Diploma in Artificial Intelligence in Marketing
Online classes conducted through various online platforms like Zoom and Google Meet as per the scheduled time table.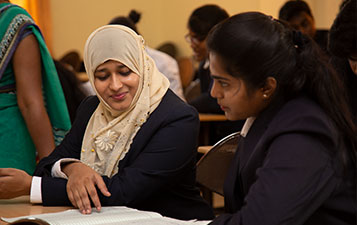 Marketing Club
Our marketing club ⁠— Lakshya, comprises of solution-driven marketing minds who work on putting marketing theories into practice. We aim at offering students an all-round experience in marketing through industrial interactions and on-campus activities.
Mission and Vision
To strengthen and broaden the knowledge of marketing students and help them transform their ideas into reality.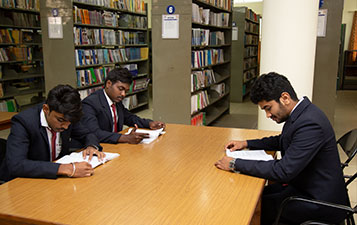 Finance Club
The finance club ⁠— Finstock, is an initiative by the Department of Business Administration, to promote and foster a forum for students to understand finance and its attributes. Our goal is to facilitate a platform for students to learn and develop skills in the different areas of finance and track their progress in the subject.
Mission and Vision
Our aim is to promote financial literacy on campus and help students acquire skills in understanding the financial world.
Faculty and achievements
&times
Academic area of interest: Marketing


&times
Academic area of interest: Finance and HR


&times
Academic area of interest: Accounting and Finance

Achievements:

Was an external examiner for Viva -BBA Aviation students
&times
Academic area of interest: Finance and Marketing

Achievements:

Was a external examiner for viva-industrial visit for 1st year BBA students conducted at BMS college
&times
Academic area of interest: Finance and Accounting


&times
Academic area of interest: ---


&times
Academic area of interest: Accounts and Finance


&times
Academic area of interest: Organizational Behaviour, Strategic Management, Research Methodology, and Applied Psychology

Achievements:

Awarded for her valuable contribution to the two-day international conference on 'Global Convergence of Management Education and Practices' organised by Canara Bank School of Management Studies, Bengaluru
Renowned resource person for delivering guest lectures at academic institutions
Has been a resource person for FDP conducted by RNSIT college
&times
Academic area of interest: Finance and Accountancy

Achievements:

Gold medallist in Masters of Business Administration
Won various Best Manager awards in management fests
Best Student award from Jain College
&times
Academic area of interest: Marketing, Aviation, Tourism, and Management

Achievements:

Guest of Honour in management event in KLS's Gogte College of Business administration, Belgaum
Renowned member of the Board of Study for BBA and MBA in Avalon Academy, Pune