Clubs and Associations
Unforgettable memories, enriching experiences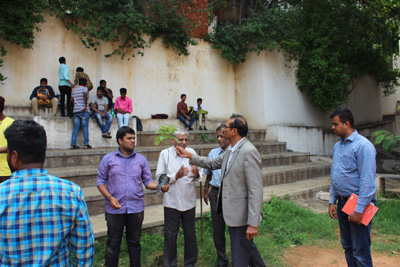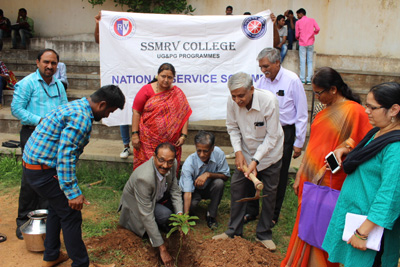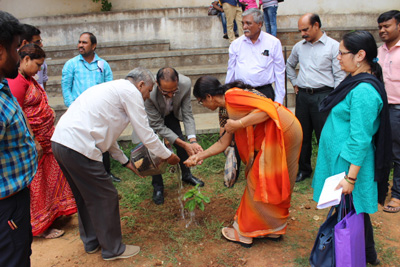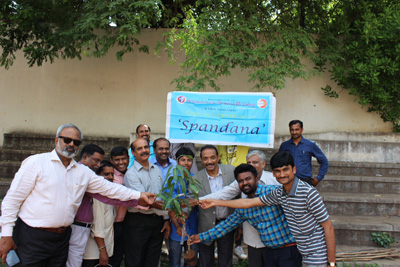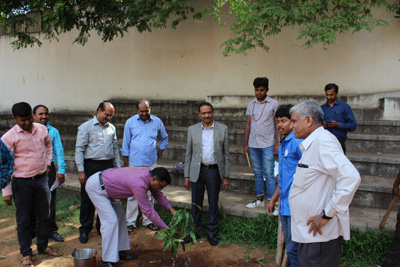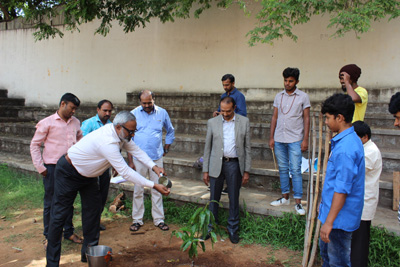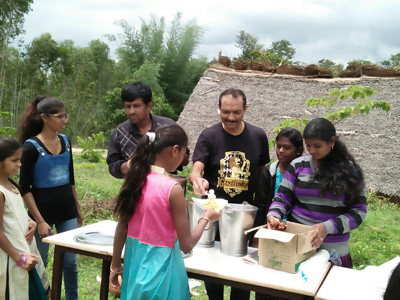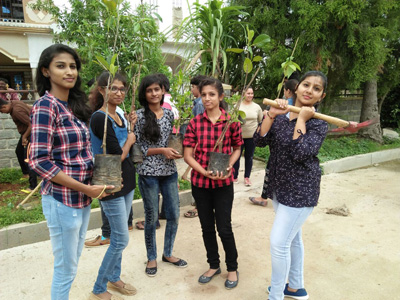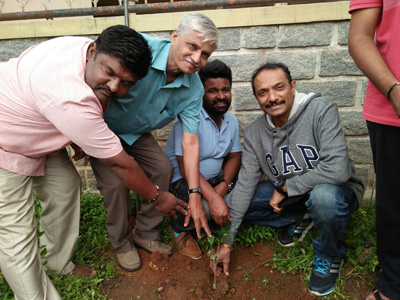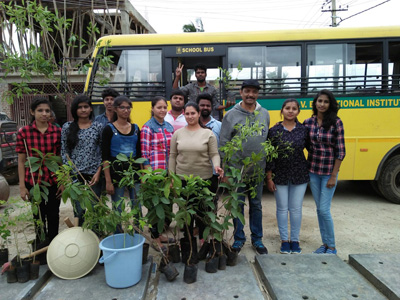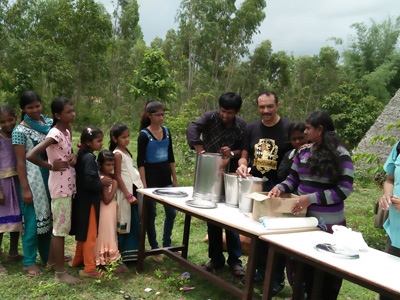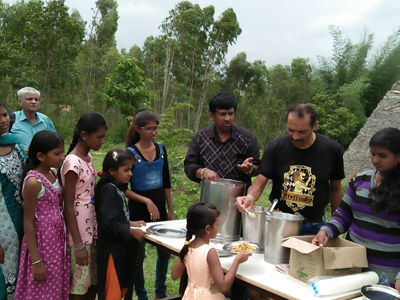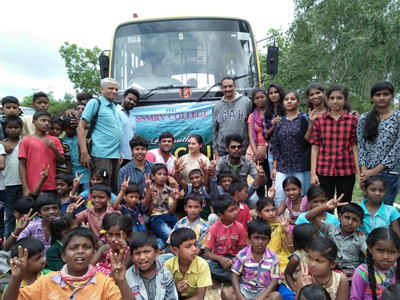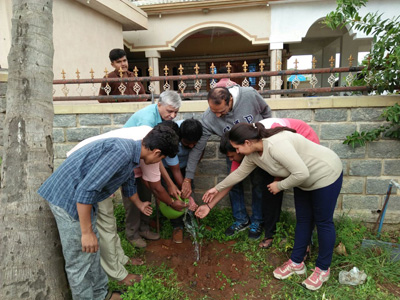 SSMRV firmly believes in protecting our environment and the preservation of ecological resources. Prakruthi, our eco club, is a step towards this unified vision. The club aims at spreading awareness and educating both students and citizens alike about the importance of nurturing our natural habitat.  Students and members of the club, also known as green ambassadors, initiate activities such as planting saplings, awareness drives, e-waste collection and safe disposal, and more. Occasions like Wetland Conservation Day and World Water Day are also celebrated to enlighten students and teachers about the importance of safeguarding our environment.
Radio Varna
The Radio Club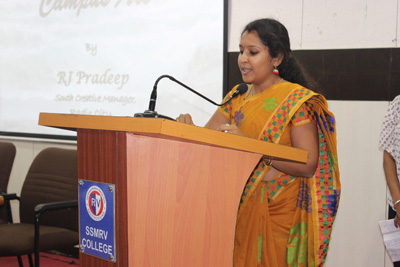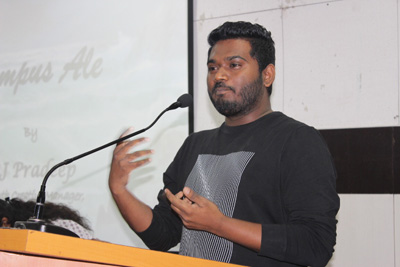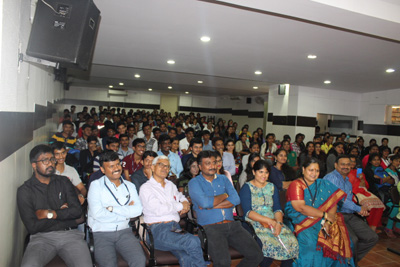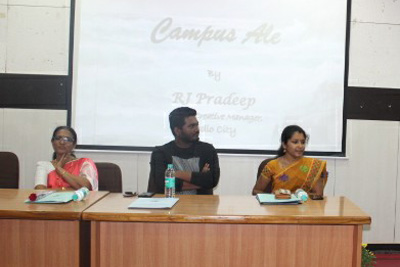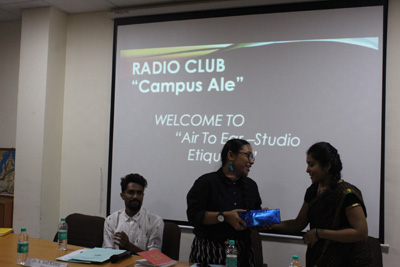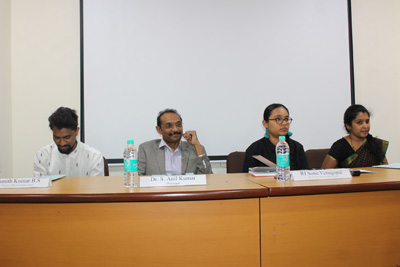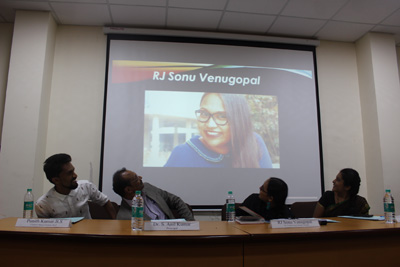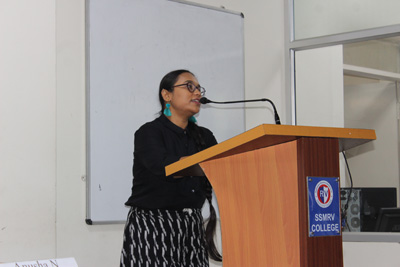 Radio Varna is an initiative to encourage students to build their confidence and become passionate and engaging speakers. We believe in effective and engaging expression of thoughts and aim at imbibing this quality in students to become excellent communicators.
Rangantharanga
The Theatre Club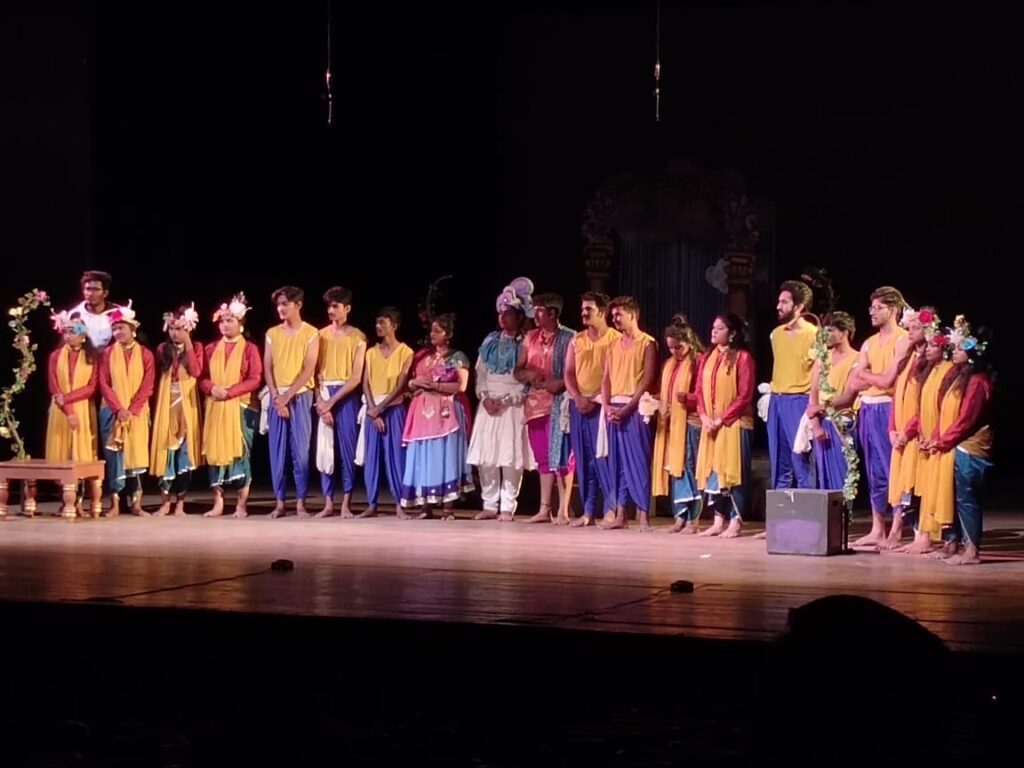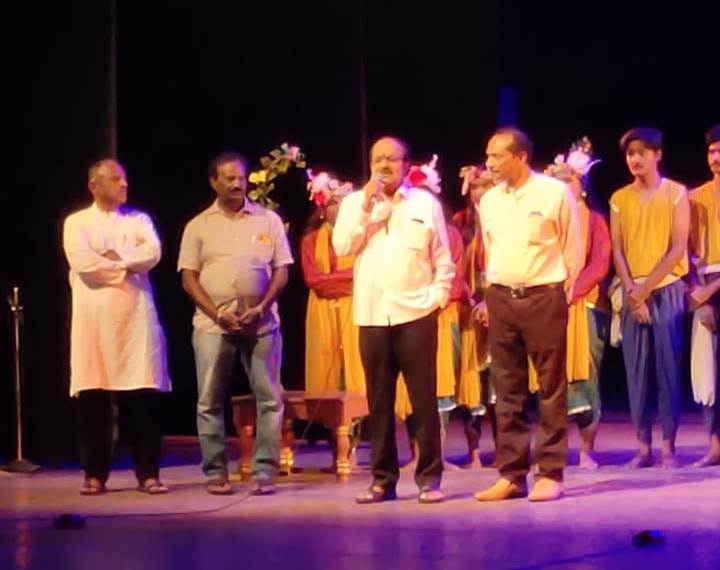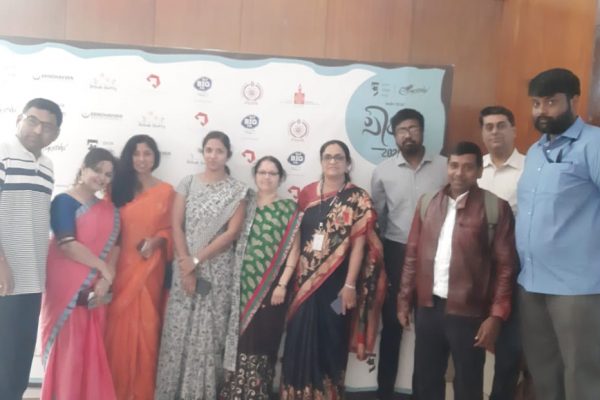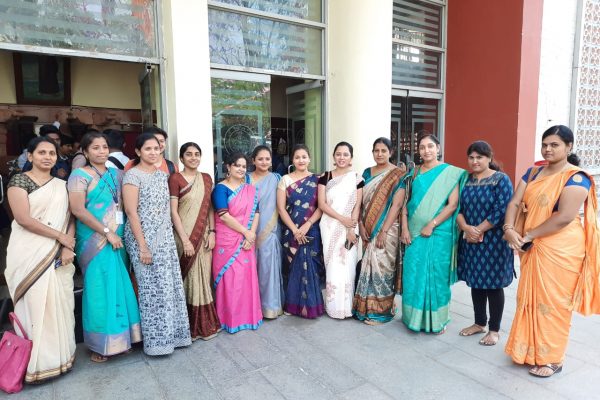 SSMRV focuses on finding and building talents in students for a brighter future. Our theatre club, Rangantharanga, is a platform where students are encouraged to participate in drama, skits, movie-making programmes, and much more. Our theatre club provides students with various opportunities to learn and grow as true artists. From screening movies to workshops by professionals, Rangantharanga touches upon all aspects of the field to make sure students excel in what they do.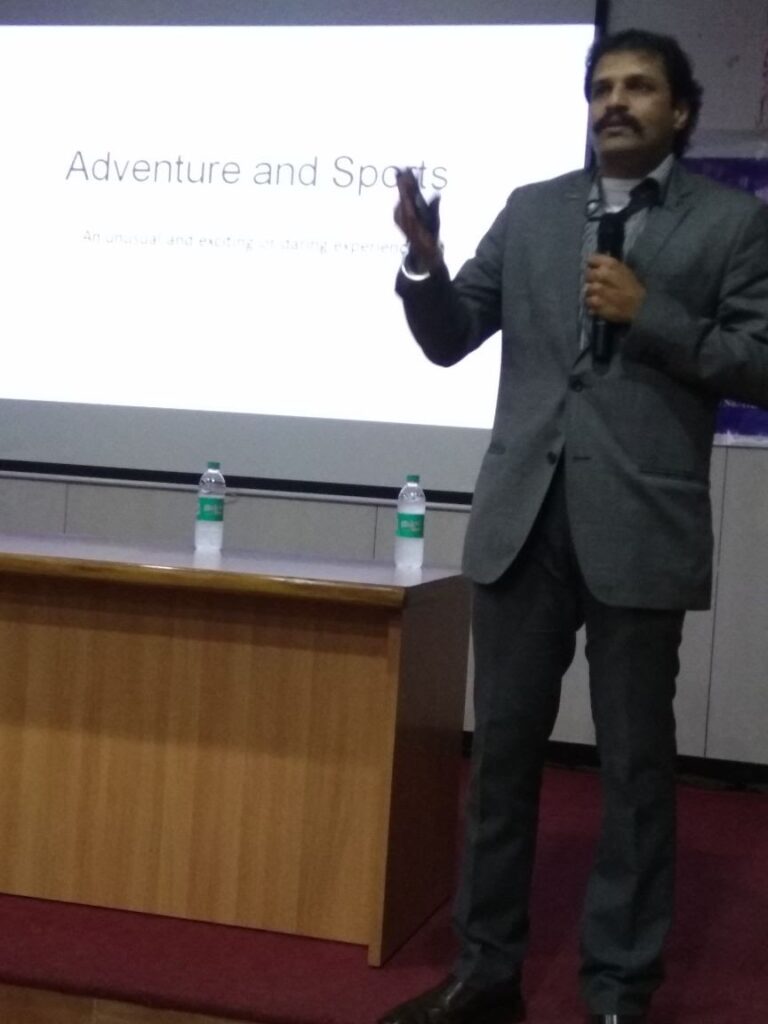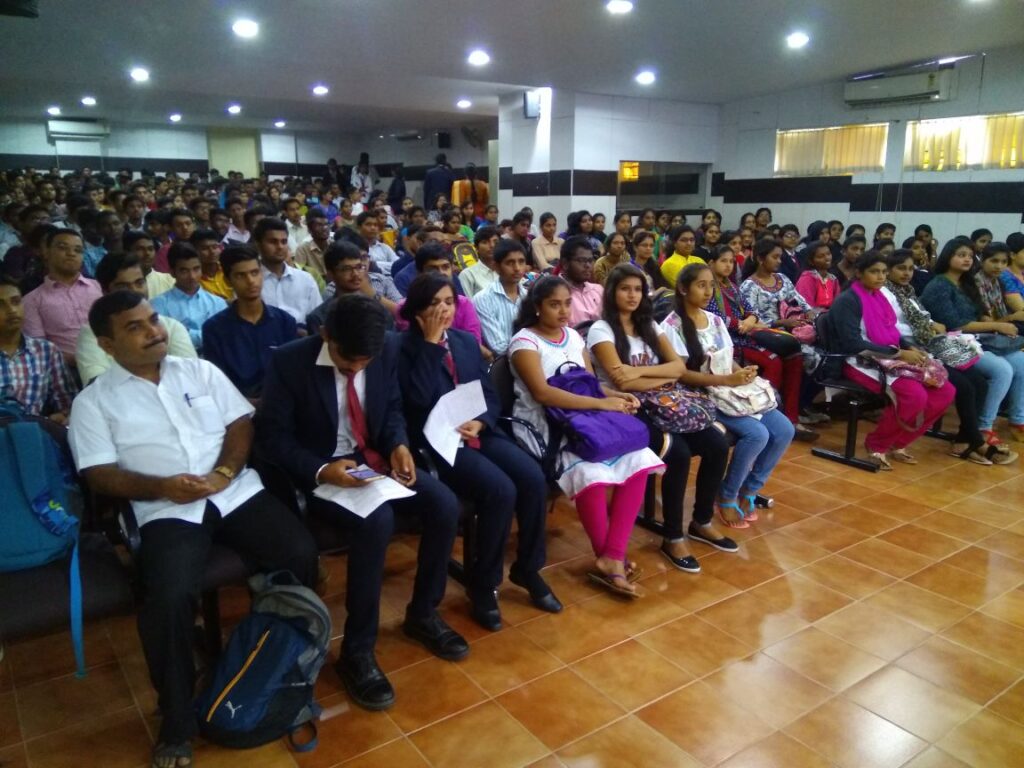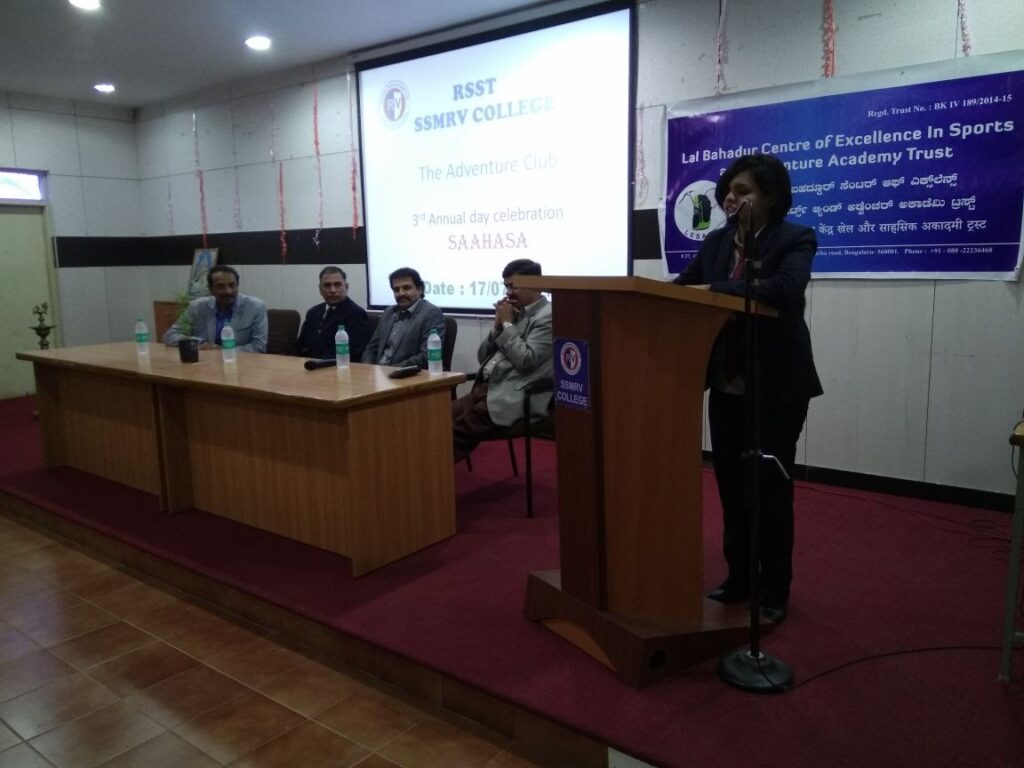 Outdoor experiences and adventures always play a part in shaping an individual's capabilities and limitations. Sahasa, our adventure club, was commenced to achieve this very goal for the students of SSMRV. We believe in breaking boundaries and overcoming setbacks with a positive approach, and our adventure club encourages the students to do the same. Be it building confidence or developing leadership skills, we ensure our students are moving forward fearlessly by conducting outdoor activities and other adventure sports.
As per the directives laid down by the Department of Collegiate Education of Government of Karnataka, we've established an Electoral Literacy Club that encourages students to vote in the elections and learn about the current democratic system and processes. Our club distributes voter enrollment forms and regularly organises intercollegiate events such as essay writing, quiz, and skits to keep the discourse around governance going.
Sammilana, our alumni club, is responsible for maintaining strong ties with the alumni community and hosting the Annual Alumni Meet. Every year, the club organises a plethora of cultural programmes and games for ex-students, inviting them to relax, enjoy, and recount their old experiences. Sammilana also serves as a great platform for current students to connect with the alumni to better understand the industry and build their professional contacts.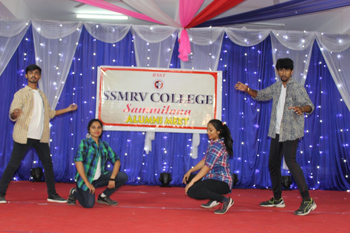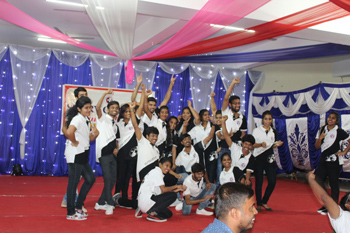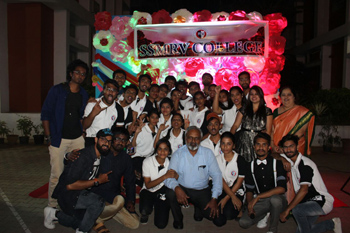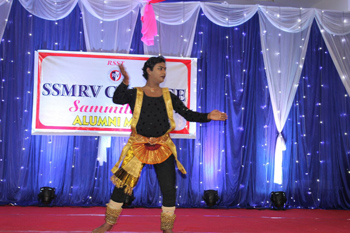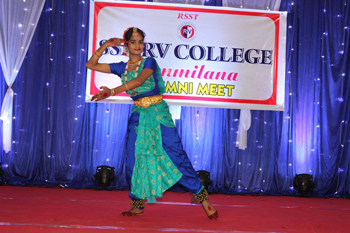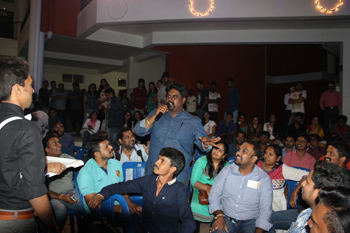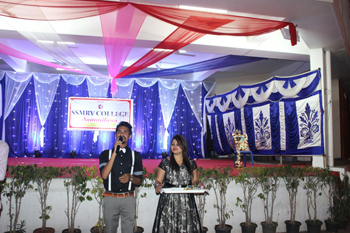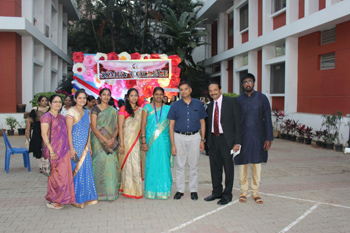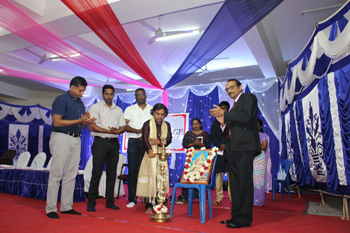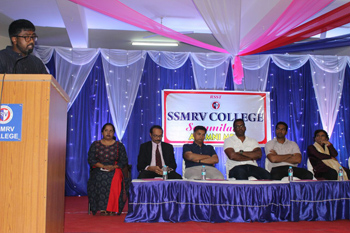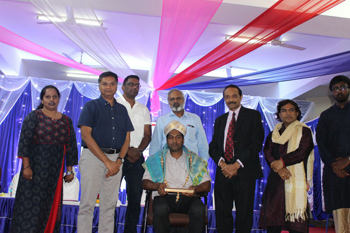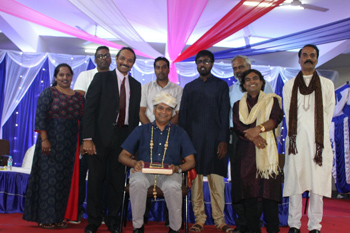 Sivananda Lasya Lahari
The Music Club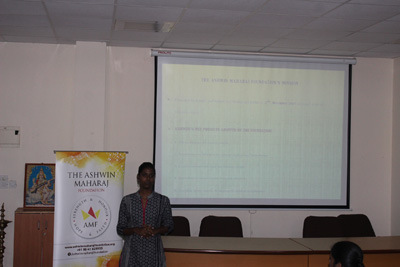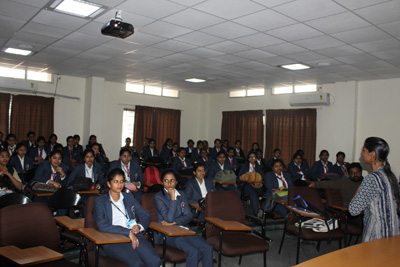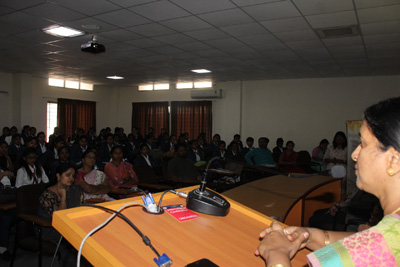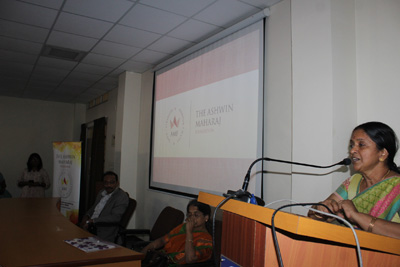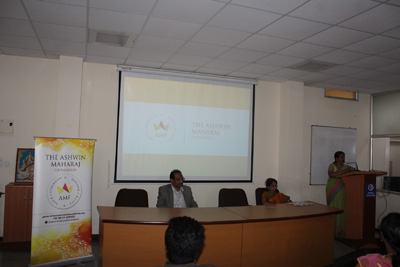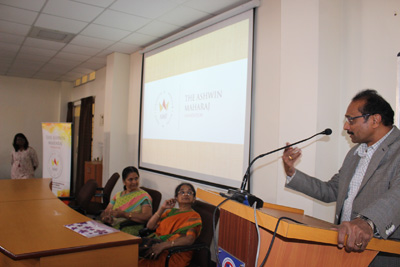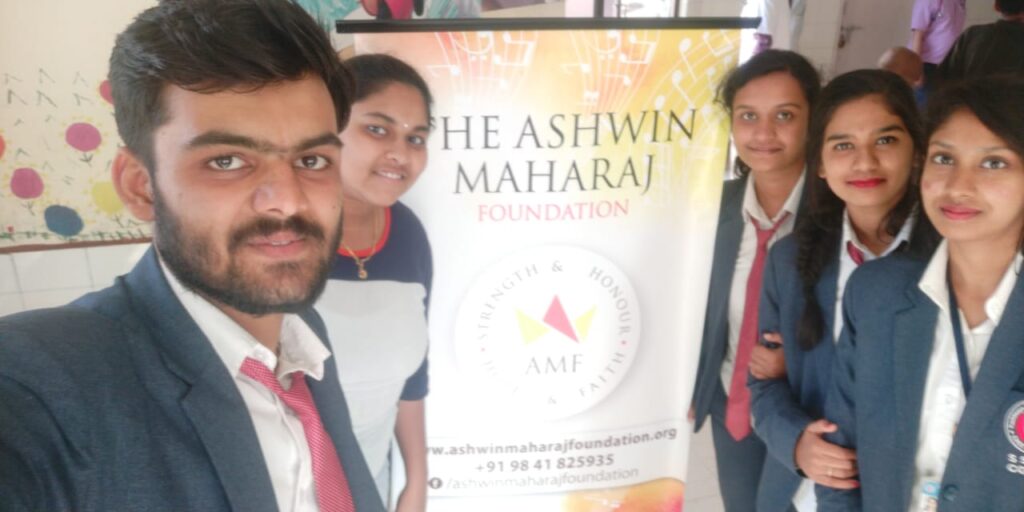 SSMRV's musical troupe, Sivananda Lasya Lahari, is a unique club that nurtures talented musicians and dancers. The club prepares students for state- and national-level cultural events and competitions, giving them the opportunity to showcase their talents with confidence. Additionally, the club also contributes to society by providing music therapy to Kidwai Cancer Hospital.
Spandana
Centre for Community Services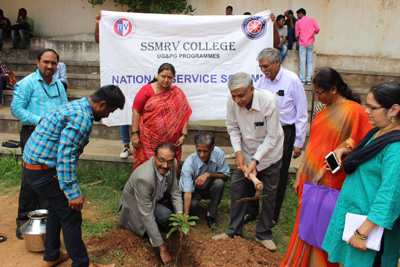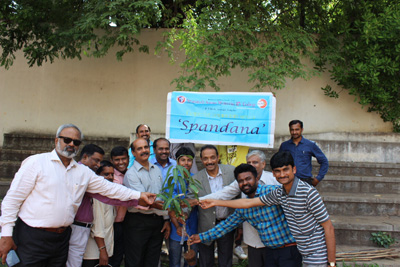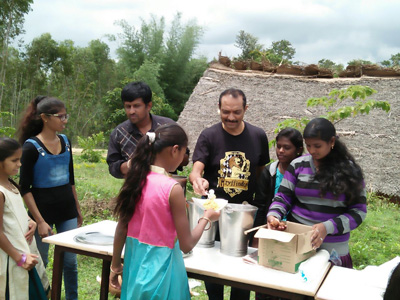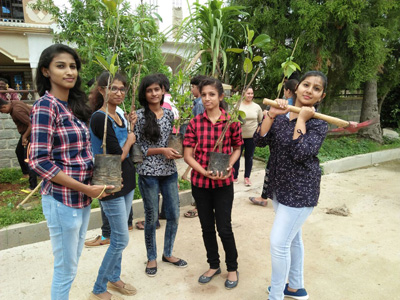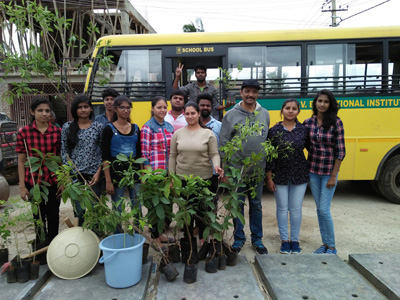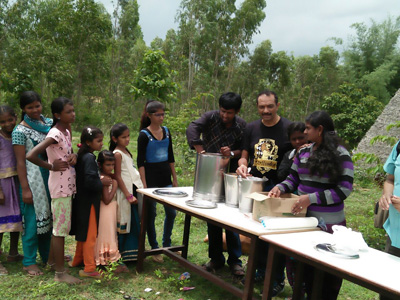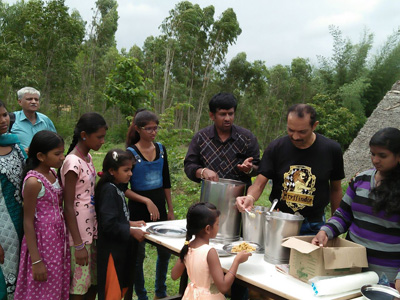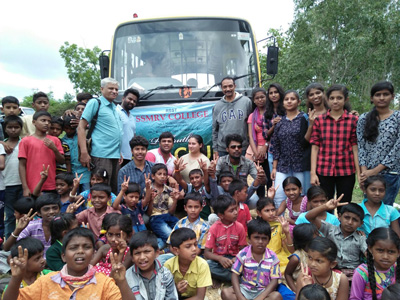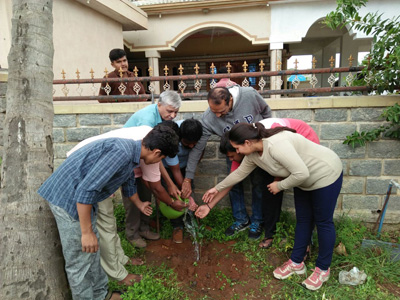 At SSMRV, we give great importance to serving the community. That's why we've set up Spandana, a Centre for Community Services, that encourages students to contribute to society and make a difference to people's lives. As part of the club, students often take part in tree plantation activities, donation drives, volunteer programmes, etc. This teaches the value of service before self, enabling them to become better individuals.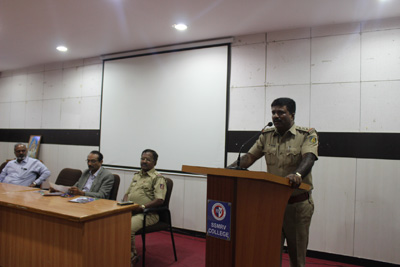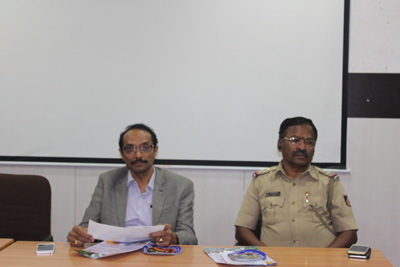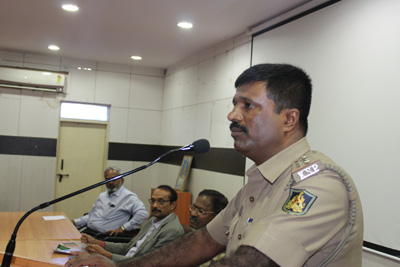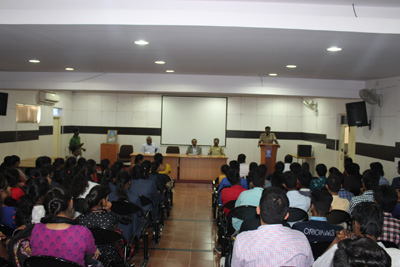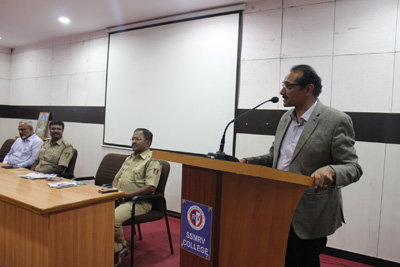 To spread awareness against drug abuse, we've established an Anti-drug Cell on campus that strongly advocates the ill effects of using narcotics. In association with the police department, the cell has hosted many events in the past which extensively covered the menace.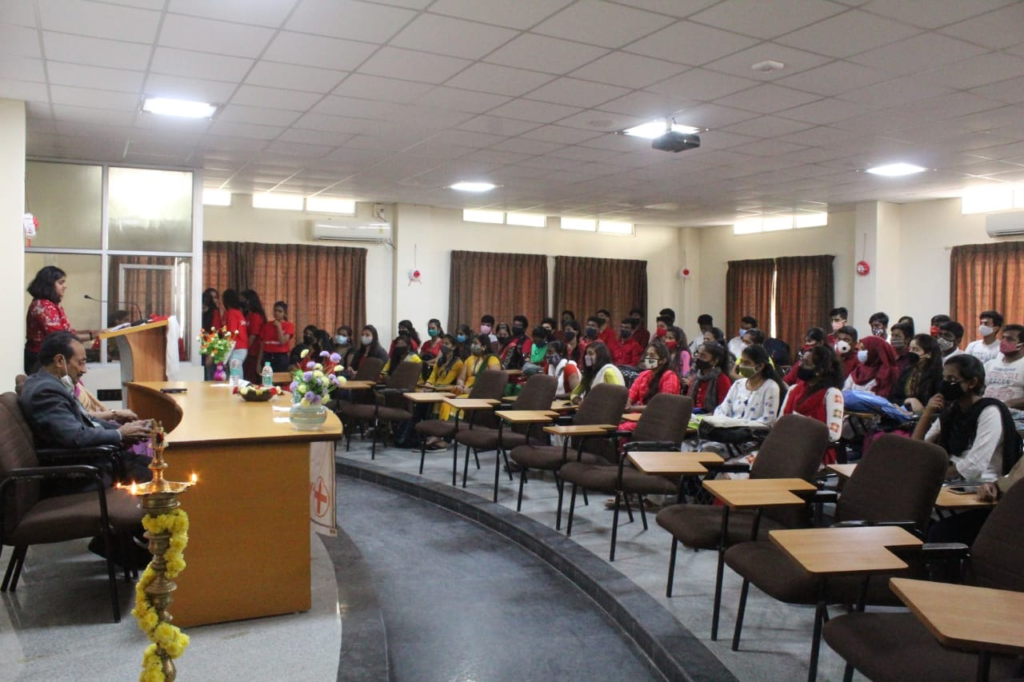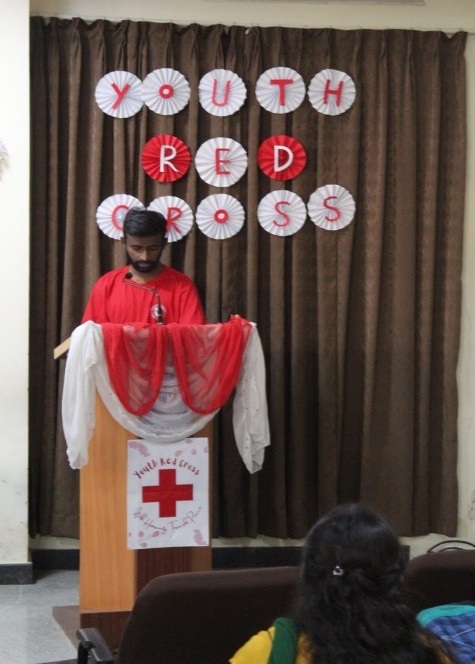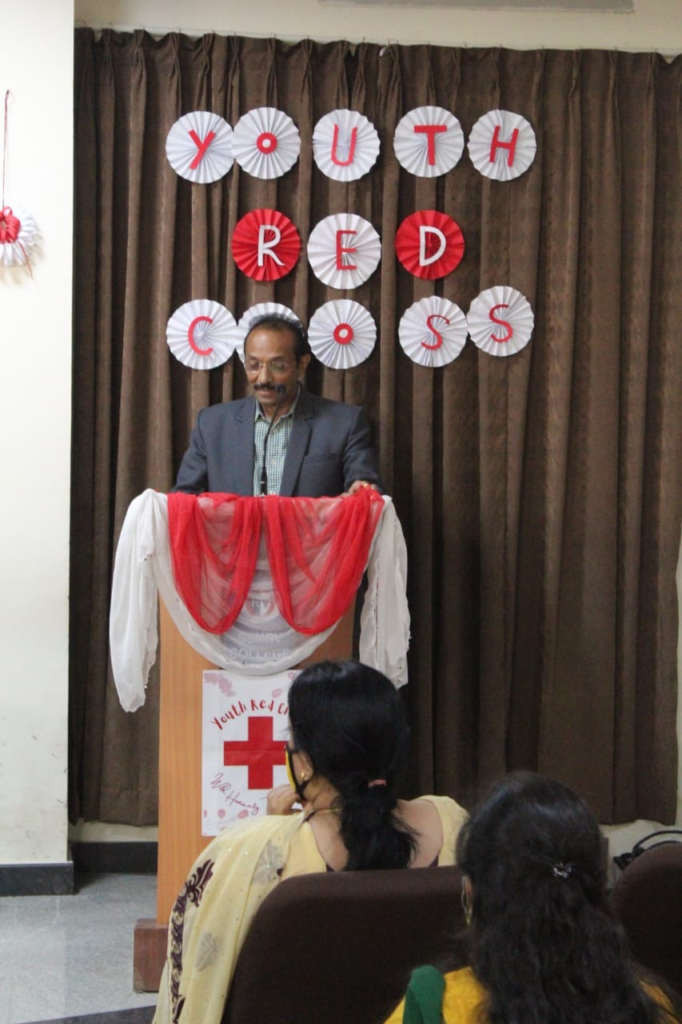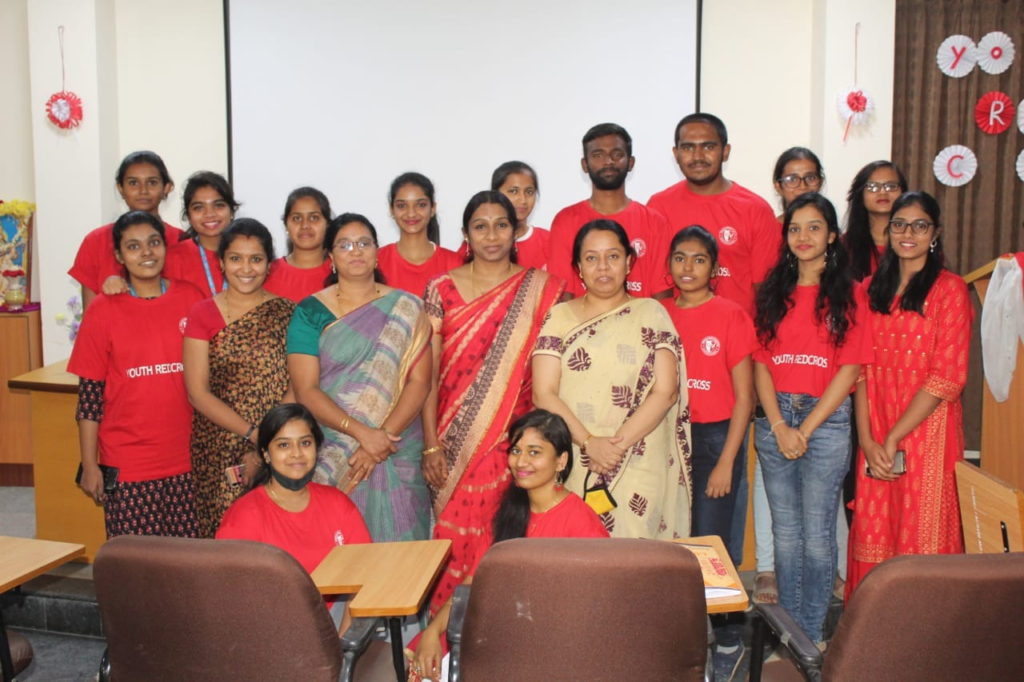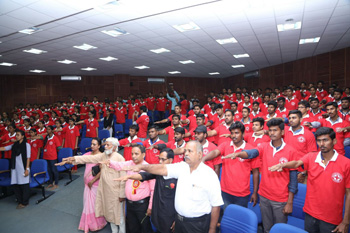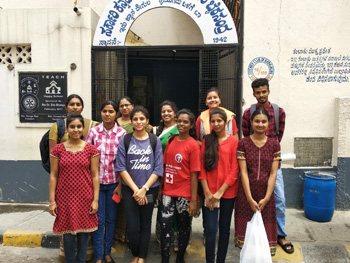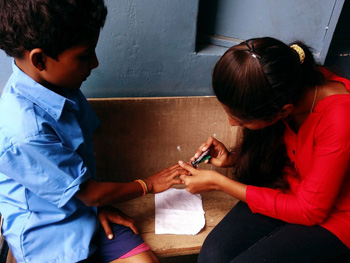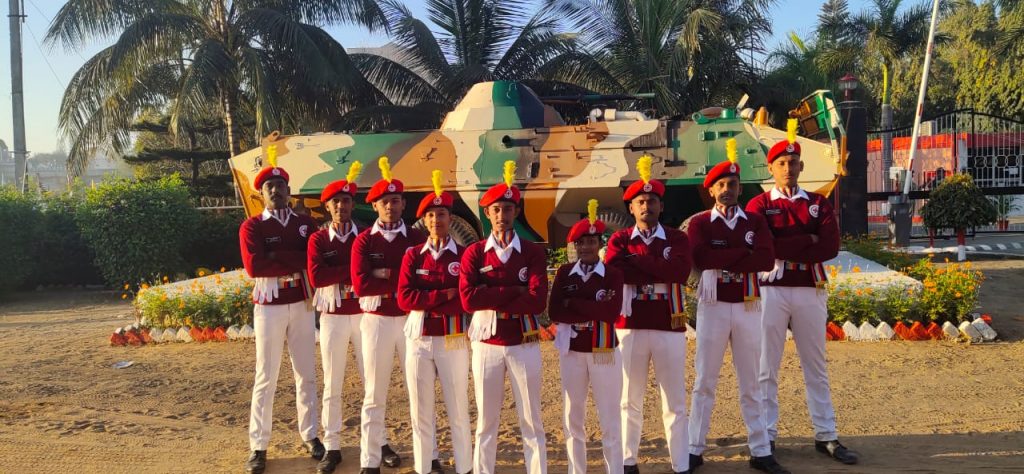 The Youth Red Cross wing of SSMRV is all about helping students grow into socially conscious professionals. To this effect, the club encourages students to take part in a wide variety of activities — from road safety awareness to health and hygiene. All these efforts not only improve the community, but also help students gain valuable experiences.
English Literary Association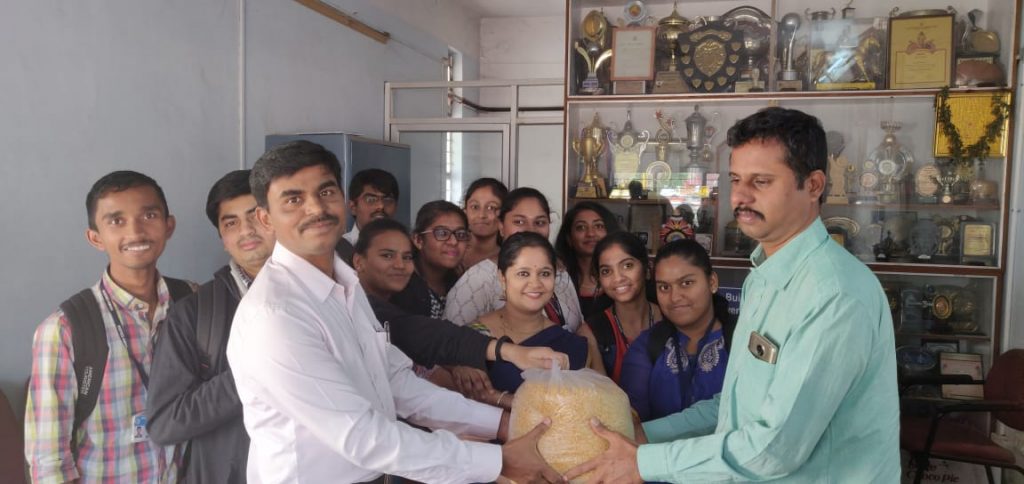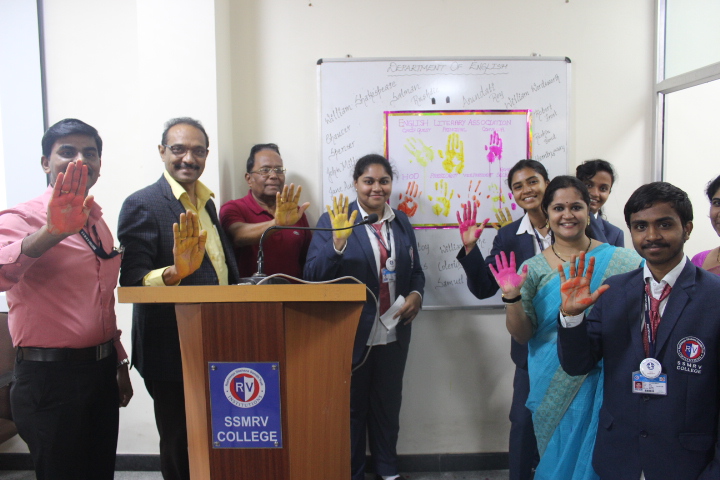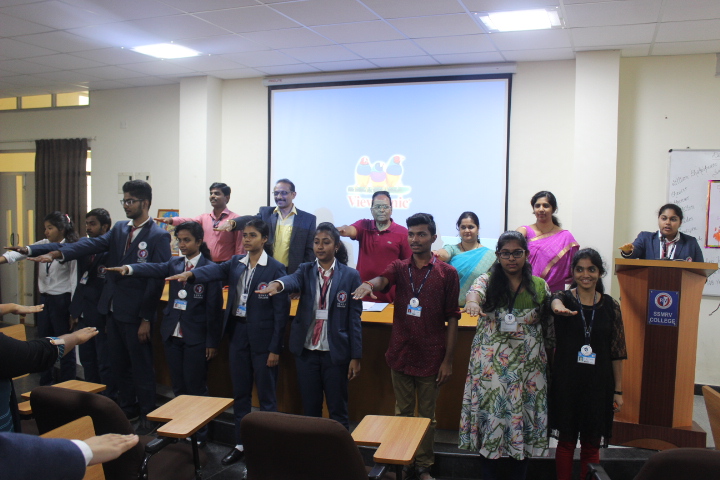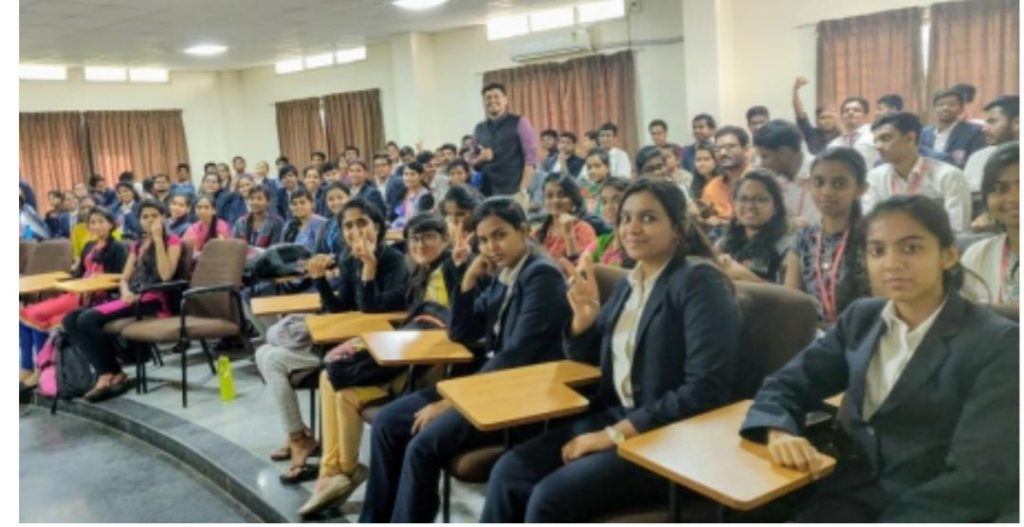 The English Literary Association (ELA) is a prestigious convention of individuals, who share a passion for English literature and language. We envision our students to learn and analyse the in-depth meaning of the language and provide a platform for them to pursue this passion. ELA focuses highly on improving the language skills of students, by encouraging them to think and communicate openly ⁠— relieving them from stage fear and communication boundaries.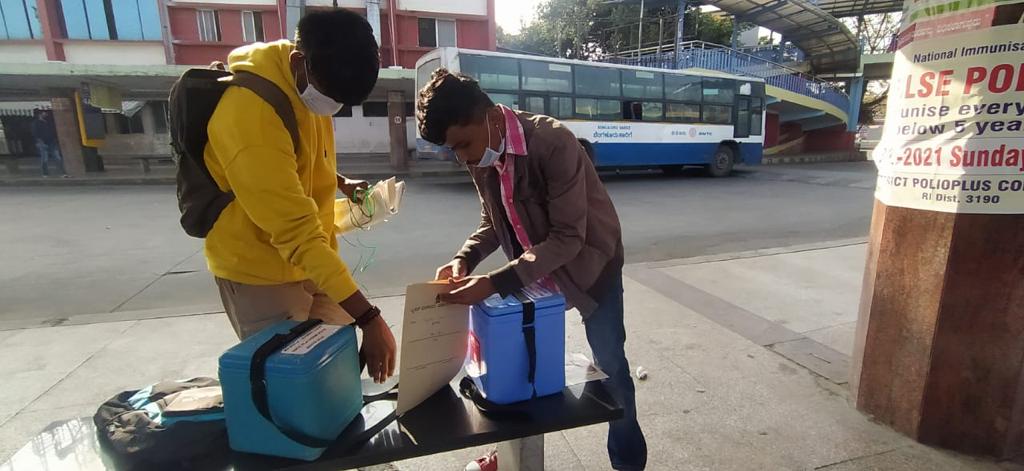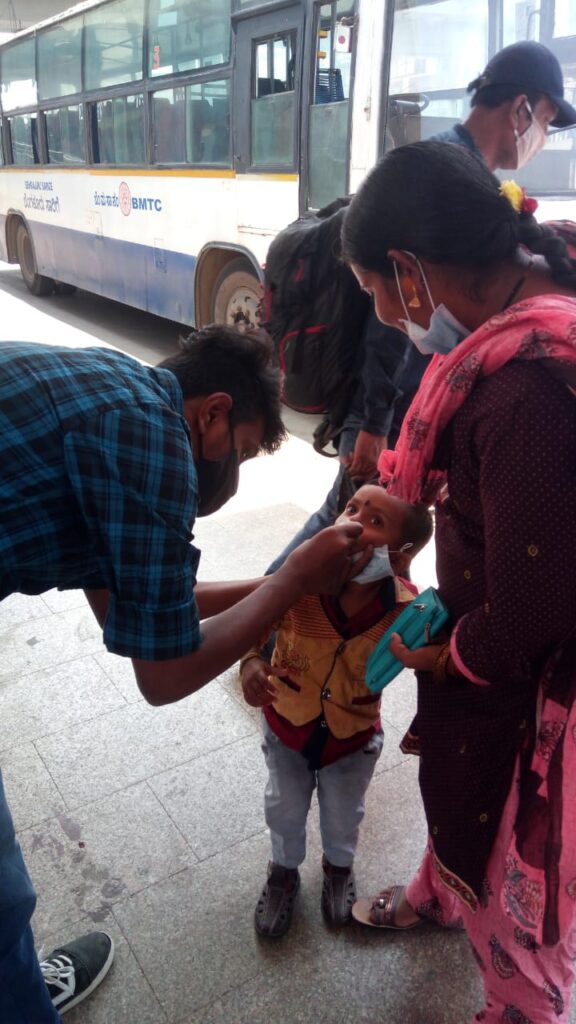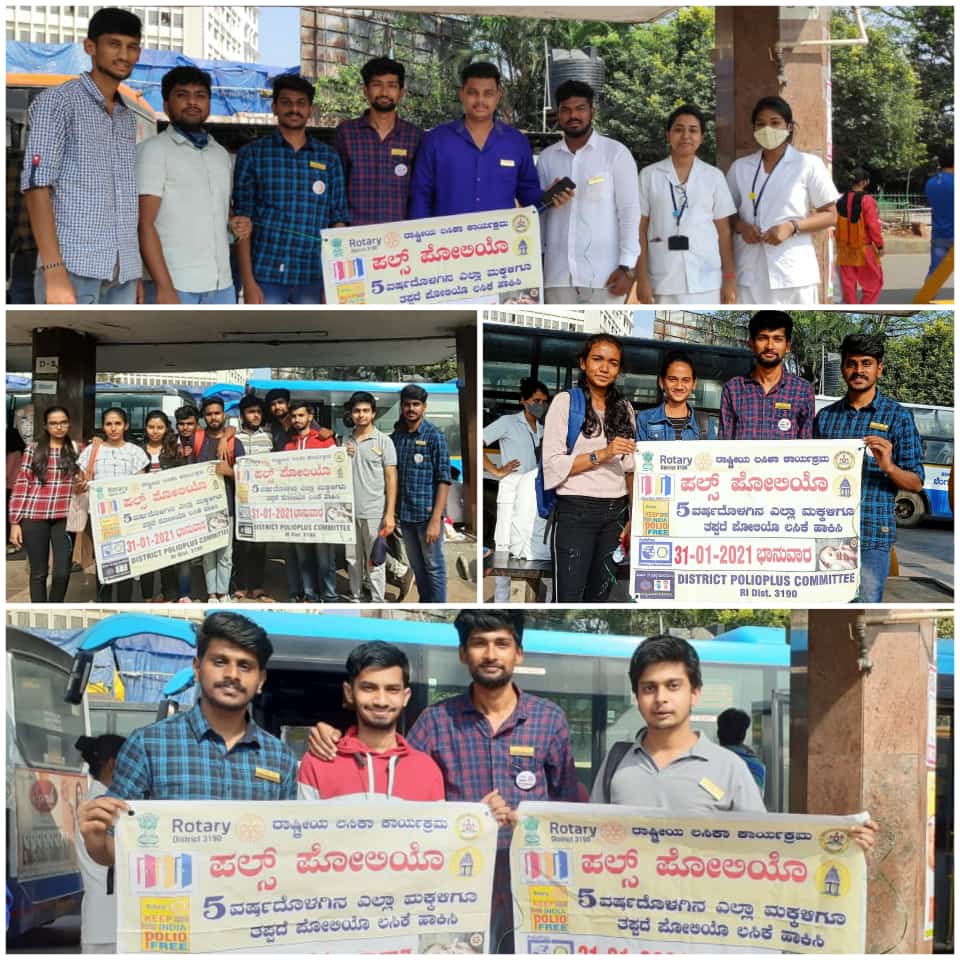 The Rotaract club of SSMRV college along with the Spandana – Centre for Community Services and Civil Defence Corpse participated in the NATIONAL LEVEL PULSE POLIO EVENT on 31st Jan 2021 .The event was held at the Kempegowda Bus Station ( Majestic) where in the volunteers provided vaccination to more than 350 Children.SSMRV College had participation of 27 volunteers which was the highest among the entire Rotaract club 3190. The volunteers ensured that the best efforts are made to ensure the society gets maximum benefits.
SSMRV's Rotract Club is a one-of-a-kind youth programme aimed at shaping next-generation leaders into responsible, service-oriented citizens. Be it awareness camps or volunteer programmes — the club organises a diverse set of events every year that help students develop their leadership skills and gain a richer perspective of the world they live in.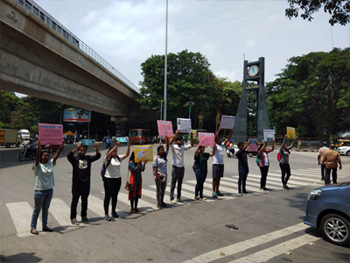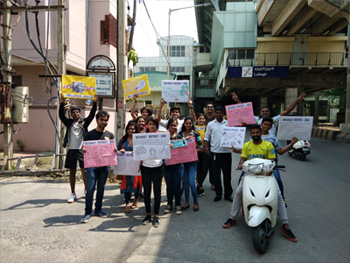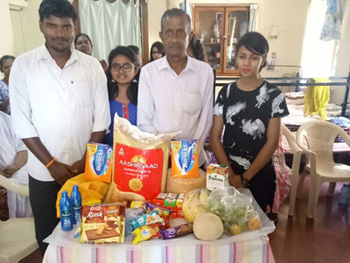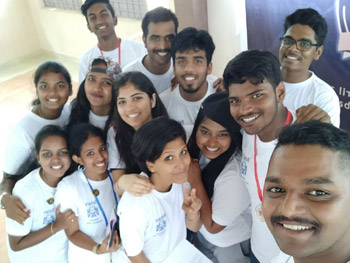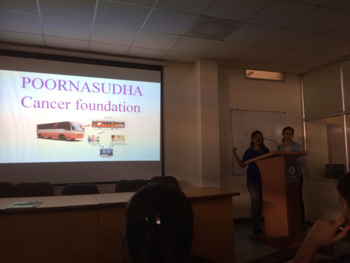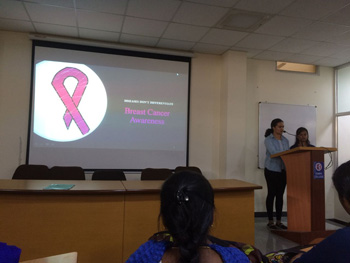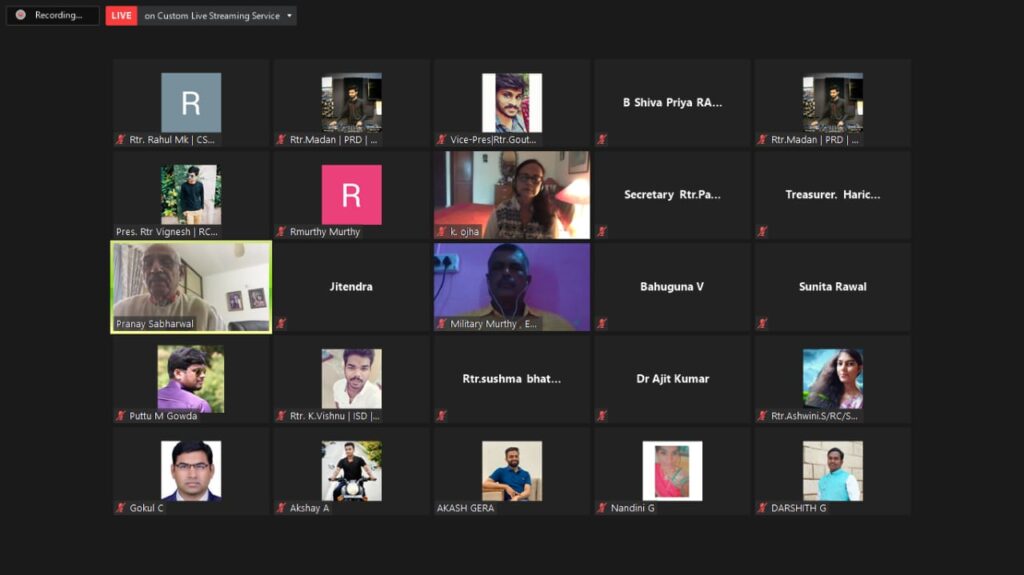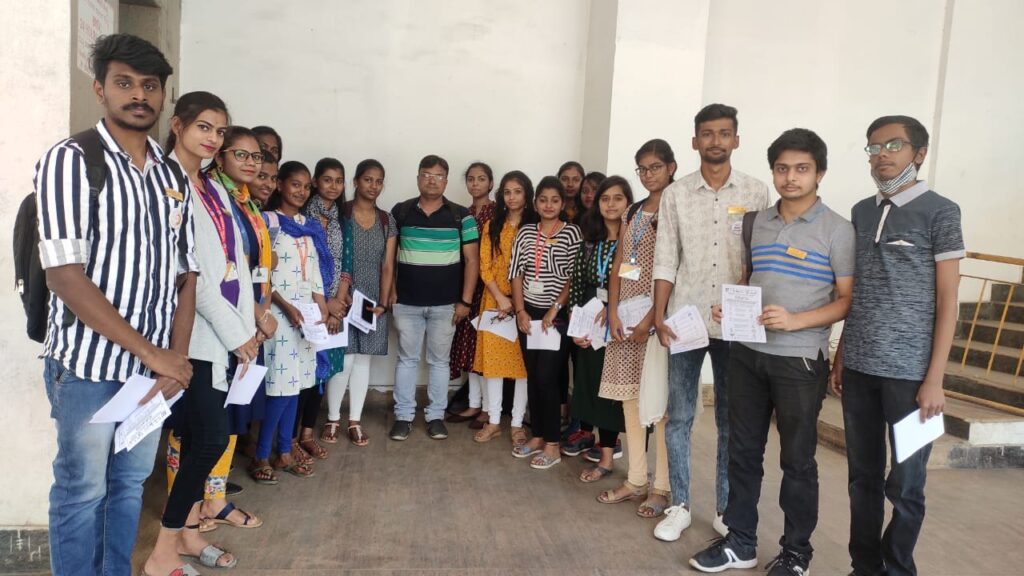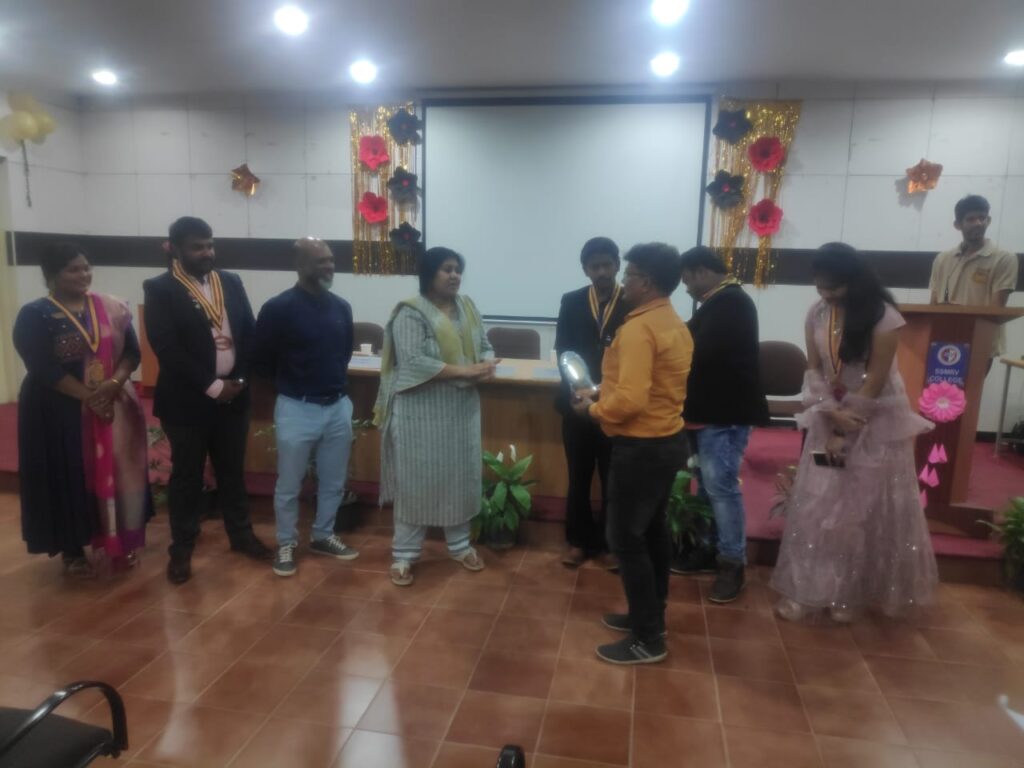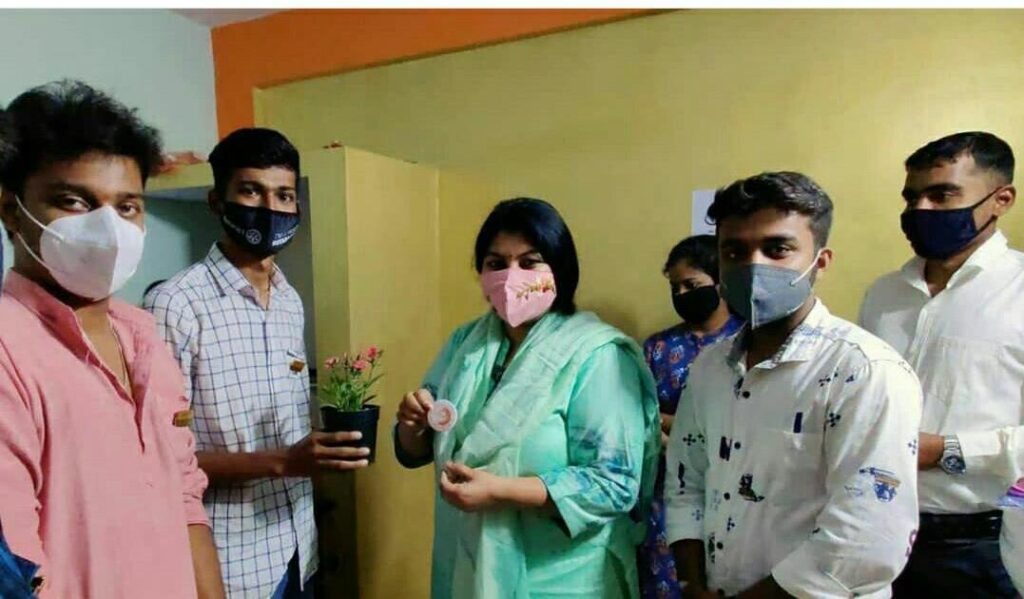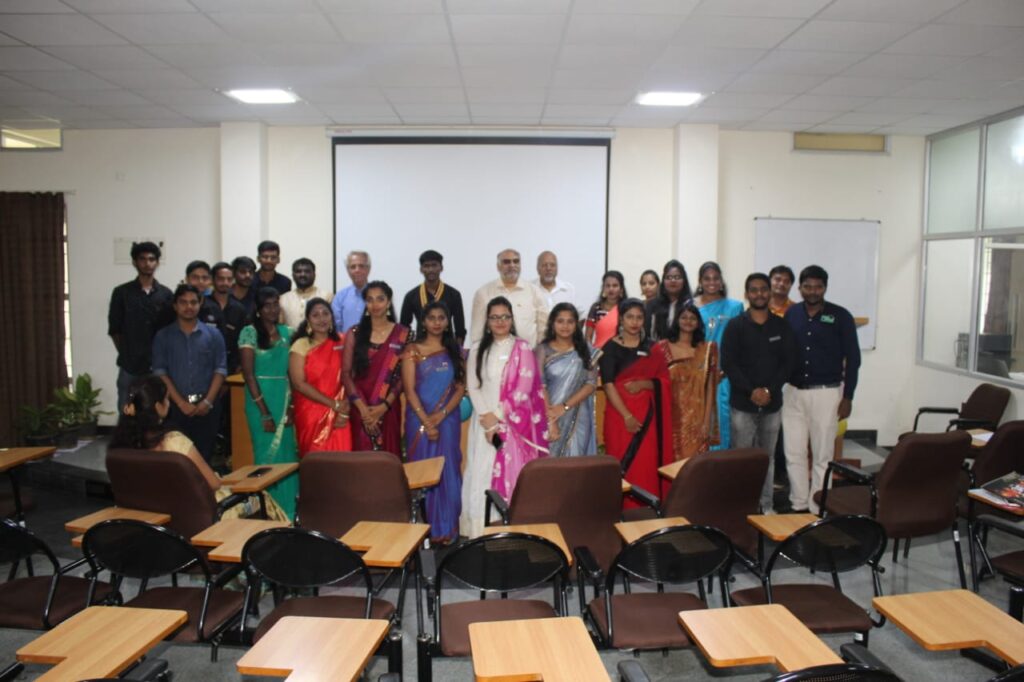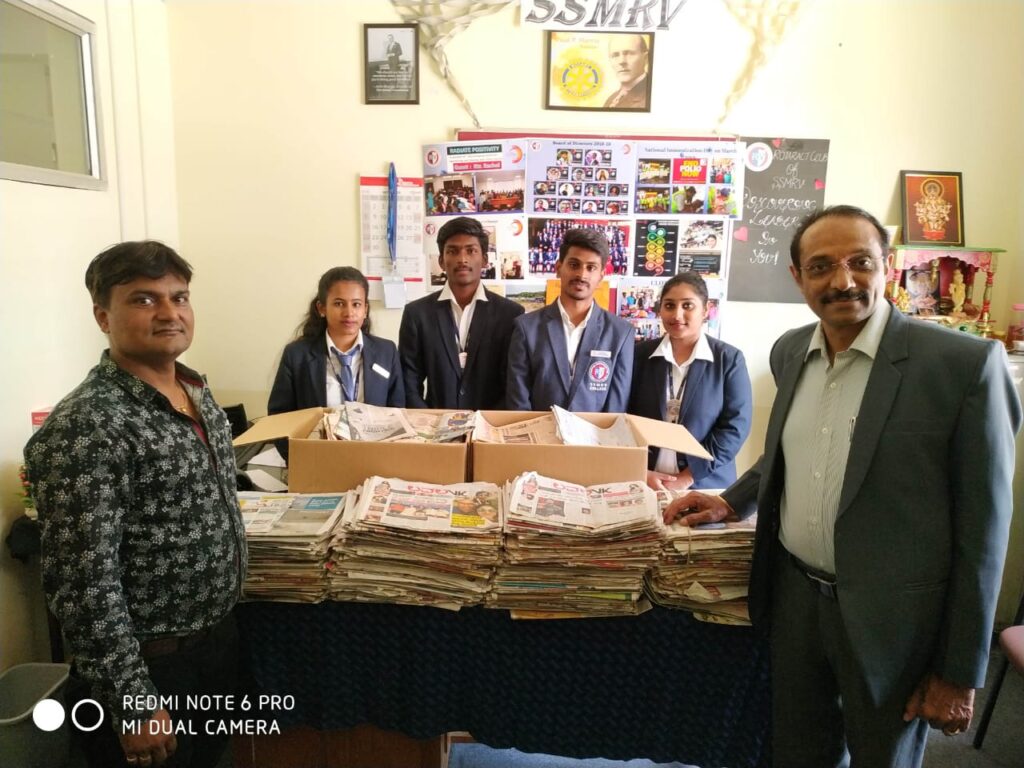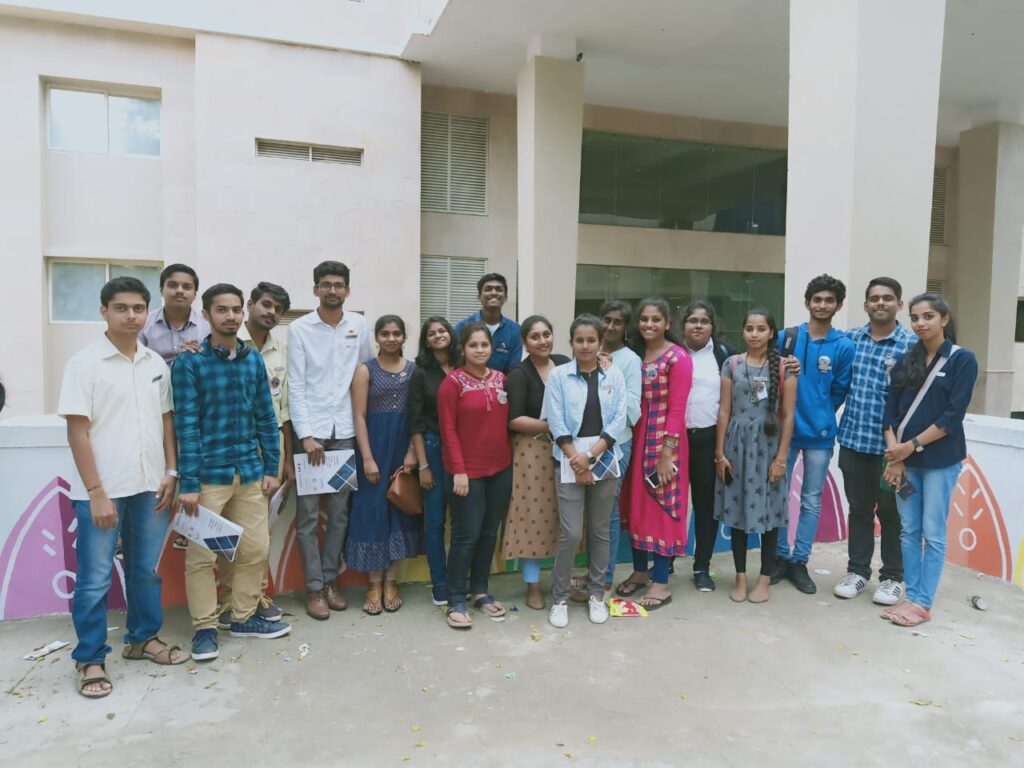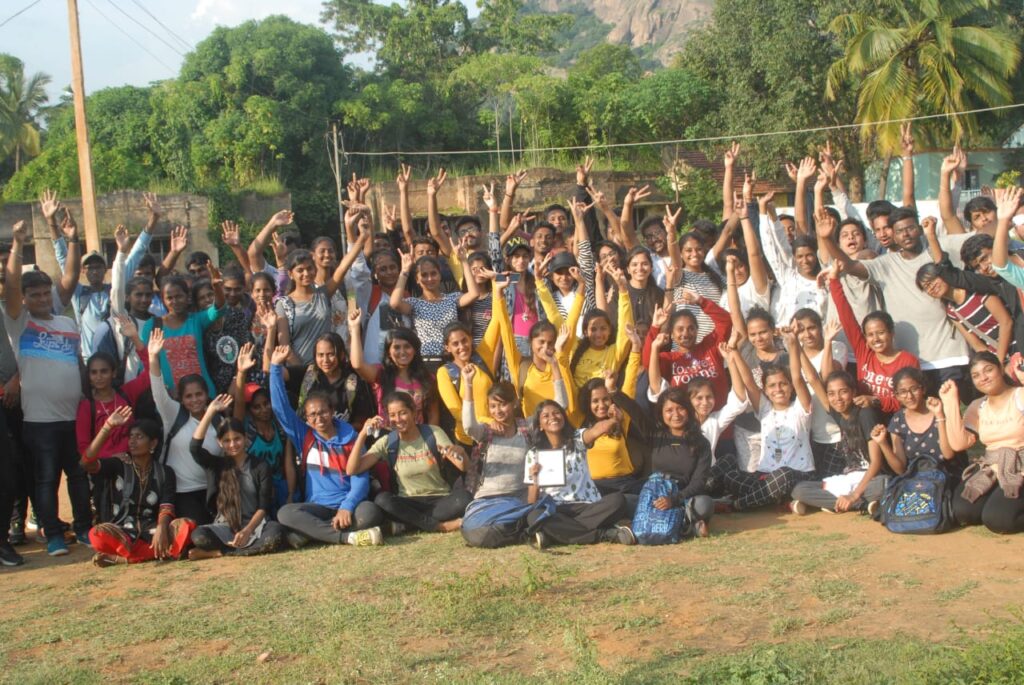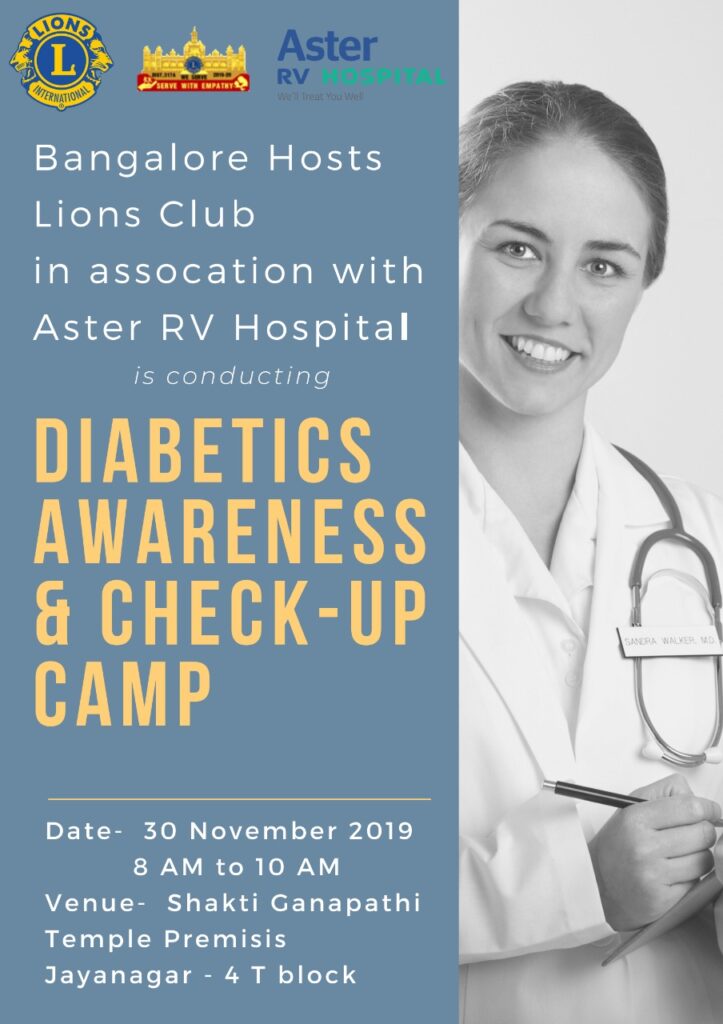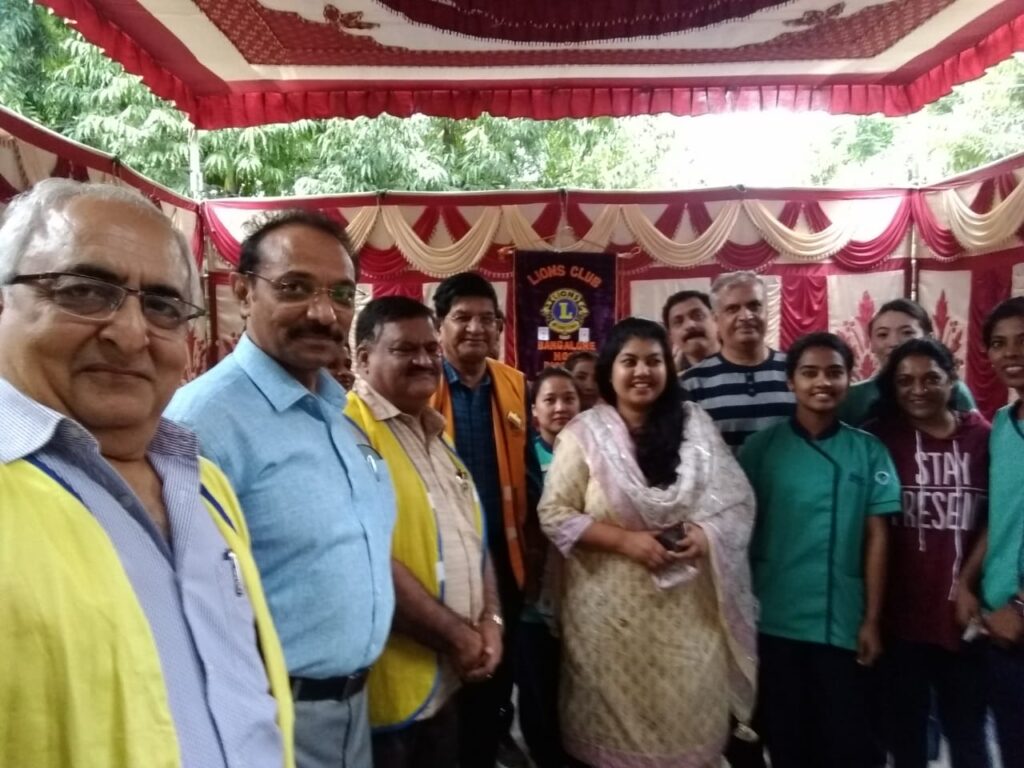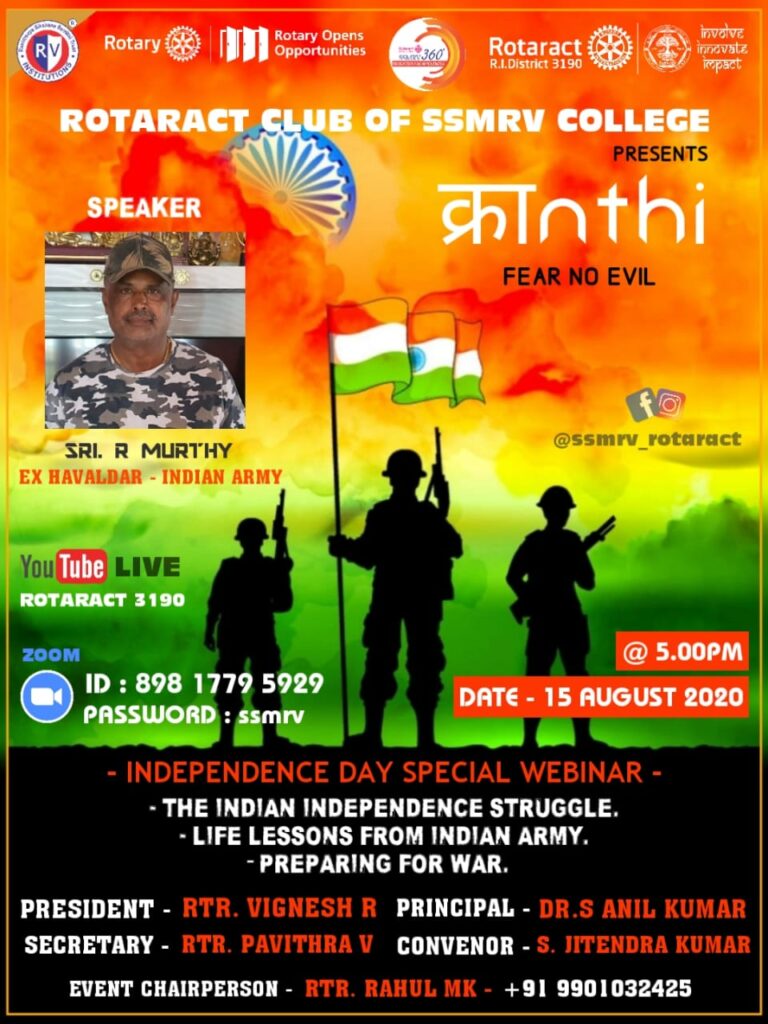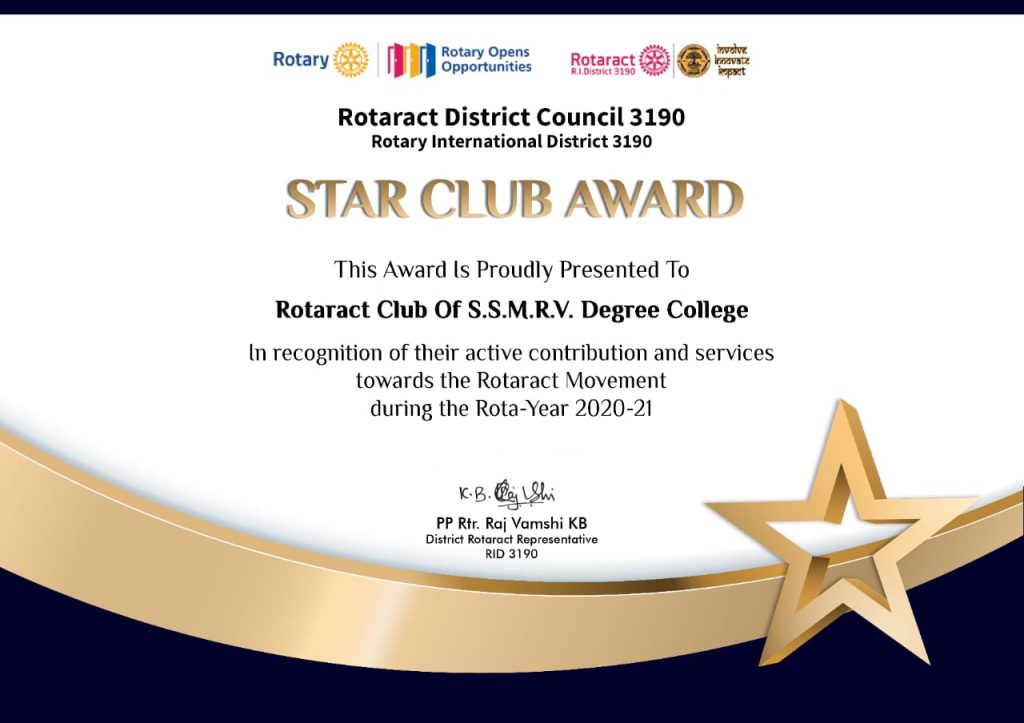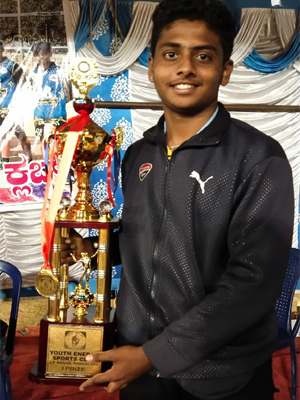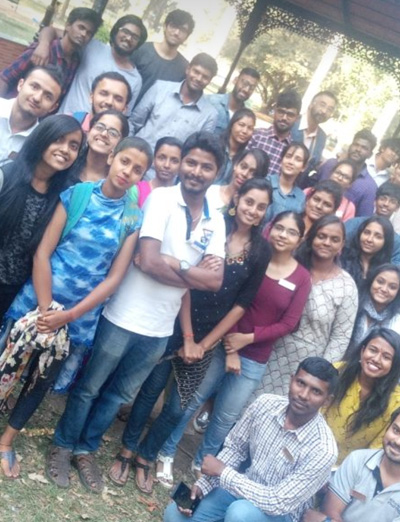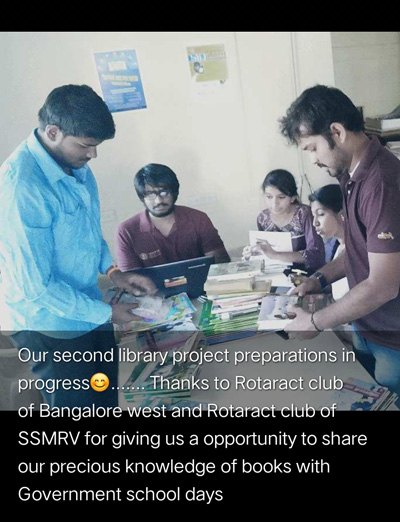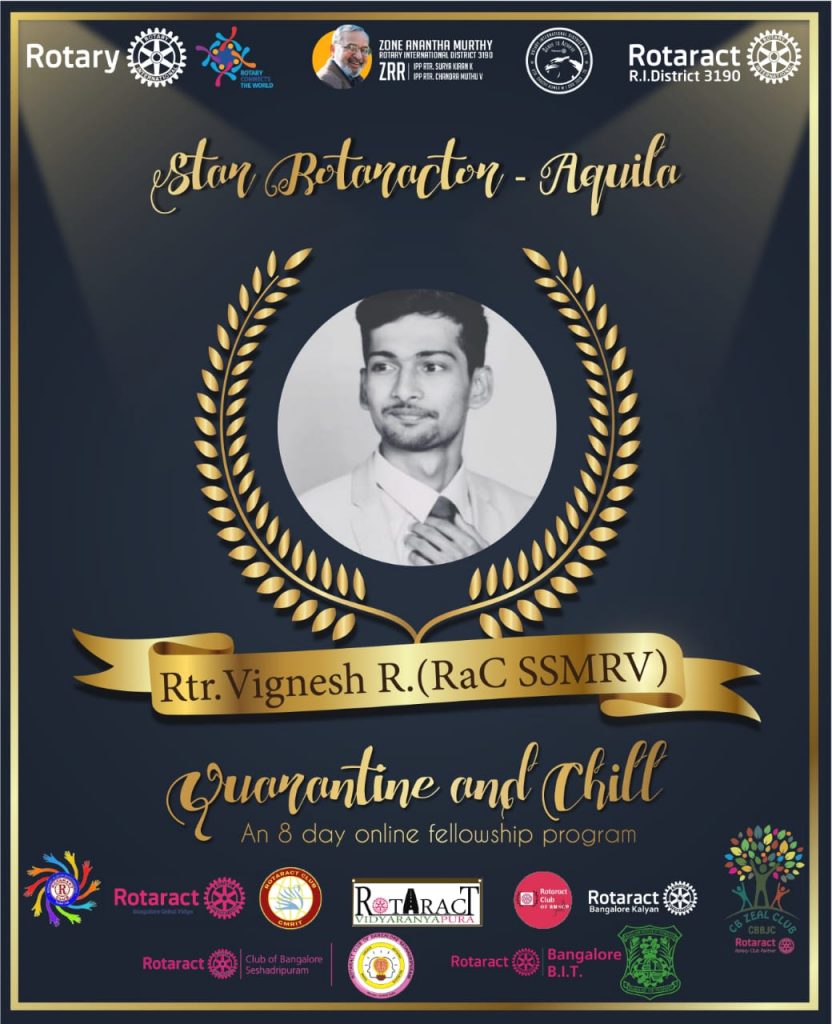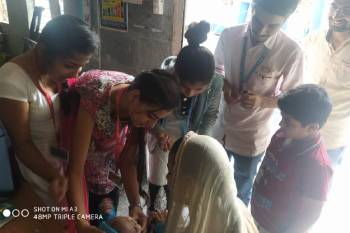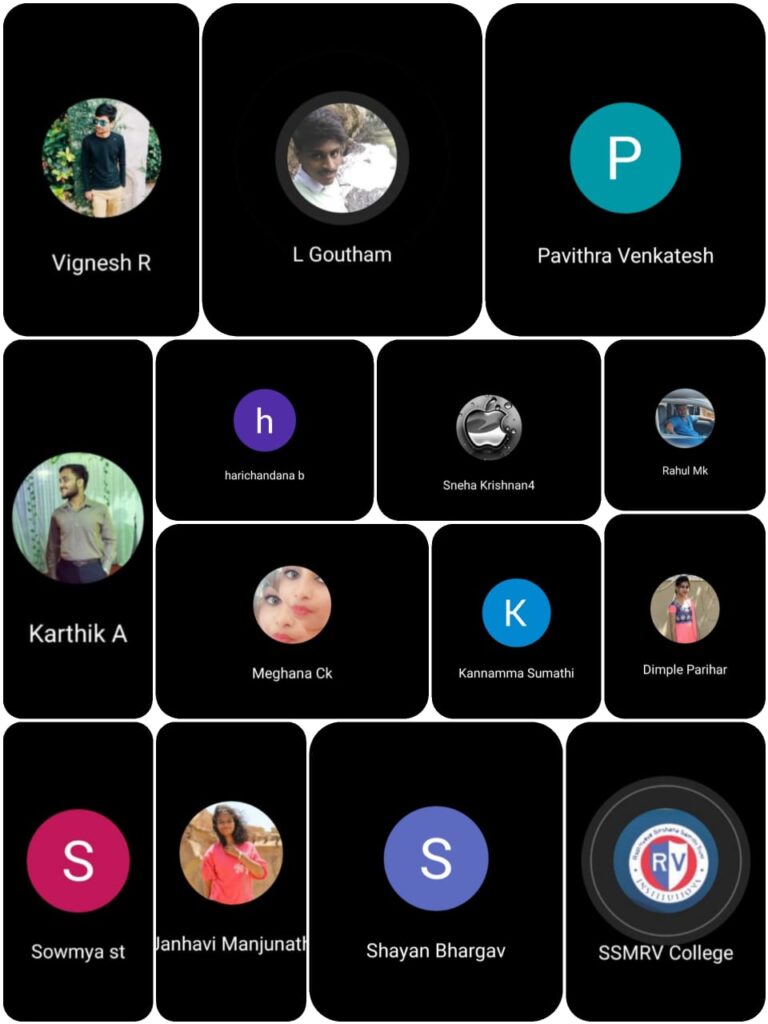 Our Anti-ragging Committee prevents and prohibits ragging on campus and ensures a safe learning environment for all. If any incidence of ragging is noticed, contact: 
Dr. Arun M.N(Physical Education Director)
Phone: 9964100880
24X7 Anti-ragging Helpline: 1800-180-5522 (Toll-free)
Email ID: helpline@antiragging.in
Log on to www.ugc.ac.in to know more.
Ethics and Self-governance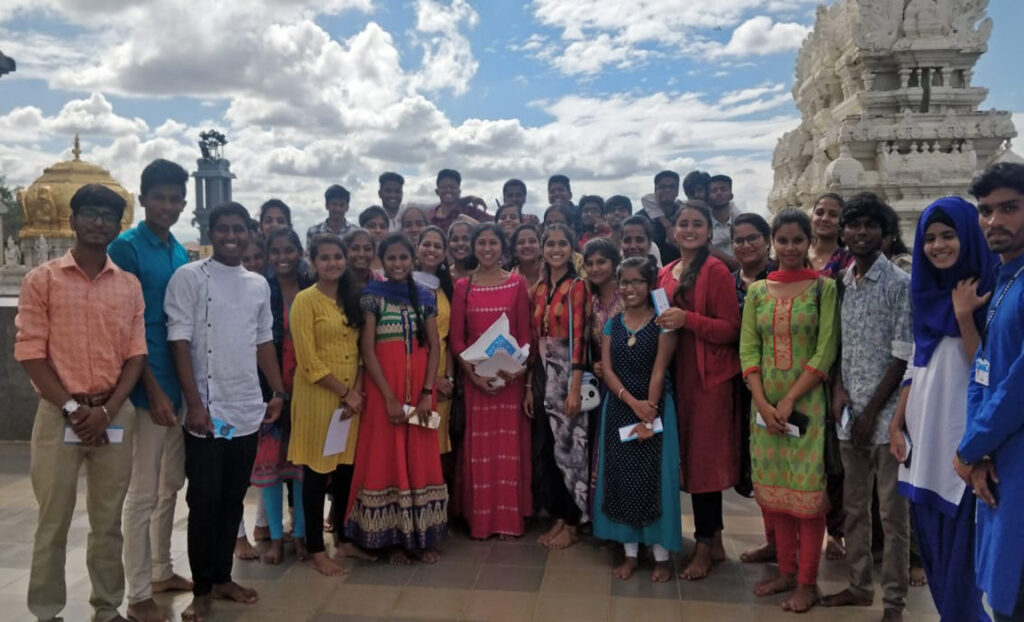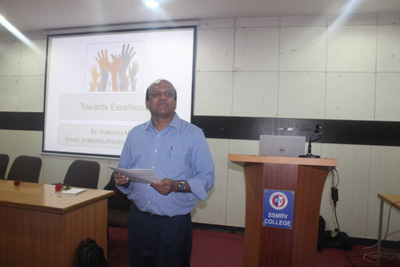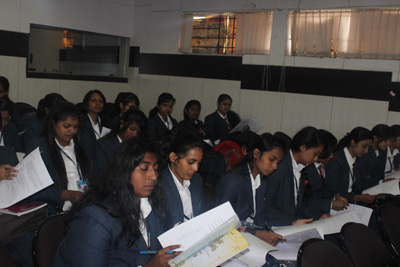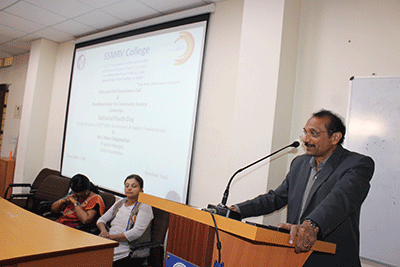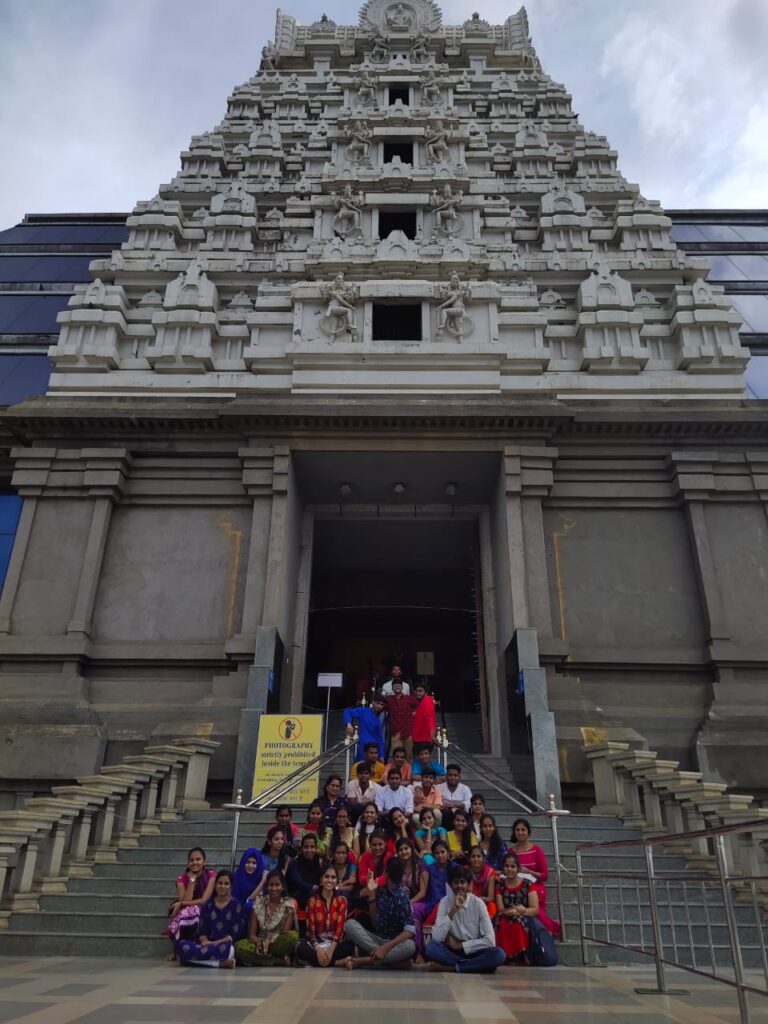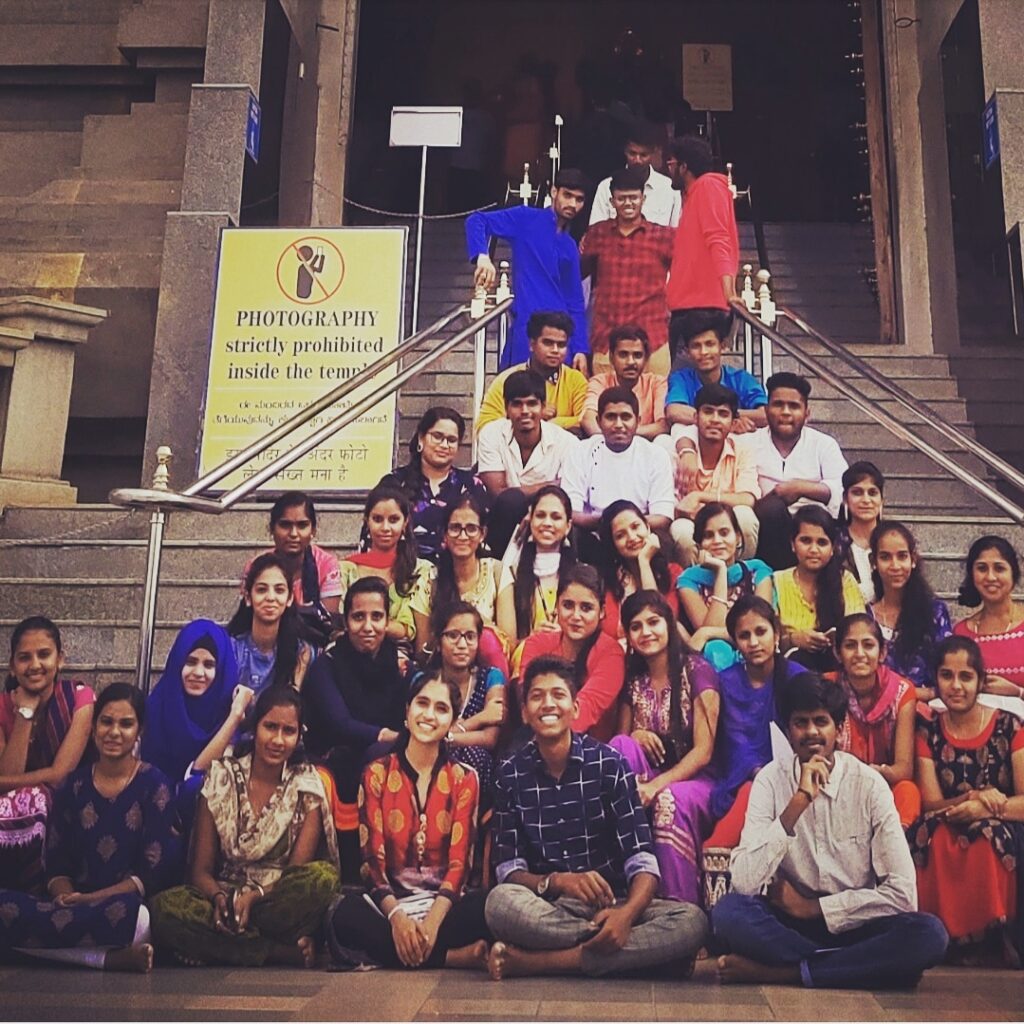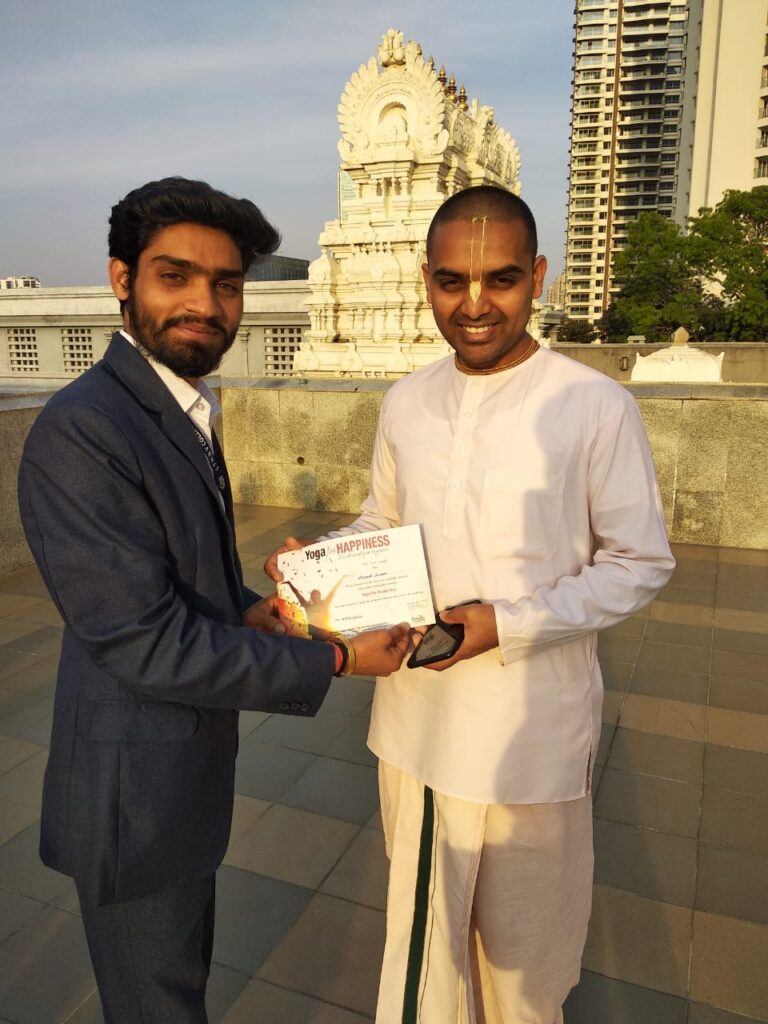 SSMRV's Centre for Ethics and Self-Governance is a well-organised initiative by the undergraduate students, focusing on grooming and guiding the students towards ethical corporate governance, the traditions of the country, moral conduct, and much more. This was a necessary step to ensure that both personal and professional development were given equal priority — helping the students have a better approach towards social responsibilities and national integration.
Our Grievance Redressal Cell deals with student issues ranging from academics to finances.
Note: 
Students will have to file their grievances in writing. 
We accept applications for the following matters: 
Academic:

Issue of duplicate mark-sheets, transfer certificates, conduct certificates and examination related matters

Financial:

Dues, payments, and refunds

Others: Medical leaves, special permissions, personal and family problems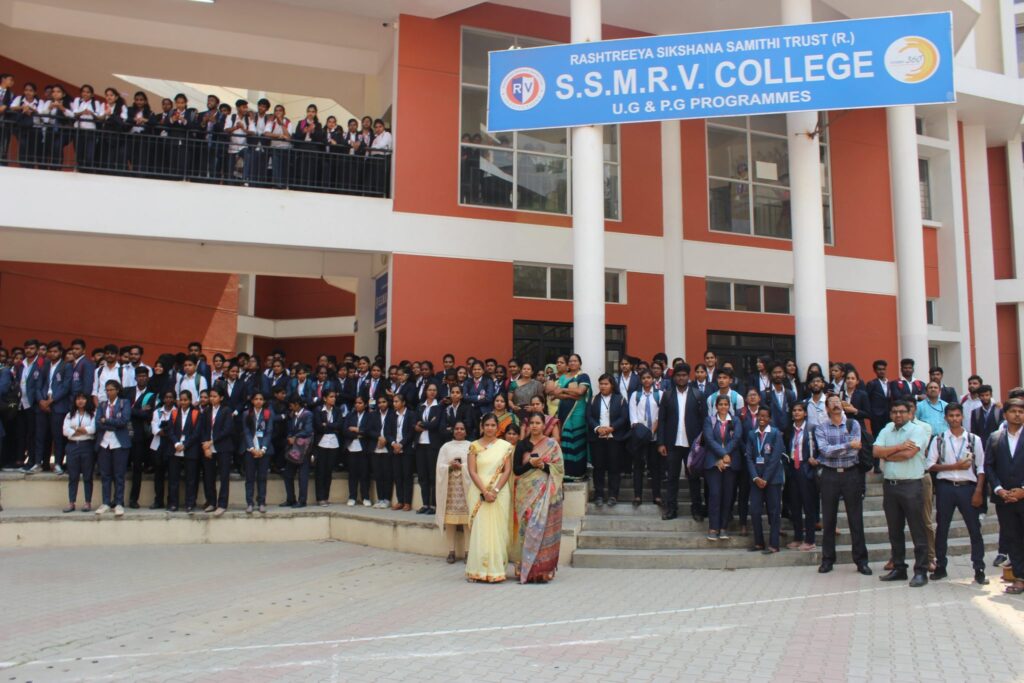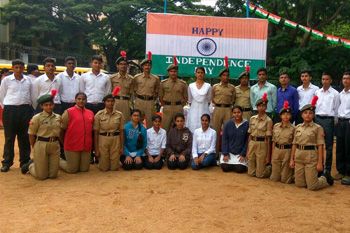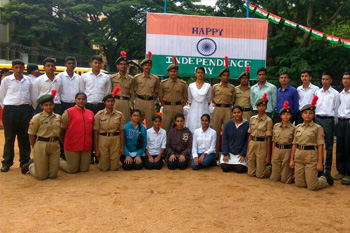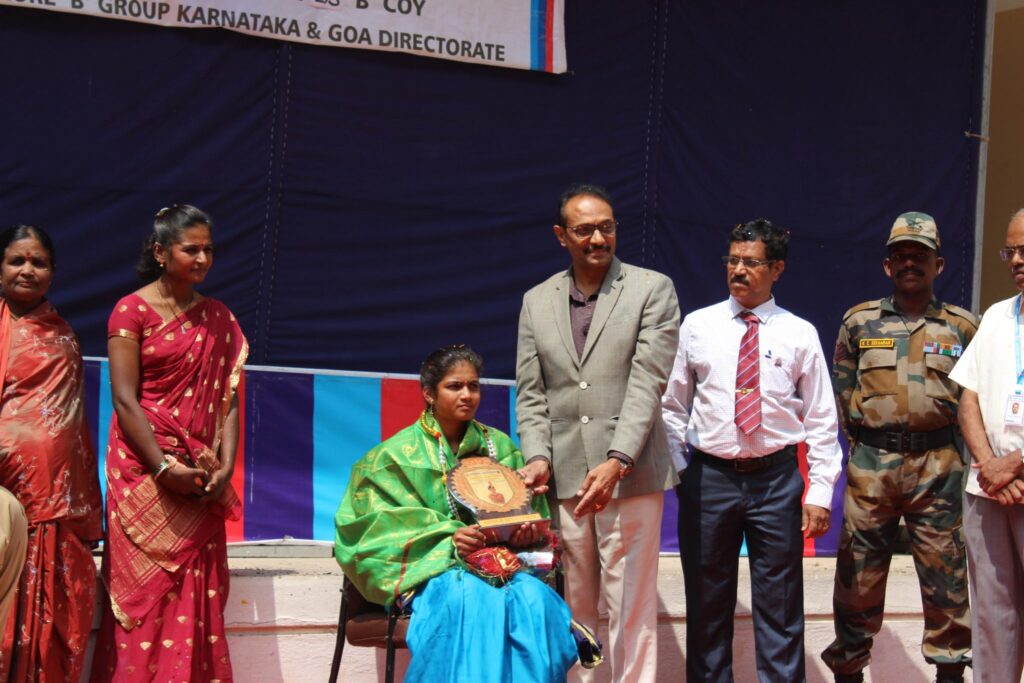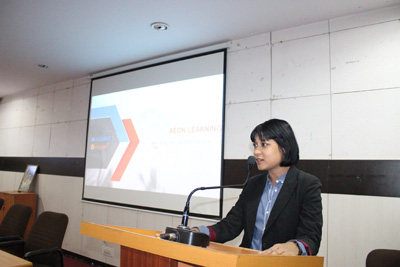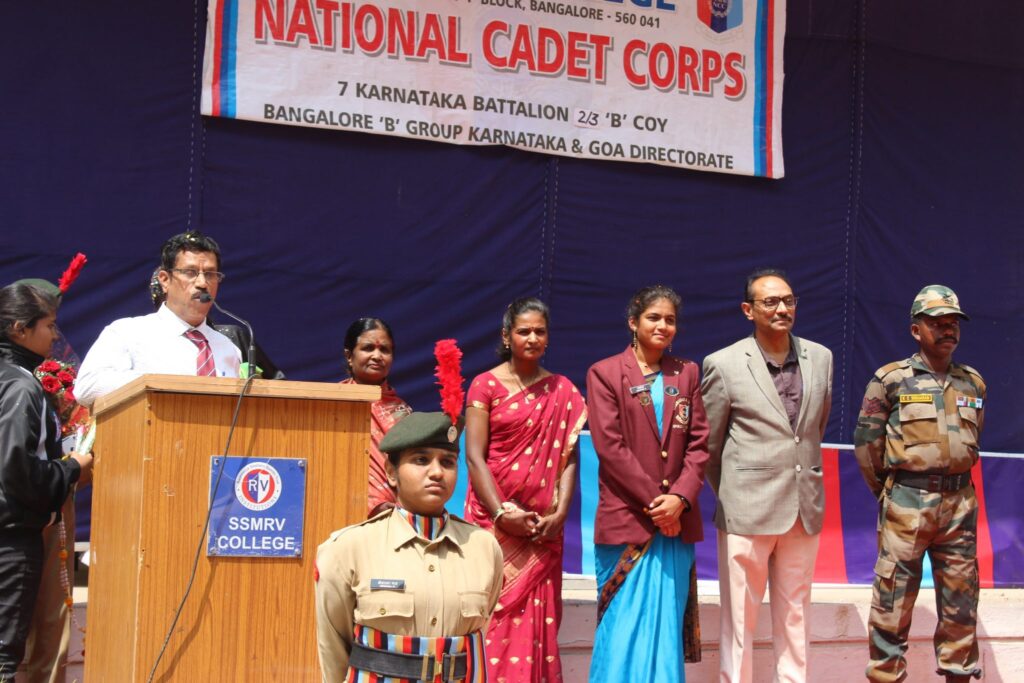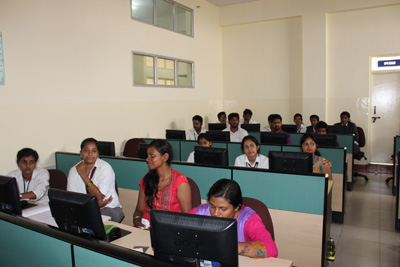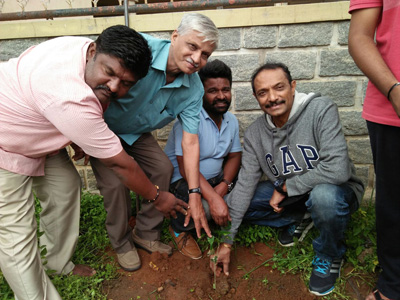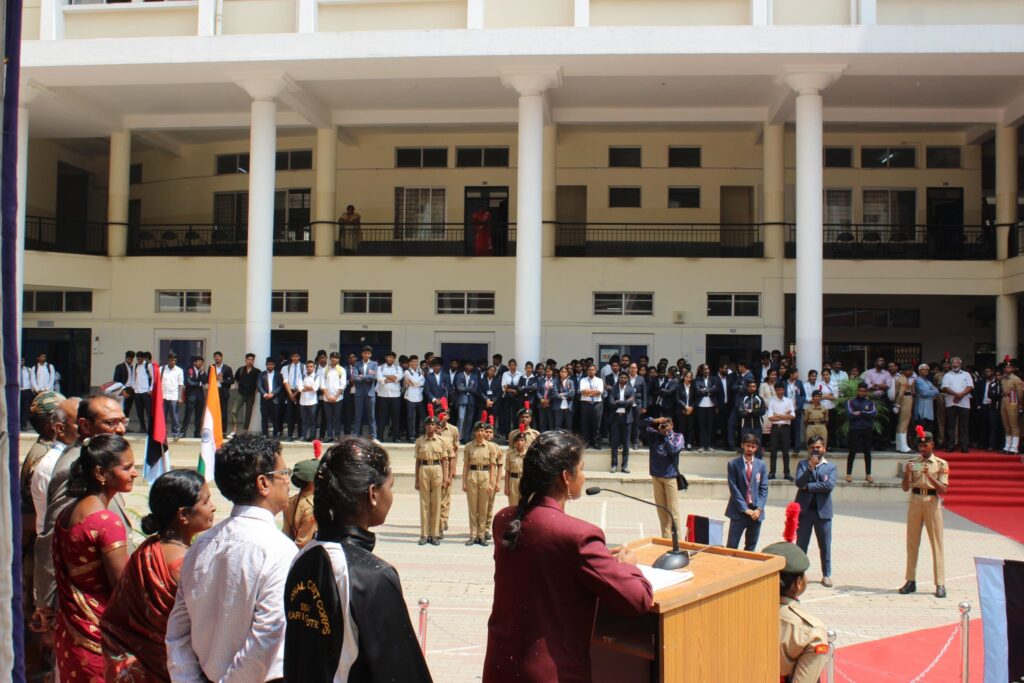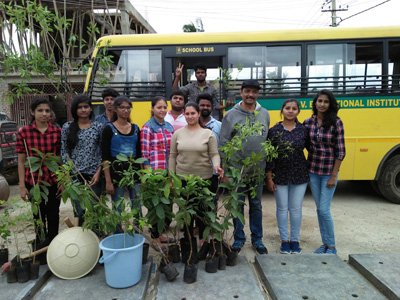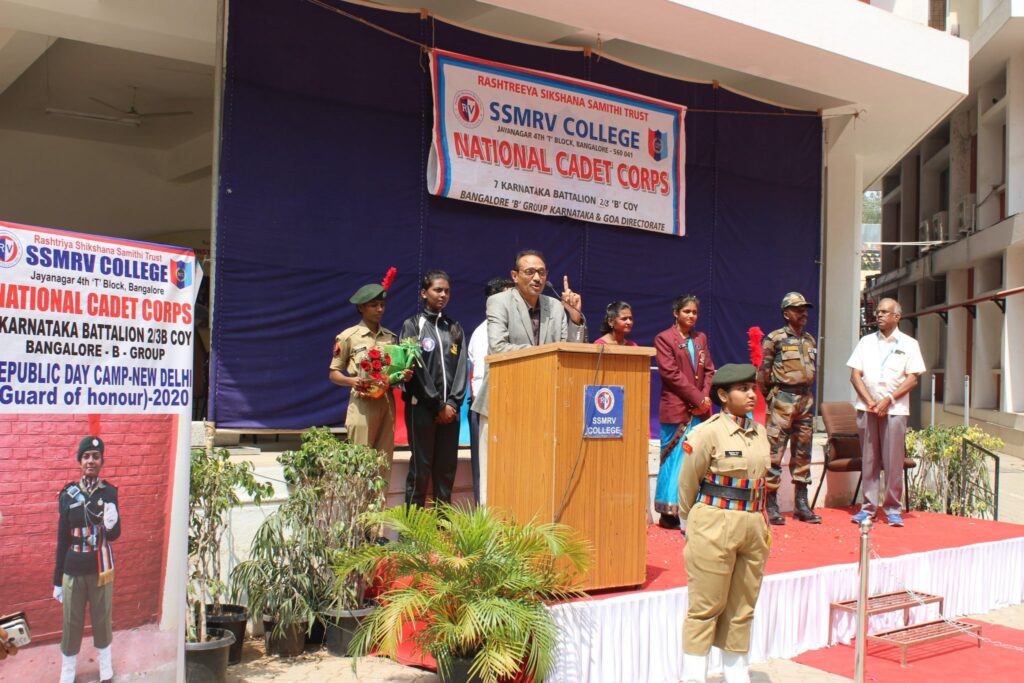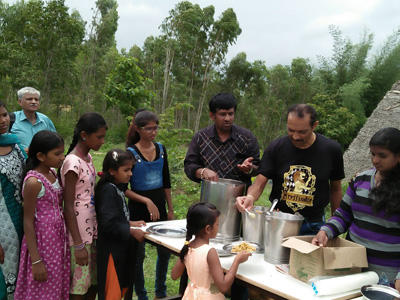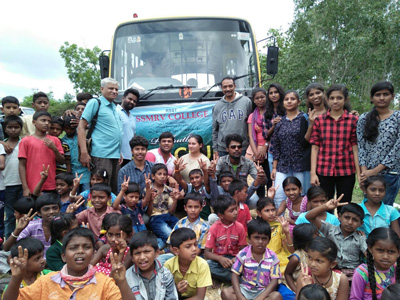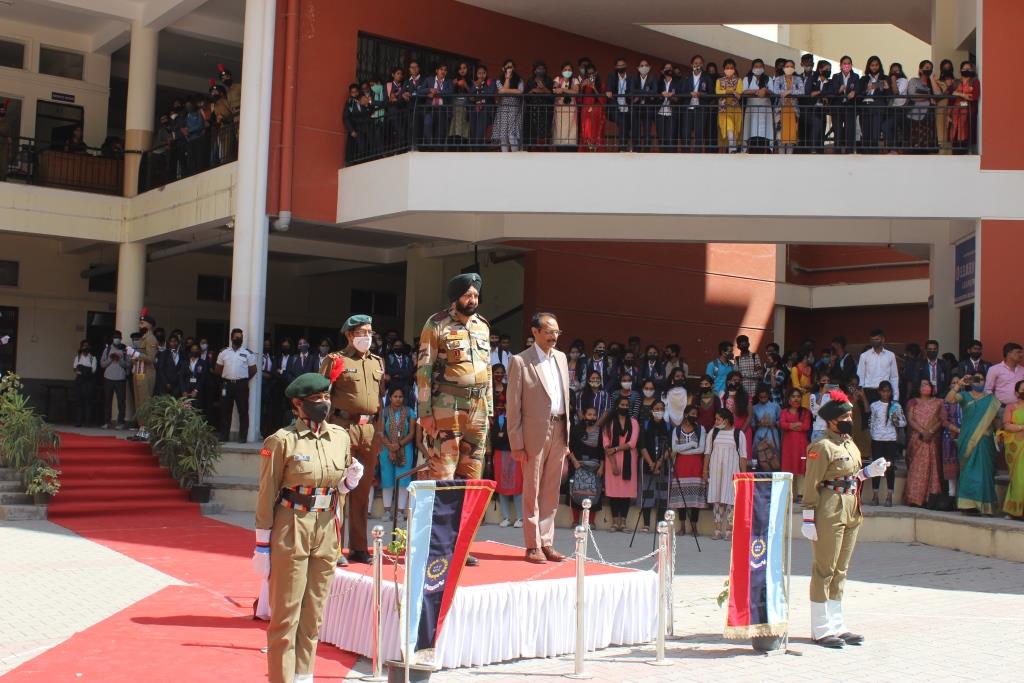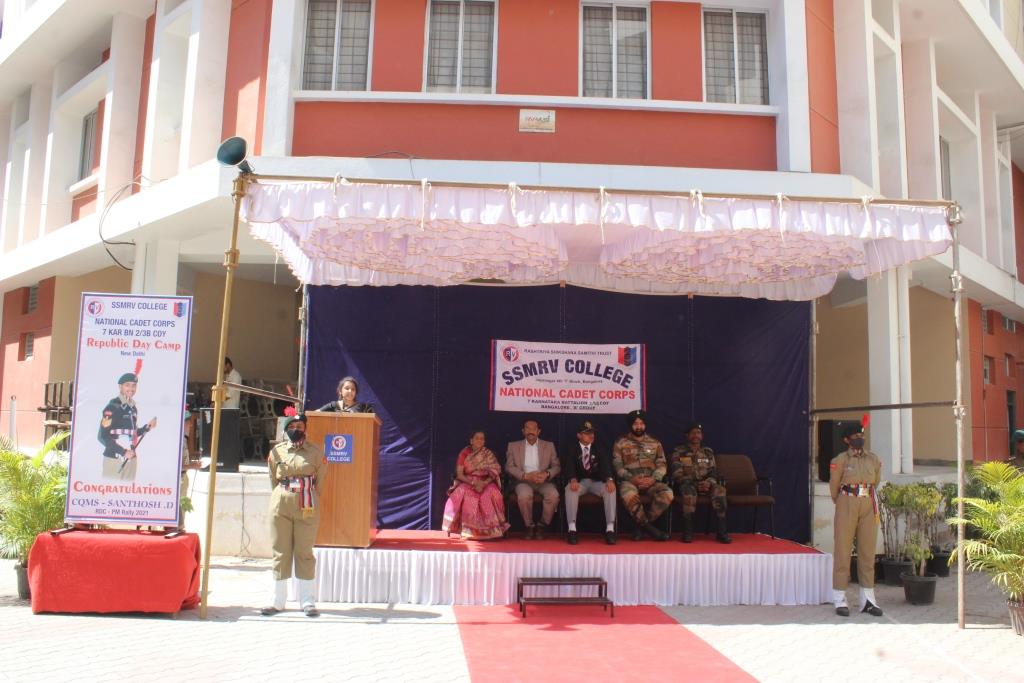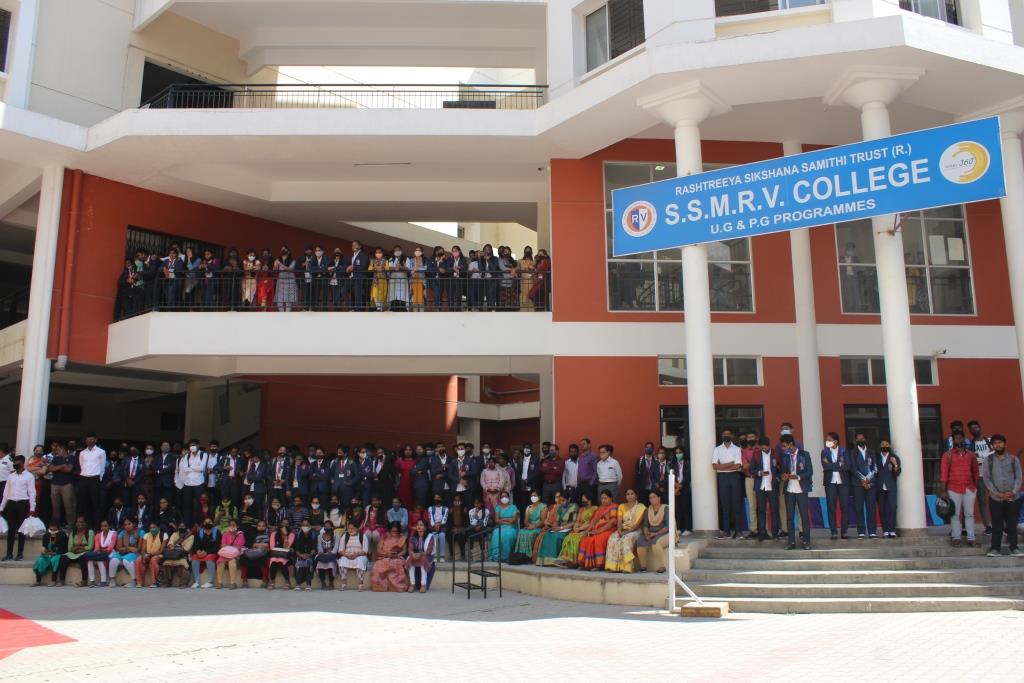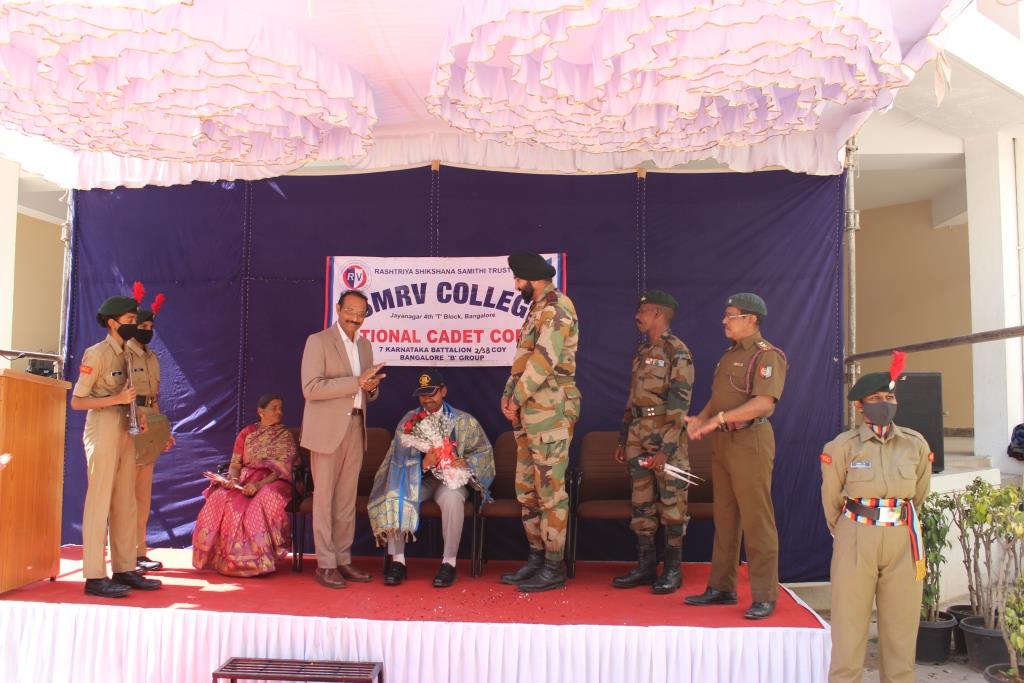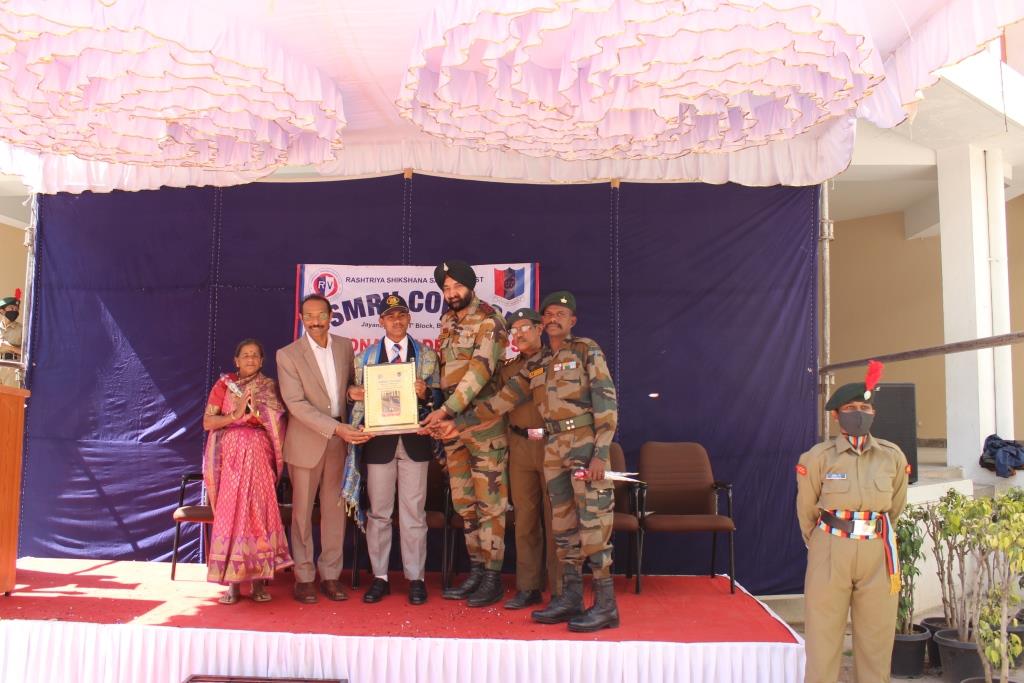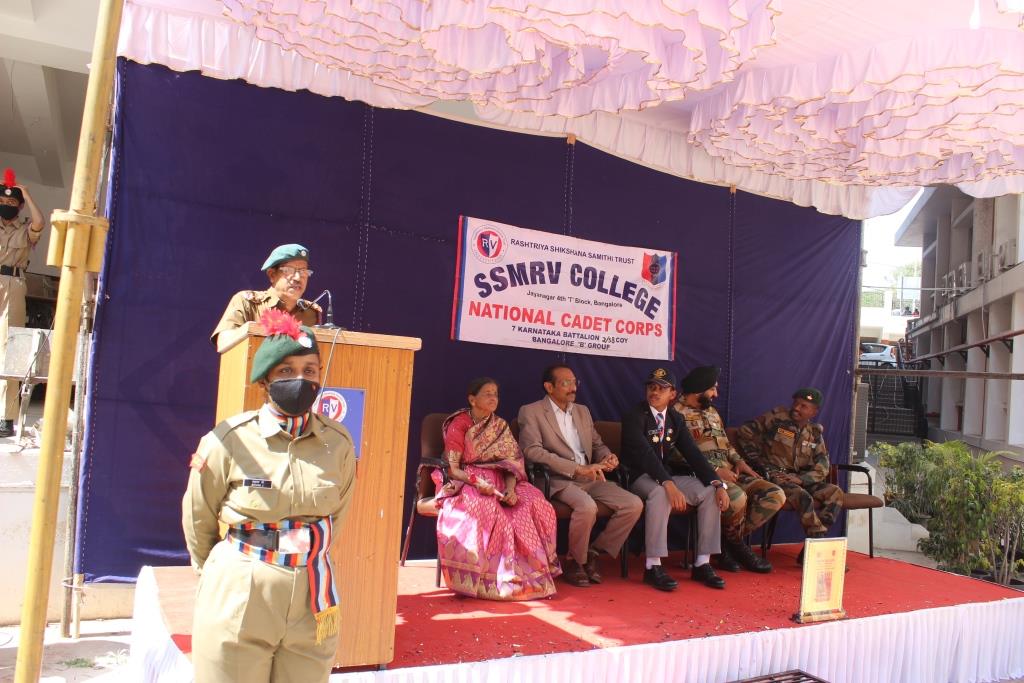 Started in 1999, the National Cadet Corps (NCC) wing of SSMRV is a unit aimed at inculcating discipline and unity among students. NCC conducts regular practice drills, volunteer programmes, blood donation drives, and more. These activities teach students important skills like team building, time management, problem-solving, etc.
Udyotana
The Counselling Cell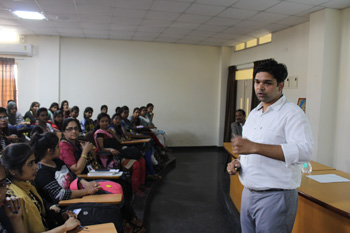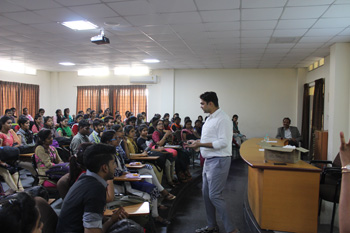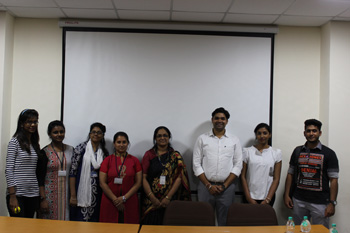 At SSMRV, our students' mental health is of utmost priority. We provide counselling services that help students overcome their immediate problems such as stress, fatigue, anxiety, anger, patience levels, etc. In addition, the cell organises guest lectures, personality development programmes, and more to support the students in difficult times.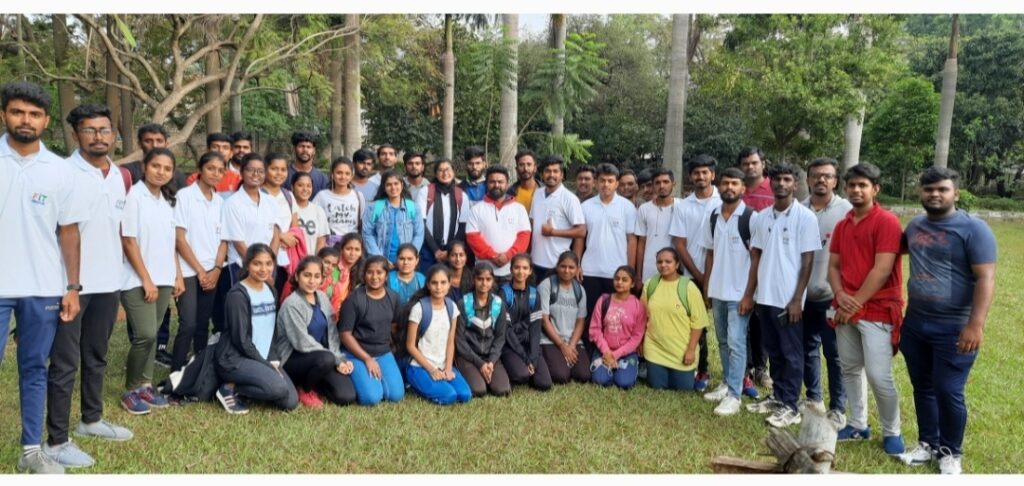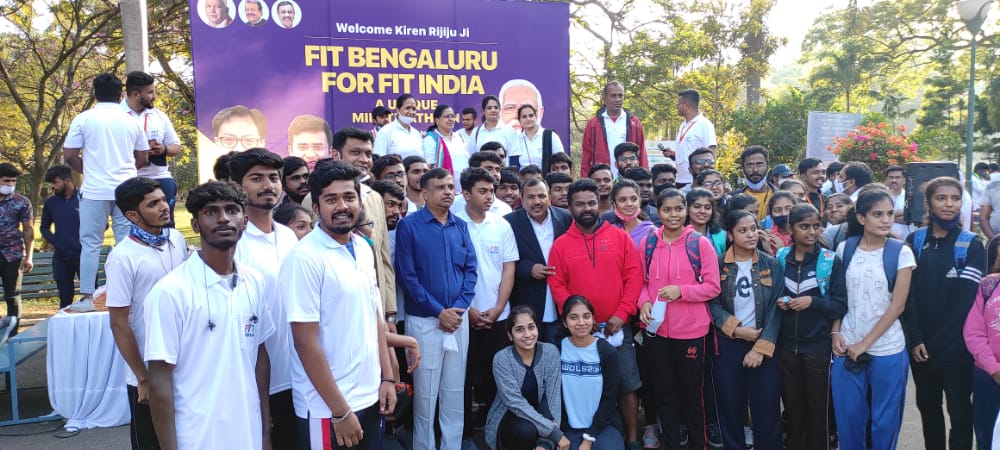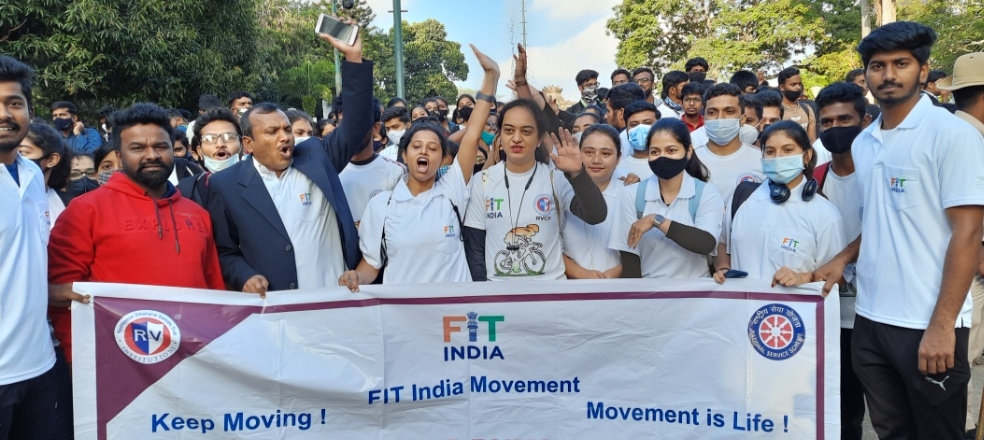 SSMRV's National Service Scheme (NSS) is an active unit constantly striving to help students understand their community well. Since 1996, it has been permanently affiliated to Bangalore Central University, empowering students to serve their society and uplift the down-trodden. As a part of the programme, our NSS team hosts a wide range of events and activities throughout the year such as tree plantations, blood donation camp, AIDS awareness, and more. All these efforts aim to instil the spirit of selfless service in students and shape them into responsible global citizens.
Drishya Vismaya
The Film Club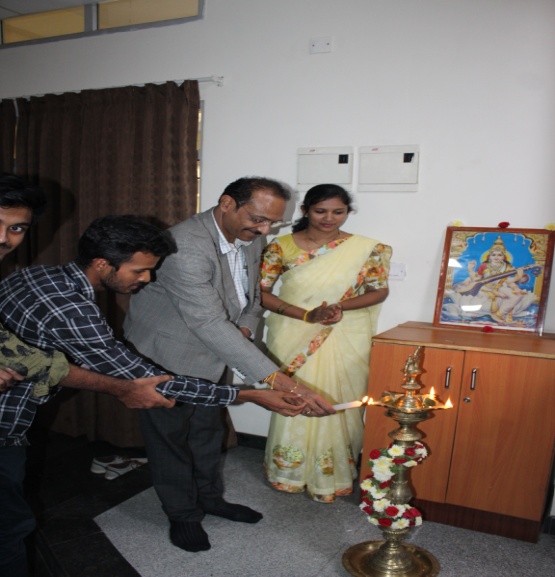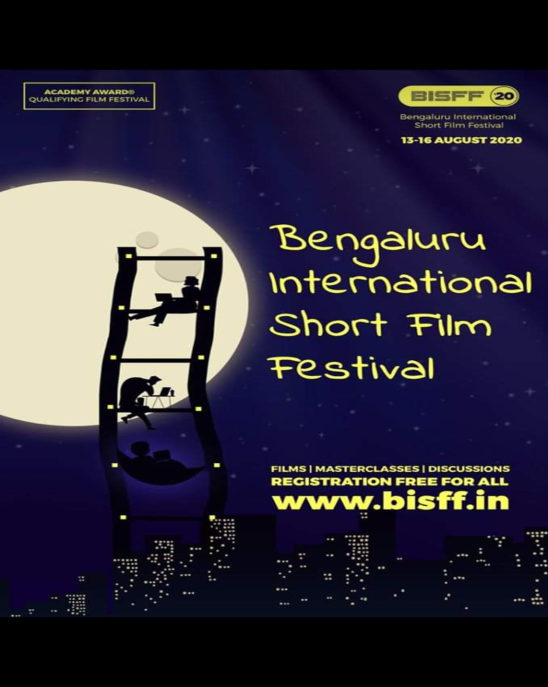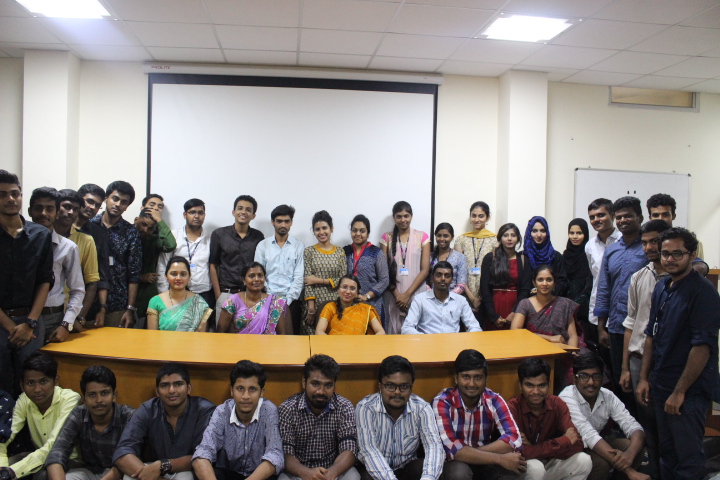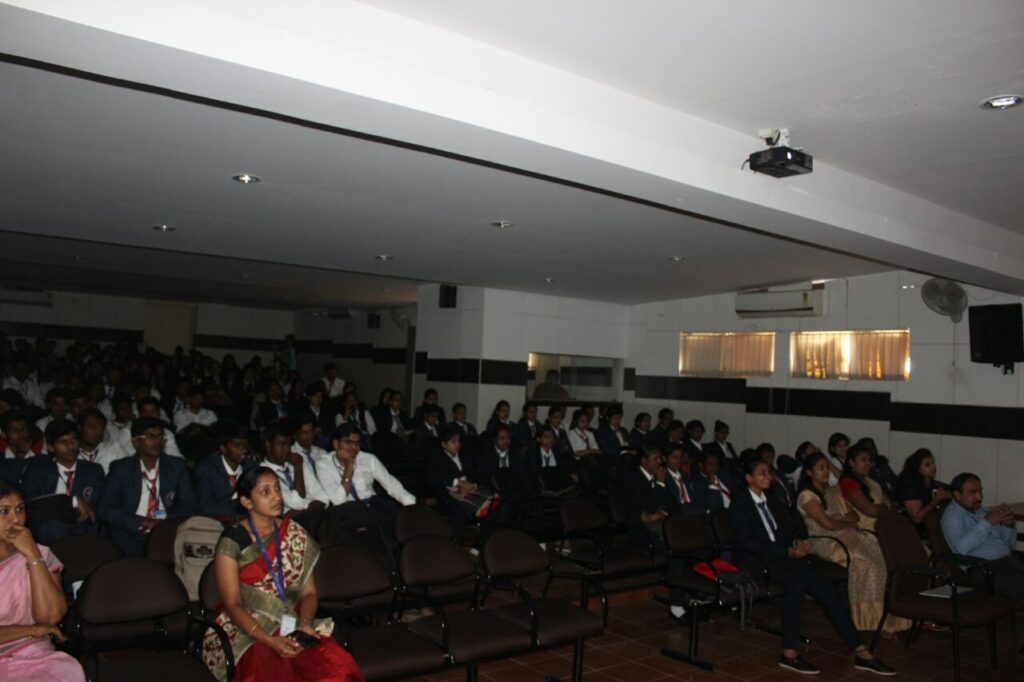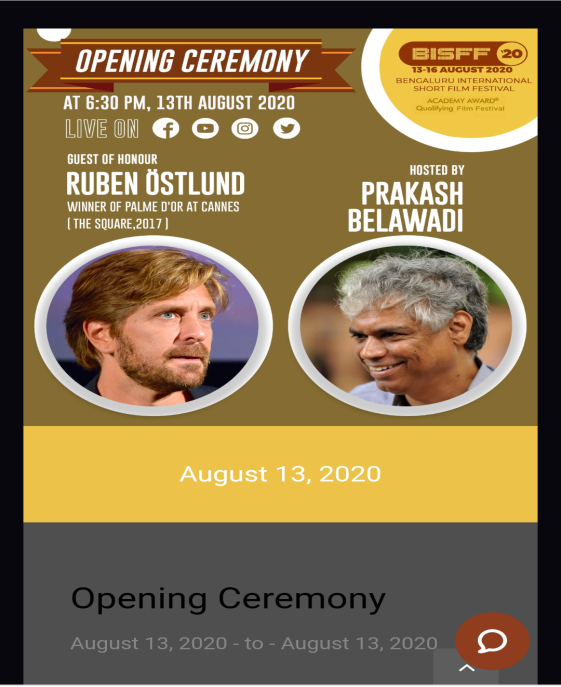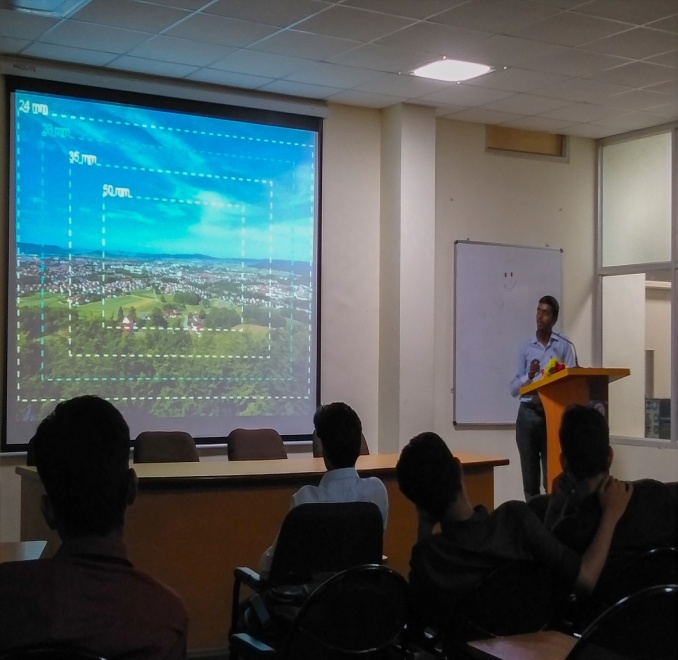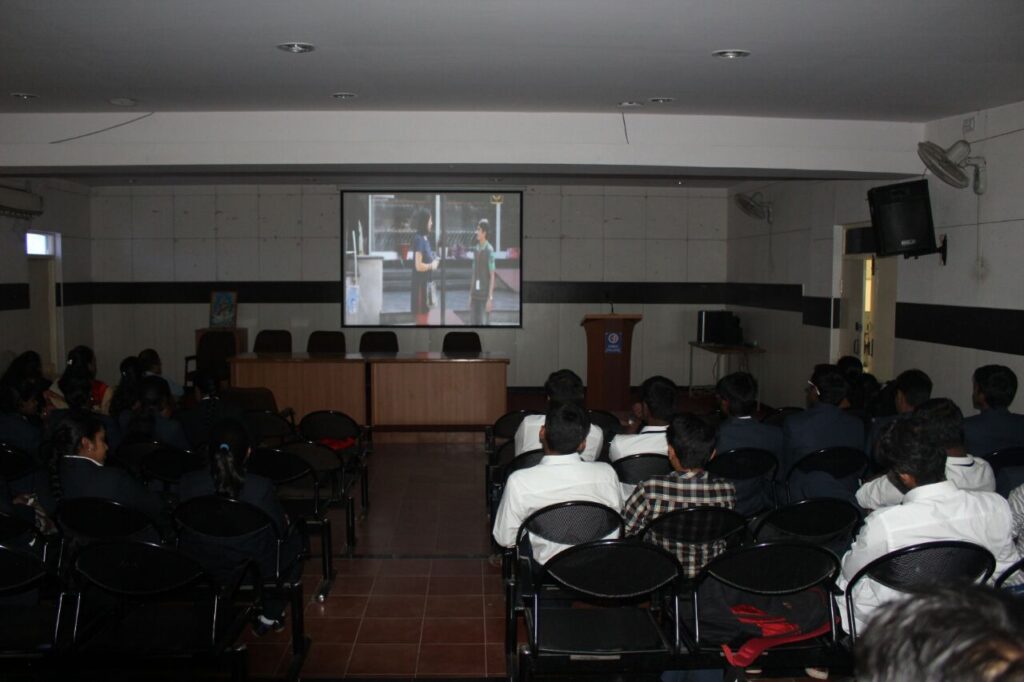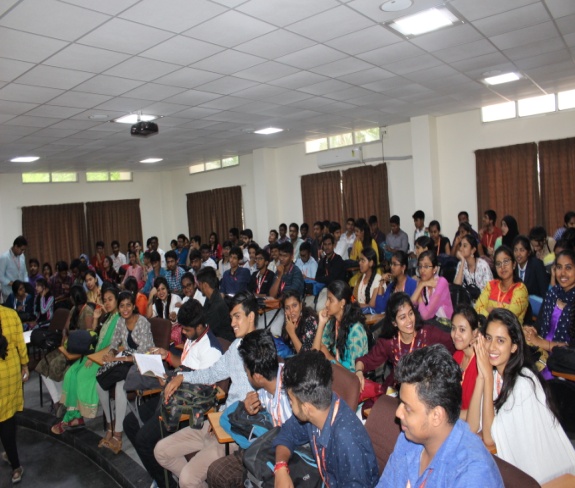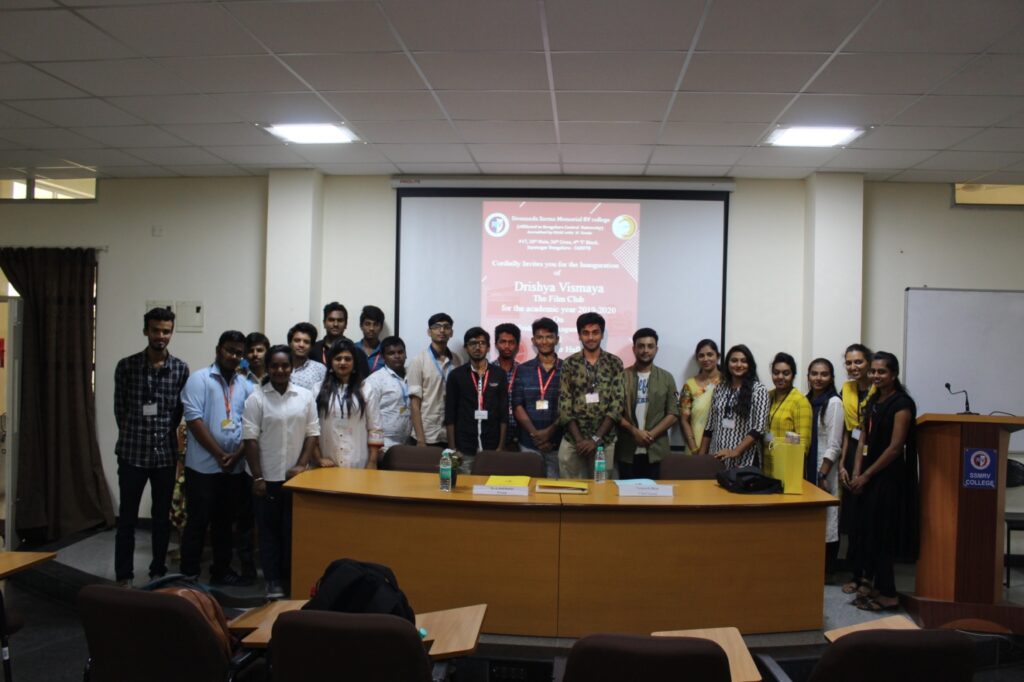 Drishya Vismaya Film Club was formed to educate students about the importance and relevance of world cinema. We focus on shaping young minds to understand the world of cinema and its core elements. The club lays emphasis on inspiring students and helping them look beyond commercial cinema, to understand the true craft of films and storytelling. In-depth discussions about films, filmmaking, and the role of a filmmaker are conducted through various seminars, presentations, and workshops.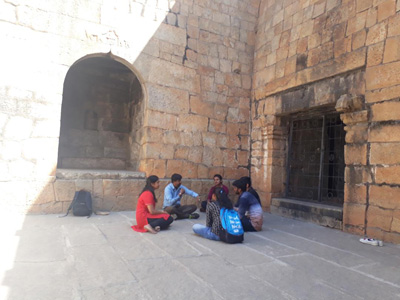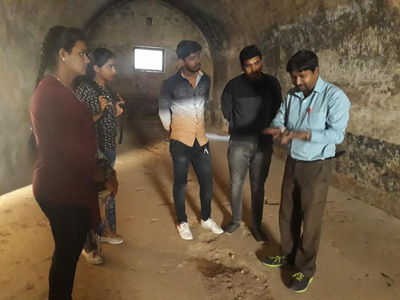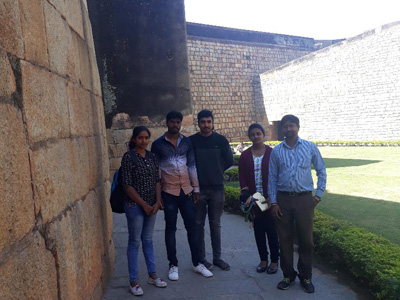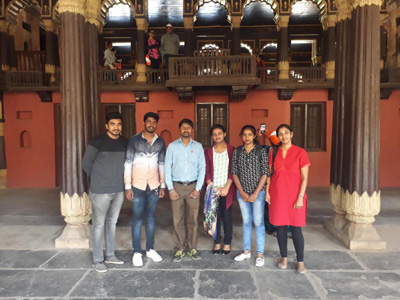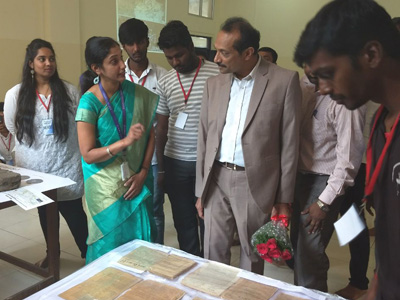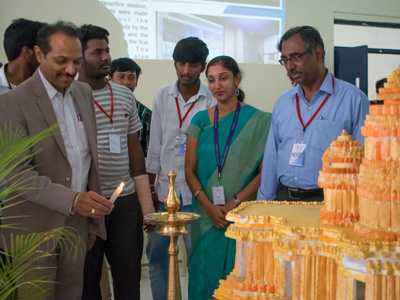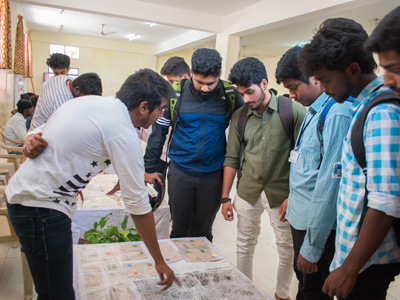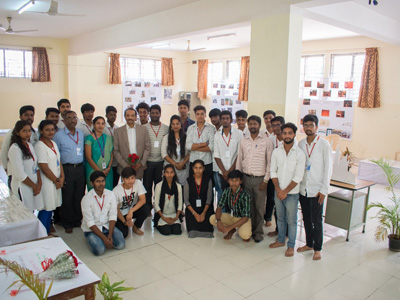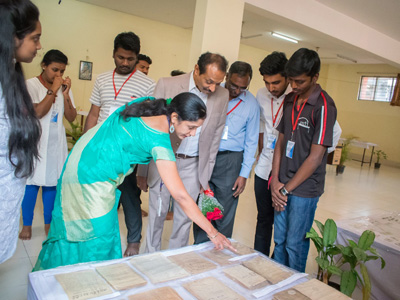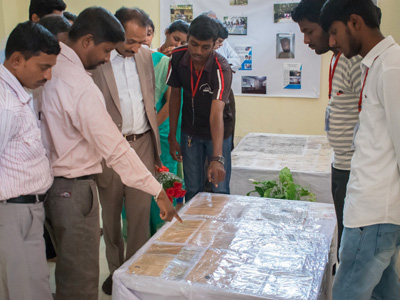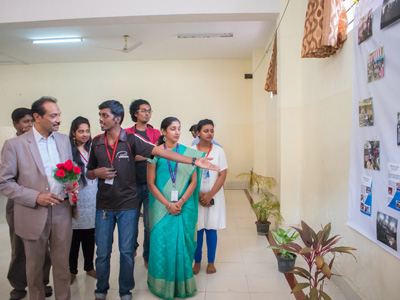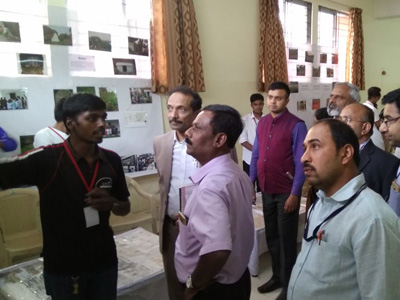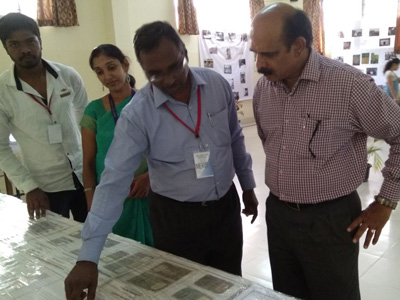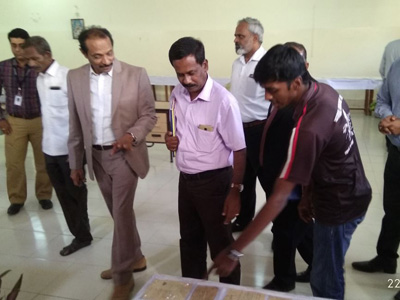 Our Heritage Club, Prachya, is formed to educate students about the prominence of literature, history, heritage, and culture. Upholding our cultural values has always been one of our core objectives, and our heritage club is a testament to this belief. Members of the club are sent to various historical expeditions to understand and explore the heritage of our country ⁠— some of which have brought remarkable achievements to the club, such as the National Level Youth Seva Award 2016 and inclusion in the Wonder Book of Records.
Aparajitha
The Women Empowerment Cell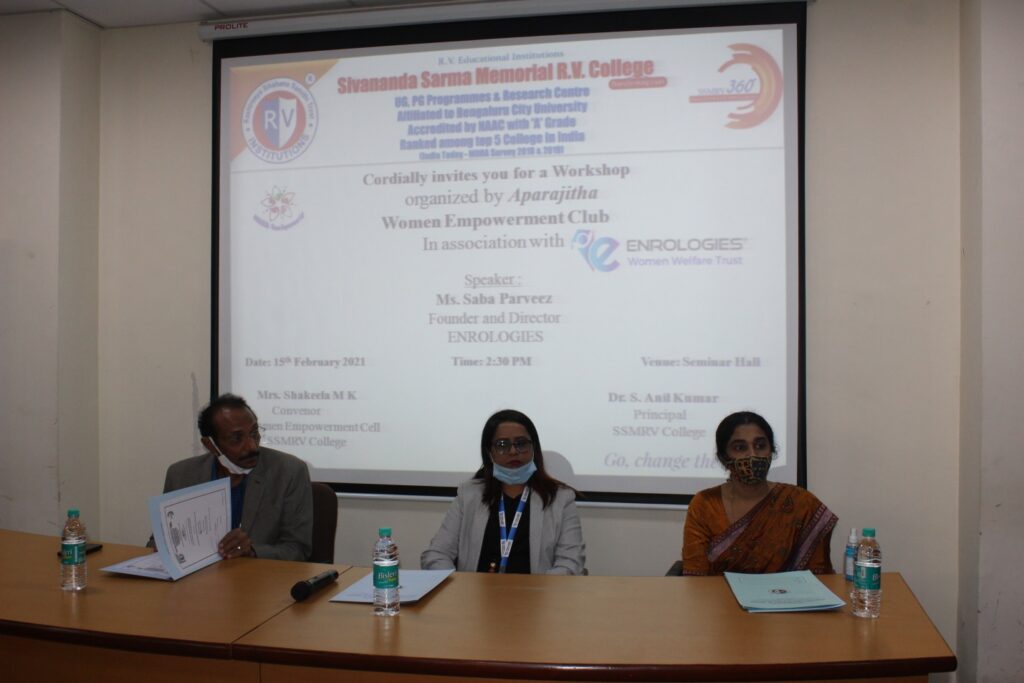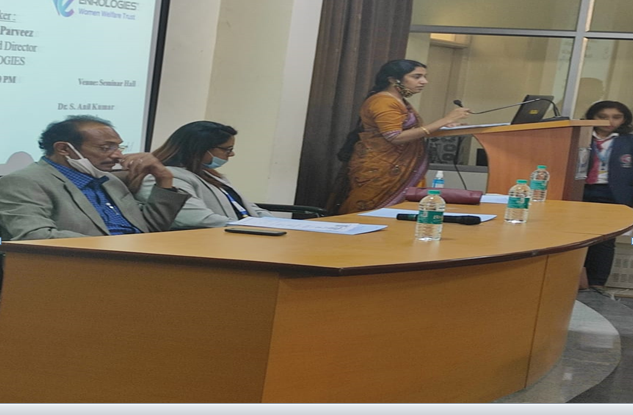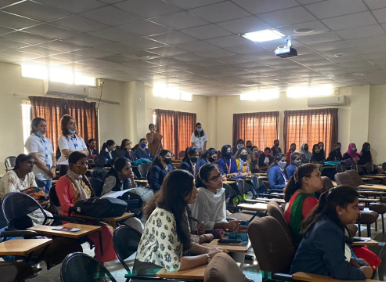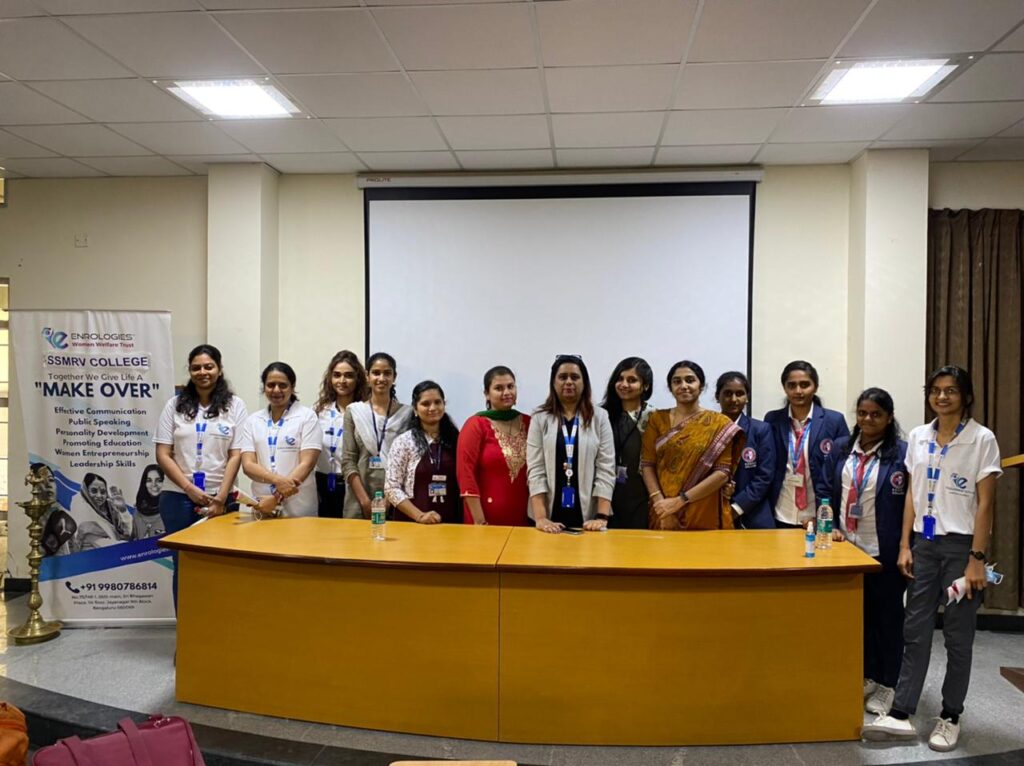 At SSMRV, we are strong advocates of female empowerment and raise awareness around various issues surrounding the domain. Our students and faculty members host a range of events — from workshops to volunteer programmes — to empower the community and create a safe, gender-equal world.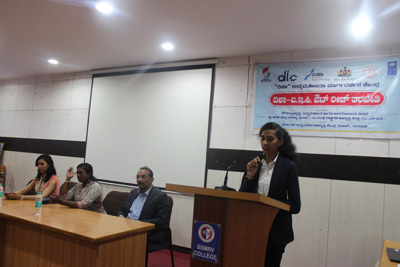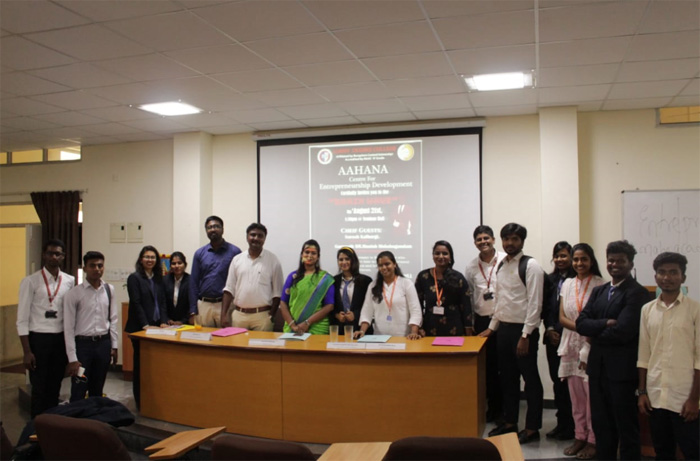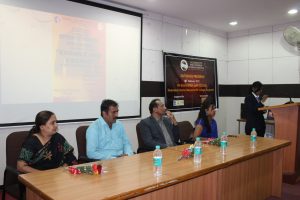 Shaping and nurturing the young minds of the country is essential, and we understand the need for the same. Our Centre for Entrepreneurship Development Cell, Aahana, is a step towards this initiative. This cell was commenced to ignite a sense of entrepreneurship and managerial skills in student's minds. We strongly believe that sharp young minds are going to be the promising leaders of tomorrow. To put this belief in effect, we undertake various activities such as special guest lectures, competitions, and other events that drive students towards further understanding entrepreneurial skills.
One of the primary objectives at SSMRV is maintaining the good health and well being of students. We aim at providing students with a composed and calm environment ⁠— and this goal resulted in our Ayush Health Club. The club functions with a key goal of educating students about the importance of maintaining their health through various activities. Awareness sessions, lectures, and yoga classes are also conducted regularly to inculcate healthy habits and positive lifestyle changes among students.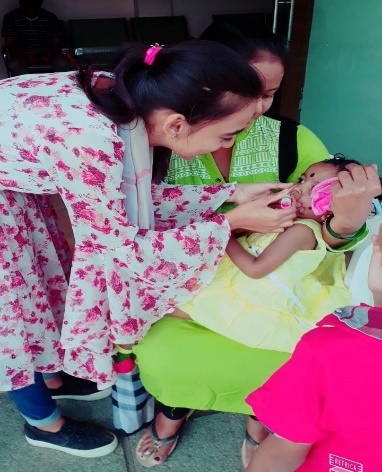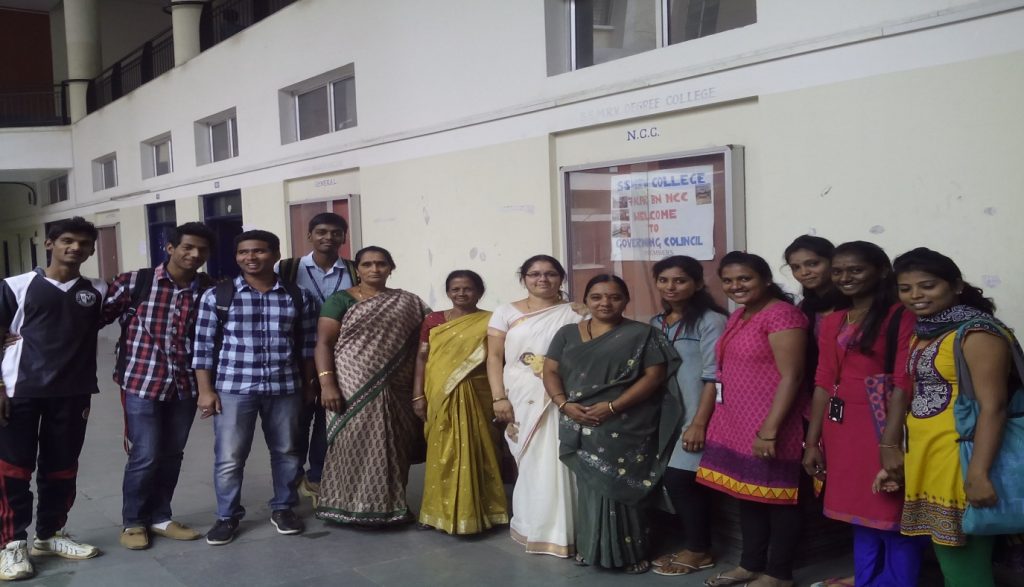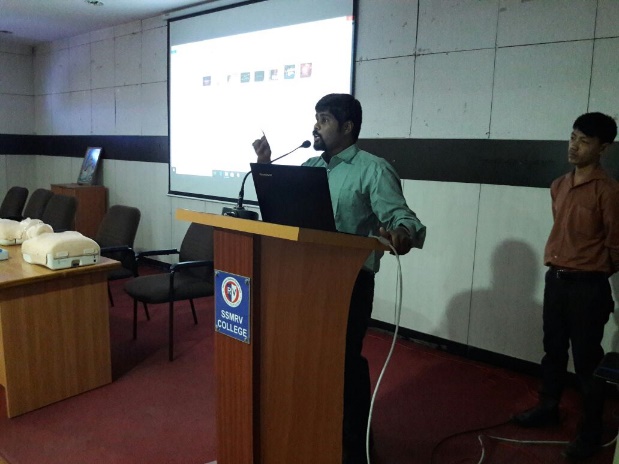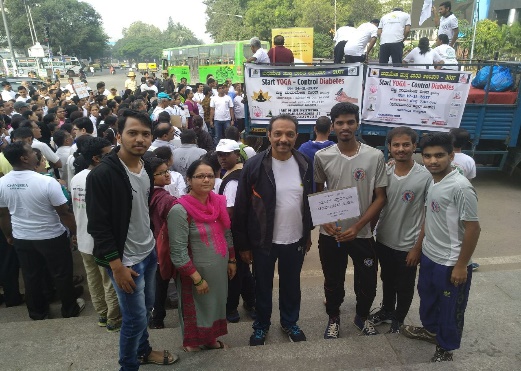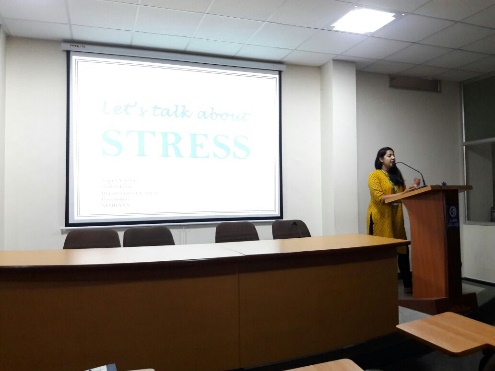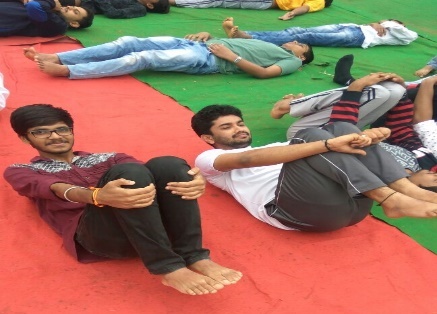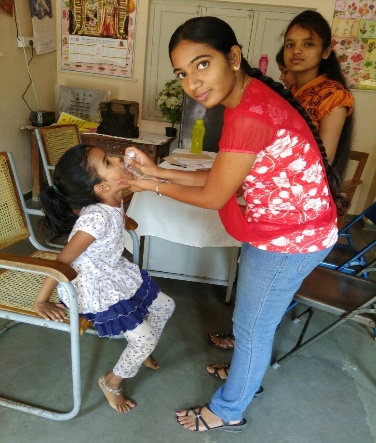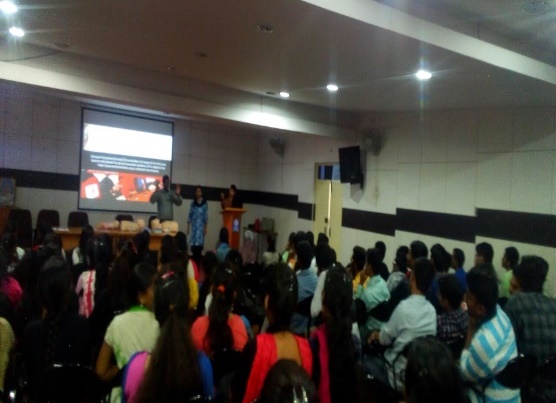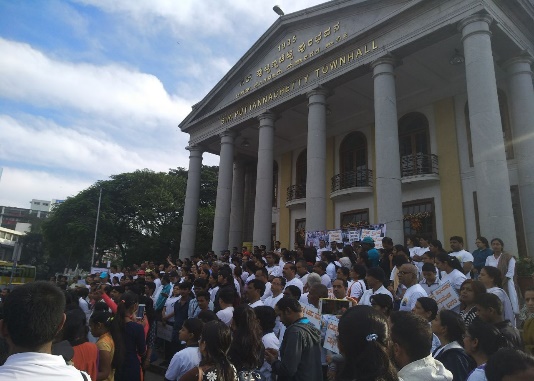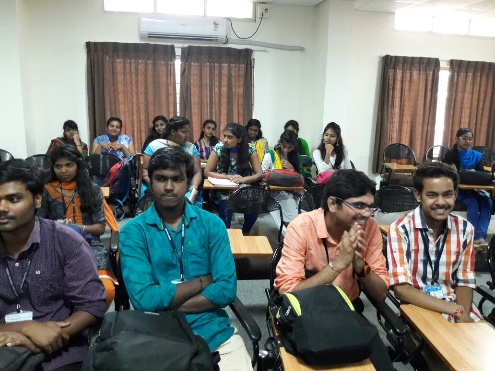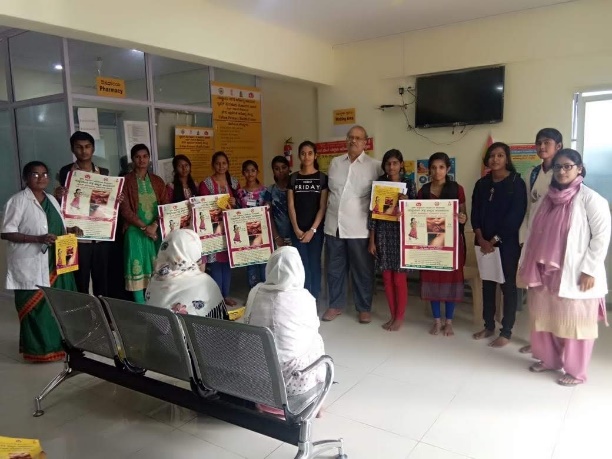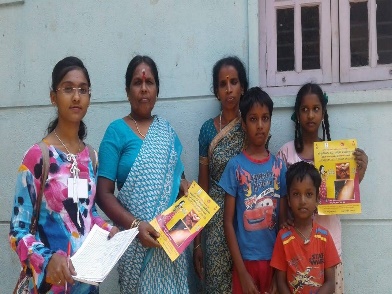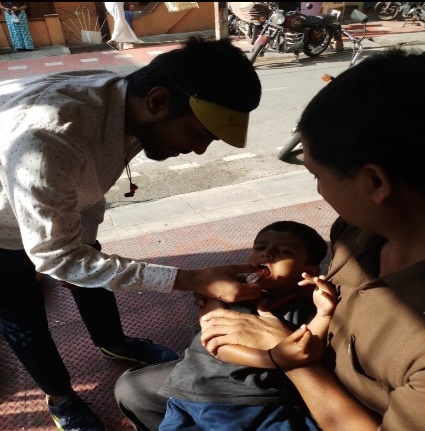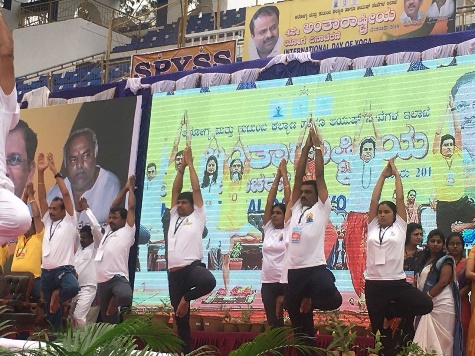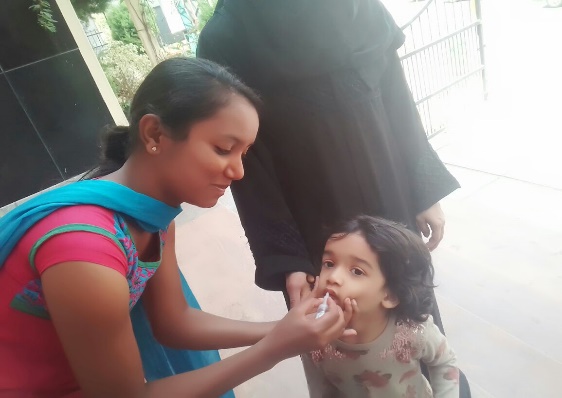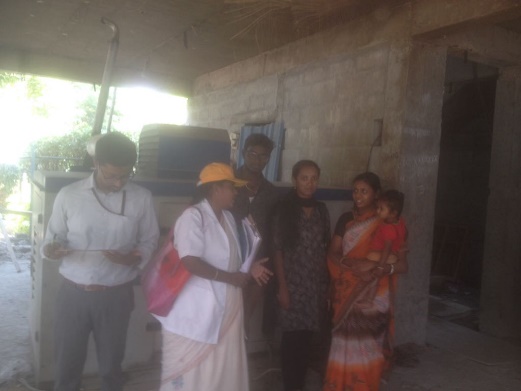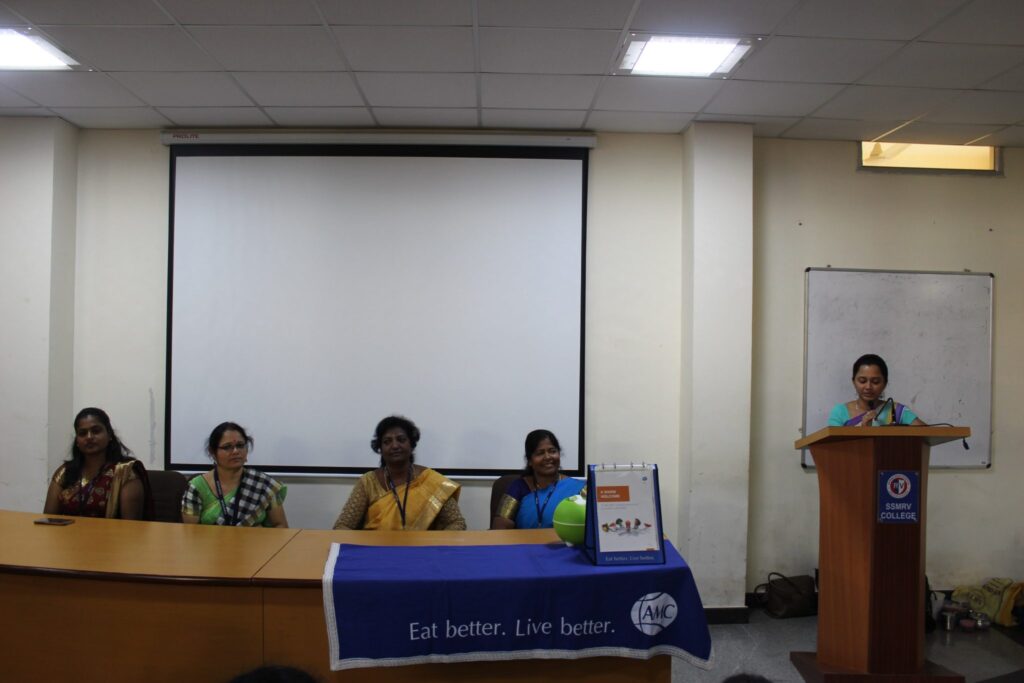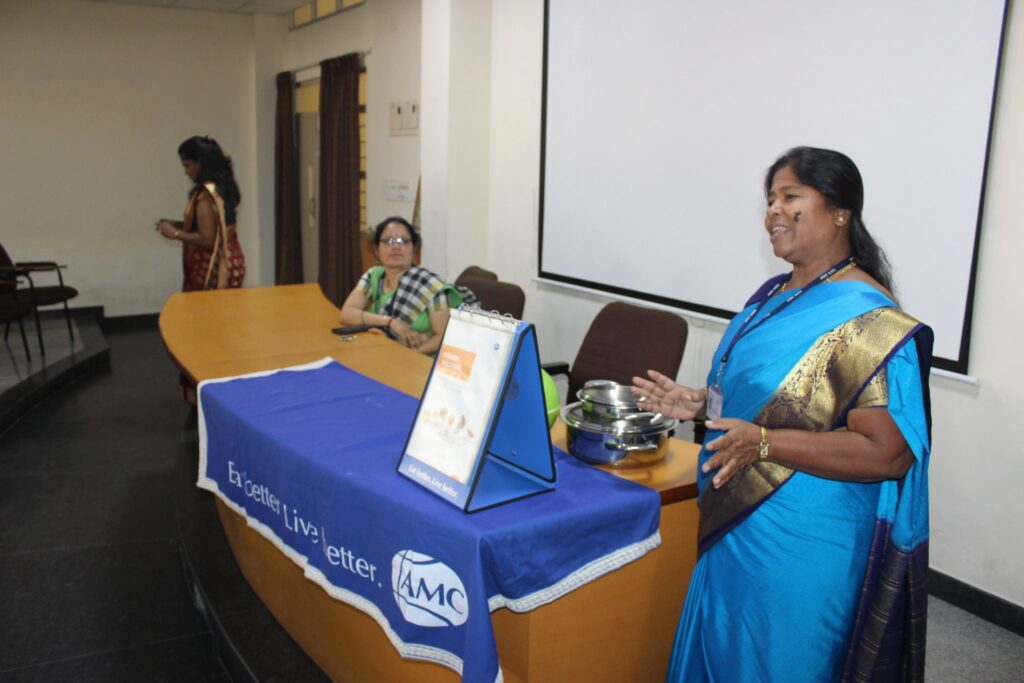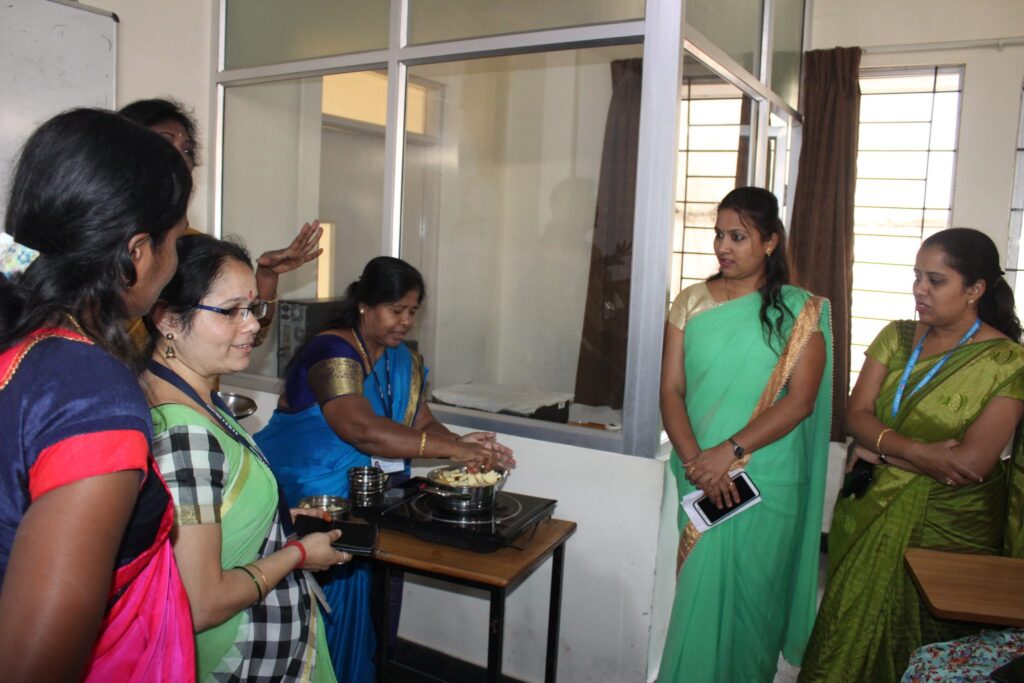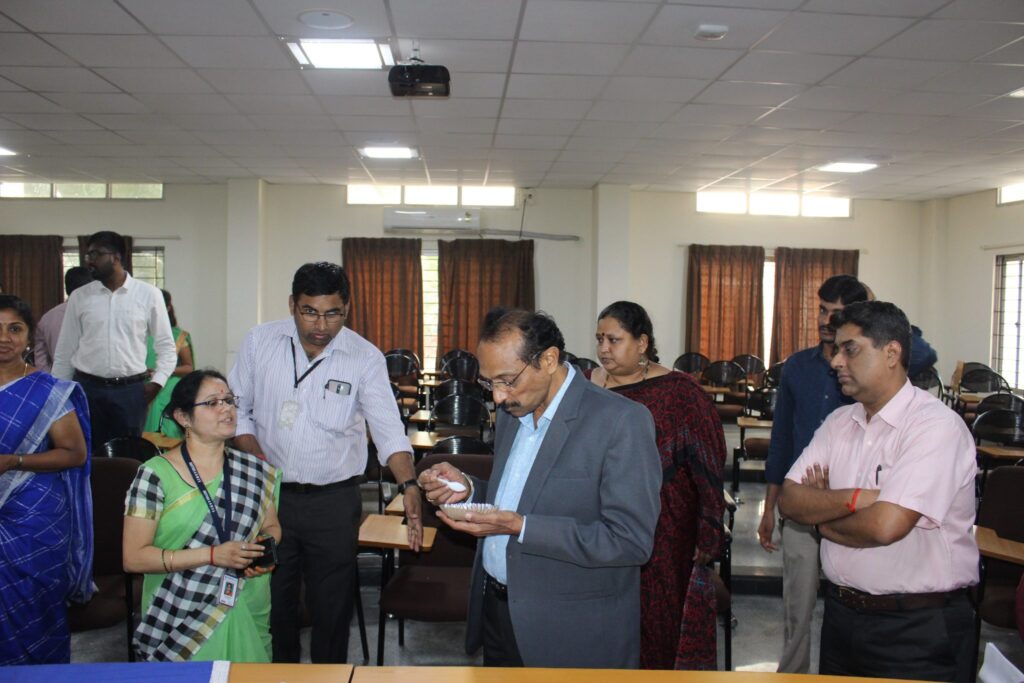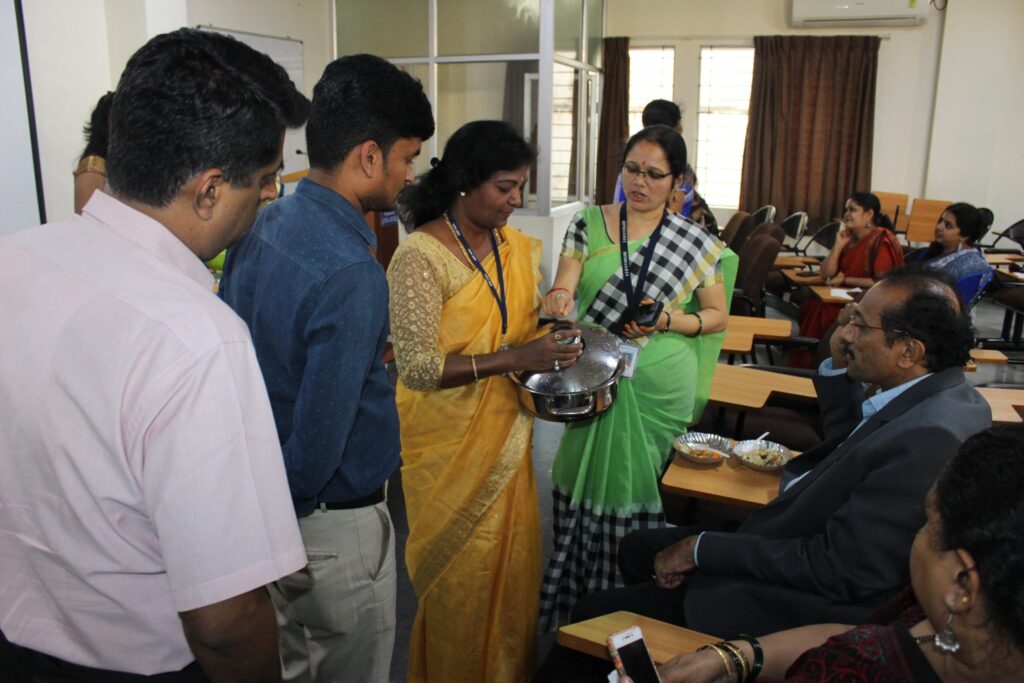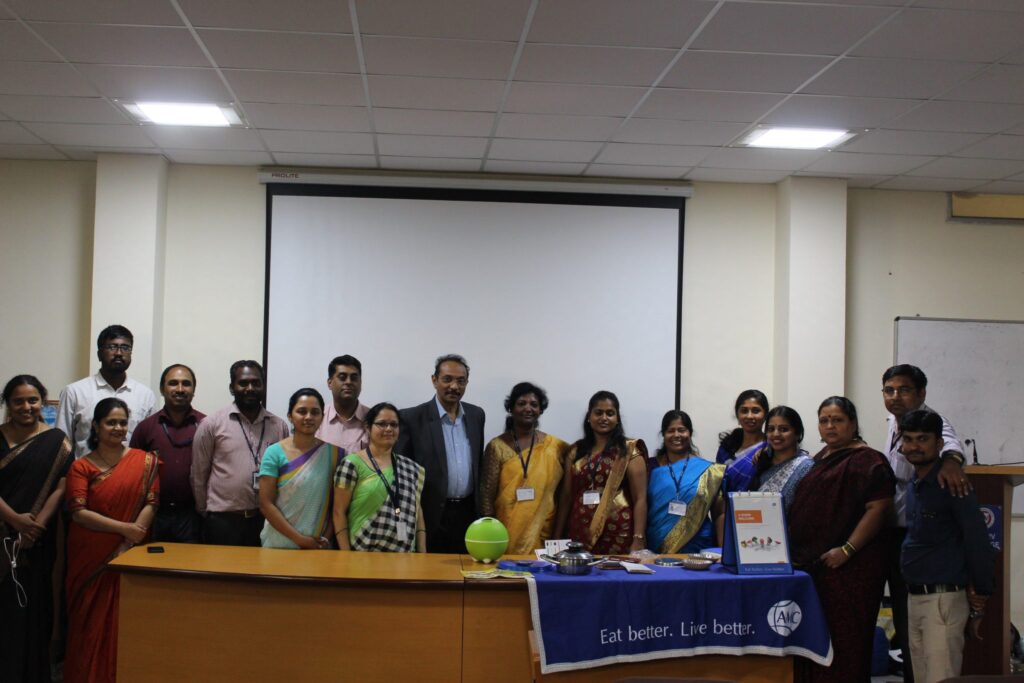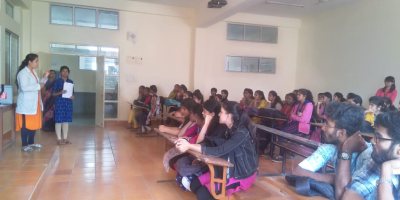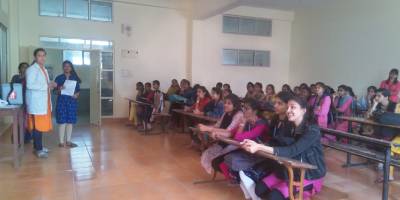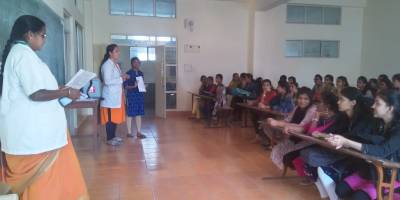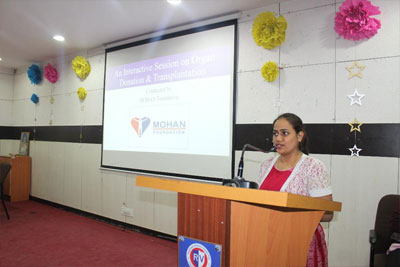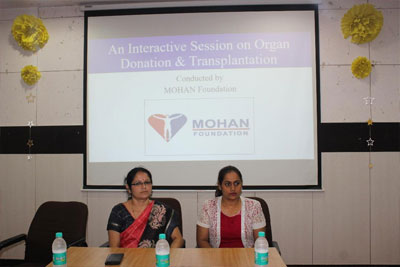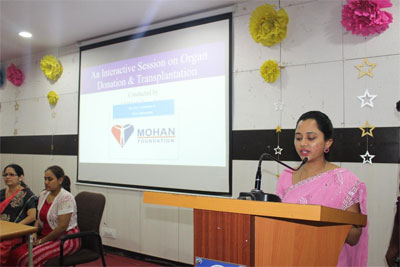 Chaithanya
The Remedial Coaching Centre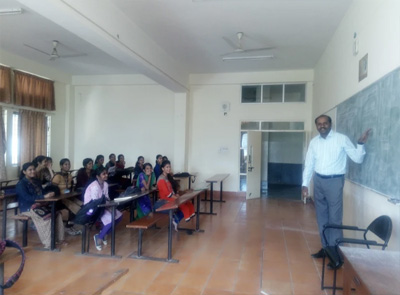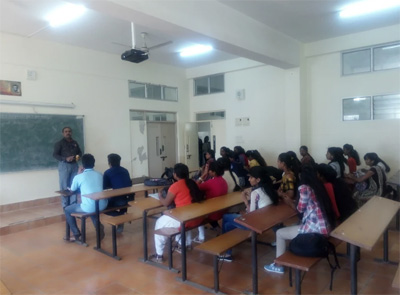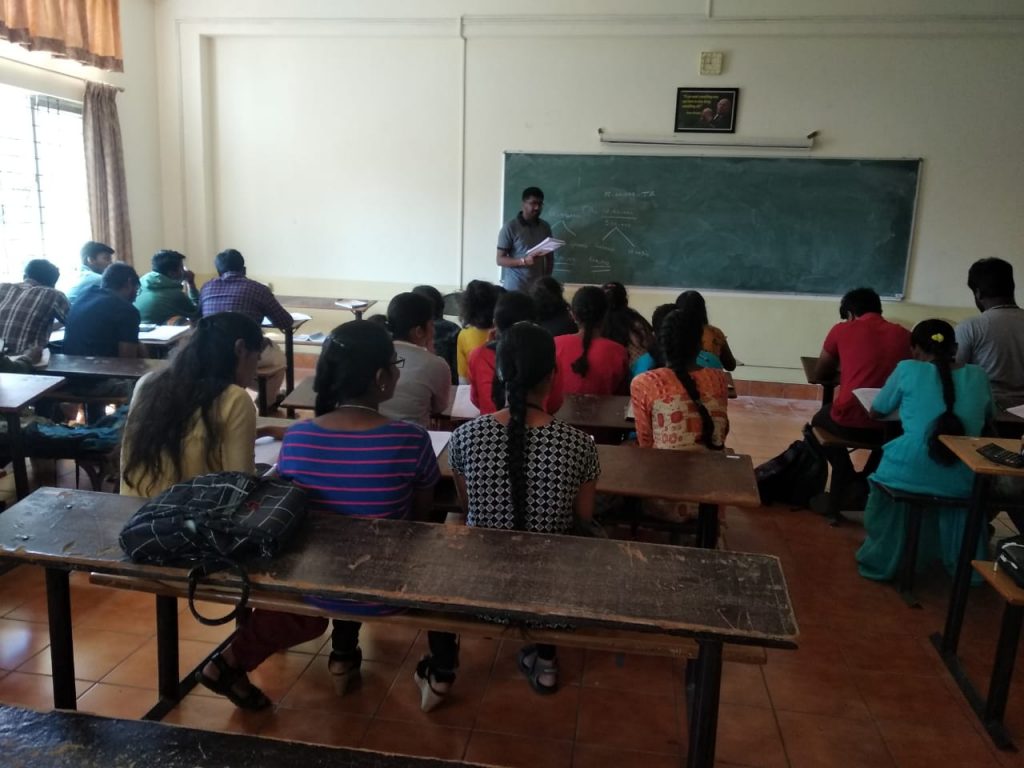 To help below-average students from minority communities, we have started a coaching centre that offers free remedial classes post college hours. The centre aims to bring students up to speed with their peers by giving special attention to their problem areas. Chaithanya also provides coaching for competitive exams such as IAS, KAS, Bank, CA, etc.
Website and Digital Marketing Cell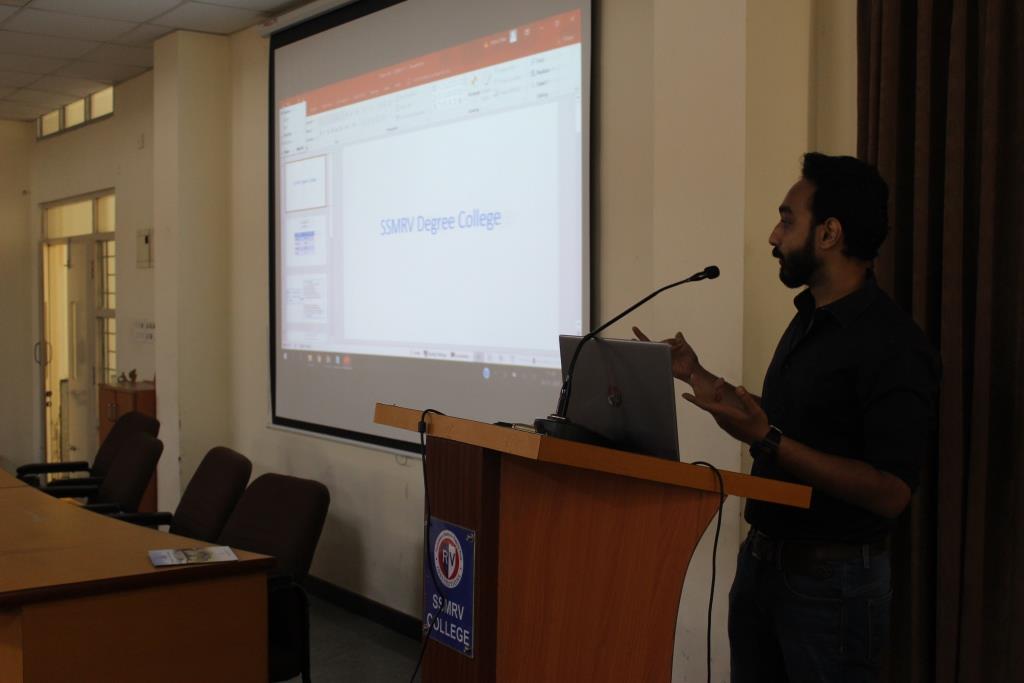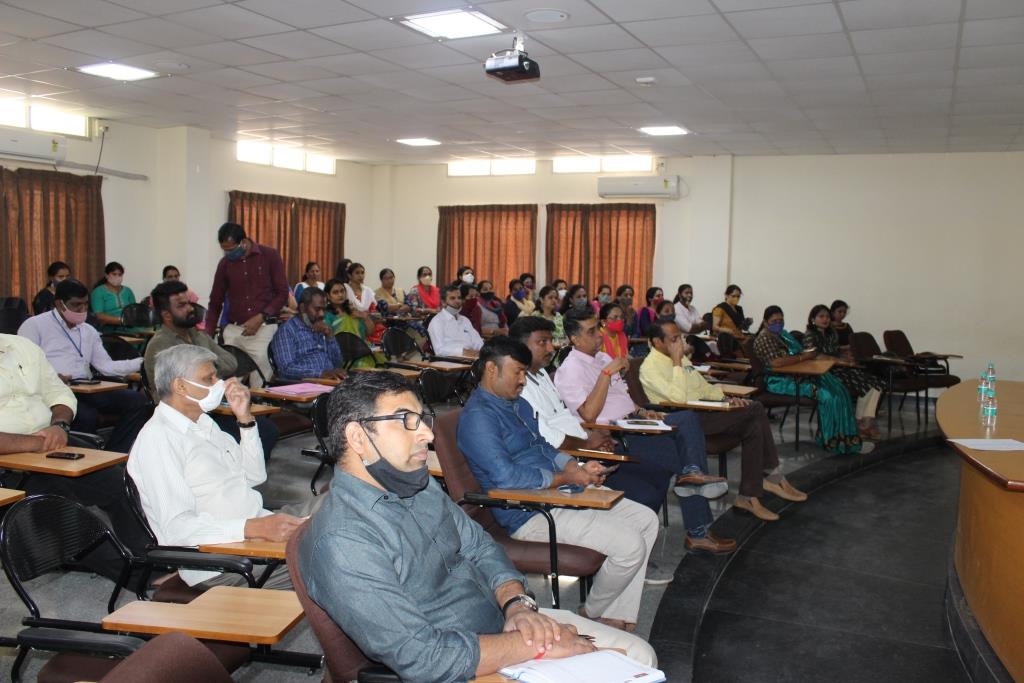 Donec vitae sapien ut libero venenatis faucibus. Phasellus nec sem in justo pellentesque facilisis. Nam commodo suscipit quam. Duis vel nibh at velit scelerisque suscipit. Fusce fermentum odio nec arcu.
Fusce neque. Nullam cursus lacinia erat. Praesent congue erat at massa. In auctor lobortis lacus. Sed consequat, leo eget bibendum sodales, augue velit cursus nunc, quis gravida magna mi a libero.
Internal Complaints Committee
This Committee has been set up in the college for Prevention of Sexual Harassment (POSH) at the workplace. The Members are listed below.
| | | | |
| --- | --- | --- | --- |
| Sl.No | Faculty Member | Designation | Role |
| 1 | Mrs Shanthi Krishna R | Head – Dept of Computer Applications | Chairman |
| 2 | Mr Sri Hari | Asst Professor,Dept of Commerce | Member |
| 3 | Dr Anupama | Asst Professor,Dept of Business Administration | Member |
| 4 | Mrs Vijayalakshmi R | Asst Professor,Dept of Commerce | Member |
| 5 | Dr Prathima Vijay | Asst Professor,Dept of Kannada | Member |
| 6 | Mr Harish N | Advocate, Member  – BPAC | Member |
| 7 | Dr S Anil Kumar | Principal – SSMRV College | Ex-Officio Member |
Dr. BR Ambedkar Study & Research Centre
The Centre aims to reach youth, especially those in underserved communities, to develop themselves in a field of their interest and their communication skills. The Centre conducts regular seminars around Bangalore.