Department of Computer Applications
Mastering Information Technology
BCA Programme is a fulltime four year undergraduate Bachelor's Degree with Honours in Computer Application affiliated to Bengaluru City University. BCA Programme is to provide young men and women with the required knowledge and necessary skills to get rewarding careers into the changing world of Information Technology. A degree in BCA is at par with a B.Tech/B.E degree in Computer Science or Information Technology. For a BCA aspirant, this degree would help in setting up a sound academic base for an advanced career in Computer Applications.
Along with BCA Programme the College is offering Advanced Diploma Courses in Emerging Industry Ready Technologies to fill the gap between Academia and Industry. These courses are offered by Corporates by establishing their Labs in the College Campus.
Programme Matrix for BCA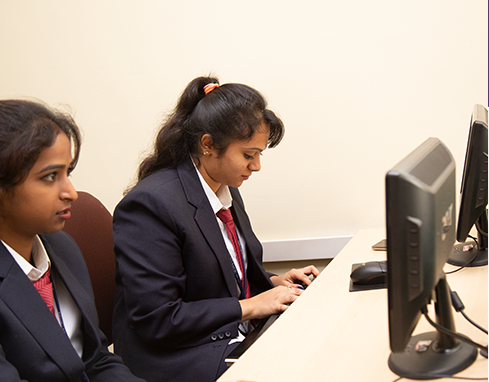 The Department of Computer Application offers two programmers that are designed to help students understand the fundamentals of computer science. We make sure our students are professionally trained by experienced faculty members to help them navigate the wide landscape with ease and confidence.
To understand and apply mathematical foundation, computing and domain knowledge for the conceptualization of computing model of problems.
To identify, analyze the computing requirements of a problem and Solve them using computing principles.
To expertise in developing application with required domain knowledge.
To use current techniques and tools necessary for complex computing practices.
To understand and commit to Cyber regulations and responsibilities in Professional computing practices.
To communicate effectively with the computing community as well as society by being able to comprehend effective documentations and presentations.
To understand societal, environmental, health, legal, ethical issues within local and global contexts and the consequential responsibilities relevant to professional practice.
To function effectively in a team environment to accomplish a common goal.
To use knowledge to analyze, interpret the data and synthesis the information to derive valid conclusions using research methods.
A Candidate who has passed two years Pre-University Examination conducted by the Pre-University Education Board in Karnataka or JODC / Three years Diploma in Engineering of Government of Karnataka or any other examination considered as equivalent thereto shall be eligible for admission.
BCA Programme shall extend over four academic years (Eight Semesters) with multiple entry and exit options. The students can exit after the completion of one academic year (Two semesters) with the Certificate in a discipline or a field; Diploma after the study of two academic years (Four Semesters) and Regular Bachelor Degree after the completion of three academic years (Six Semesters). The successful completion of Four Years BCA Programme would lead to Bachelor Degrees with Honours in Computer Applications. Each semester shall consist of at least 16 weeks of study with a minimum of 90 working days (excluding the time spent for the conduct of final examination of each semester)
BCA Programme has been designed to prepare graduates for attaining the following specific outcomes:
Understand the concepts of key areas in Computer Science.
Acquire knowledge of mathematical foundations, Computer Application theory and algorithm principles in the design and modeling of Computer Based System.
Ability to enhance not only comprehensive understanding of the theory but its application too in diverse field.
Ability to analyze and apply latest technologies, skills and models to solve problems in the areas of Computer Applications.
Ability to develop interdisciplinary approach among the students.
Ability to apply the concept of project development in each language/ technology learnt during the semester.
The following programmes can be opted in P.G. Level after completing BCA Degree with Honors:
Master of Computer Applications (MCA)
Master's Degree in Information Management (MIM)
Master of Business Administration (MBA)
Post-Graduate Program in Corporate Studies (PGPCS)
Information Security Management (ISM)
Masters in Computer Management (MCM)
To work in the IT sector as Software Developer Trainee, Programmer, System Engineer, Software Tester, Junior Programmer, Web Developer, System Administrator, Software Developer, Technical Support, IT Analyst, Junior Analyst, Computer Support Service Specialist etc.
To work in public sector undertakings and Government organizations.
For teaching in Schools and Colleges
About Advanced Diploma Courses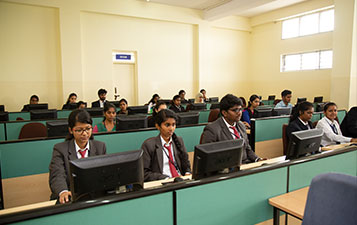 Hackathon Club
SSMRV's Hackathon club focuses on providing in-house training for students ⁠— molding them to meet industry standards. Our holistic approach aims at providing students with the right guidance in computer applications and other technical skills that are required in the industry.
Mission and Vision
To improve and enhance the technical skillset of students by collaborating with leading software industries and through interactive workshops.
Faculty and achievements
&times
Academic area of interest: Computer Programming and Data Science


&times
| | |
| --- | --- |
| Experience | 10 + (IT) + 1 year (teaching) |
| Academic Area of Interest | Data Mining |
| Research Details (if any) | Cervical Cancer diagnosis using data mining techniques. |
| Papers presented in seminars, conferences etc | |
| Papers published in Journals | 4 |
| Books Authored | |
| Additional responsibilities | RV Skill Co-ordinator, Class Teacher for BCA-Section-A |
| Rewards and Recognitions | Microsoft Certified Professional |
&times
Academic area of interest: Computer Networks, TOC, JAVA Programming, Cryptography & Network Security.

Achievements:

| | |
| --- | --- |
| Research Details (if any) | SaaS in Cloud Computing |
| Papers presented in seminars, conferences etc | 12 |
| Papers published in Journals | NIL |
| Books Authored | NIL |
| Additional responsibilities | Azure |
| Rewards and Recognitions | Awarded as GOLD MEDAL in M.Tech |
&times
Academic area of interest: Network Security

Experience: 8 years

Achievements:

| | |
| --- | --- |
| Papers published in Journals | 1 |
| Books Authored | |
| Additional responsibilities | Class Teacher (for II year B section) |
| Rewards and Recognitions | Achieved Gold Medal from SV University Tirupathi |
&times
| | |
| --- | --- |
| Experience | 8 years |
| Academic Area of Interest | Computer Networks, Oracle, SAP(SLcM),JAVA Programming, Cryptography & Network Security. |
| Research Details (if any) | |
| Papers presented in seminars, conferences etc | NIL |
| Papers published in Journals | NIL |
| Books Authored | NIL |
| Additional responsibilities | Implementation of Azure , Timetable and Attendance software |
| Rewards and Recognitions | |
&times
Academic area of interest: Computer Science and Applications

Achievements:

Awarded by RSST on 26th January 2020, for publishing the paper "A Pattern-oriented Approach for Software Design Reusability for Cost Efficiency"
&times
Academic area of interest: Computer Science and Electronics


&times
Academic area of interest: Computer science

Achievements:

Recognised by the International Rotary for his service as Convenor of the Rotaract club of SSMRV
&times
| | |
| --- | --- |
| Additional Qualifications | UGC NET |
| Experience | 7 years 7 Months |
| Academic Area of Interest | Digital Image Processing |
| Research Details (if any) | Pursuing |
| Papers presented in seminars, conferences etc | 6 |
| Papers published in Journals | 2 |
| Books Authored | NIL |
| Additional responsibilities | Class Teacher (BCA) |
| Rewards and Recognitions | NIL |
&times
| | |
| --- | --- |
| Additional Qualifications | Pursuing B.Ed. |
| Experience | 12 Years Academics |
| Academic Area of Interest | Java Programming , Python Programming, Web Programming, Artificial Intelligence |
| Research Details (if any) | - |
| Papers presented in seminars, conferences etc | - |
| Papers published in Journals | - |
| Books Authored | NIL |
| Additional responsibilities | - |
| Rewards and Recognitions | NIL |