BBA with Advanced Diploma in Project Management & Business Strategy
Integrated Program with BBA Accelerated Career Solution
The successful development and implementation of all project's procedures.
Productive guidance, efficient communication and apt supervision of the project's team.
The achievement of the project's main goal within the given constraints.
Fast Track the career in Project Management solutions domain and business strategic applications
View More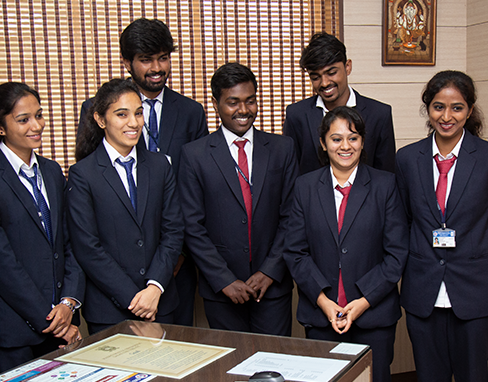 Vision
Inclusive education for holistic development of individuals to meet societal requirements.

Mission
Committed to impart skill and value-based education to students, through best of academicians and professionals, to empower them to face the challenges of competitive world."
Exclusivity and Outcomes
Obtain adequate knowledge, skills and experience to become a suitable candidate for Project Management.
Accelerated Career Design with Future Ready Skills and Experience.
Students will get hands-on experience with real-life projects.
Students will work on industry-grade assignments with high relevance in the corporate world.
Students will be eligible for the best Project Management jobs in top MNCs.
Obtain Accreditation for additional 26 Credits on professional skills. By this student gain added advantage to enable the participation in international postgraduation program.
All Teaching Faculty members, with core competency on Project Management and Business Strategy Management and Exposure from top corporates.
Project Management & Business Strategy
Business Model & Organization Design
Project Scope & Business Performance Objective
Project Life Cycle
Project Improvement Methods and Strategic Six Sigma
Project Management Tools
Business Ethics and Compliance
Project Life Cycle and Live Modelling
Skill Development
Obtain adequate knowledge, skills and experience to become a suitable candidate for Project Management.
Understand self-better – through the SWOC Analysis and SWOC of a company to
understand, analyse and equip the candidate to the jobs' requirement.
Resume writing, Customize Resume accordingly to the job requirements.
Group Discussion and Case Study Analysis.
Mock Group Discussion / Personal Interview.
Relevant Job Roles
Associate Project Management
Project Coordinator
Trainee Associate Project Management
Associate professional Project Management
Associate Business Analyst
Junior Business Analyst
Business Analyst
Medium of Instruction
The medium of instruction and examination shall be in English only
Model of Examination
Total 100 Marks
60 Marks Weightage for End Semester Assessment.
40 Marks Weightage for CIA. (20 Marks for Internal assessment, 10 Marks for Case Study Observations and Presentation, 10 Marks for class participation and attendance.)
Performance Classification Matrix
For Qualification should obtain minimum 30/60 in End Semester Assessment and minimum 20/40 in CIA.
| | | |
| --- | --- | --- |
| Semester Performance Measure | Rating | |
| 80% Marks and Above | S Grade | Significantly Exceeded Performance |
| 60% to 79% Marks | E Grade | Exceeded Performance |
| 50% to 59% | P Grade | Met Performance |
| Less than 50% Marks | F Grade | Did not Meet performance |