Academic year 2021-22
1.Basic details
Name of Activity
An Online Orientation on – An Overview of Student Scholarship.
Organized by

Name of Department/ Name of Committee/ Club

Administrative Office in association with IQAC
Resource Person
Mrs Nethravathi B V, Scholarship Coordinator, SSMRV College
Faculty Incharge
Mrs Vani M U, Manager – Finance and Admin &

Dr Nagaraj M S, Coordinator – IQAC

Date and Time
11:45 AM TO 12:45 PM
Venue
Online Platform – Zoom –  Live Streaming on Youtube
Activity for Class/Group
All students  of B.COM, BBA, BBA Aviation, BCA & M.Com Courses
Nature:

Academic /Co- curricular/extracurricular/other

Administrative
2.BRIEF INFORMATIONABOUT ACTIVITY
Topic /Subject of activity
An Online Orientation on – An Overview of Student Scholarship
Objectives of the activity
To Understand the scholarship provided to the students by the Government bodies (Central and State) and other institutions and how the students could avail the benefits.
Methodology
Online Orientation
Outcome of Activity
Students were made aware of the various scholarship schemes available, the procedure to apply for the same, the documentation required and the process involved.
3.Proofs attached

Letters /Attendance sheet/Certificate/ Feedback/Account document /Photoetc.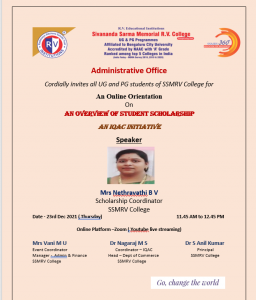 Youtube link – https://youtu.be/PGNGtcNW8lI